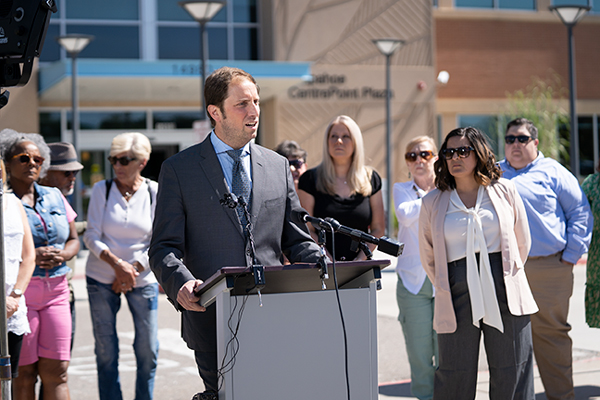 The alarming scheme involving a former Arapahoe County social worker using her position to persecute an Aurora city council member in an apparent act of wanton vengeance has now mushroomed into a debacle demanding outside intervention.
In July, Arapahoe County Sheriff officials said an investigation revealed that former Arapahoe County Department of Social Services agent Robin Niceta targeted Aurora City Councilmember Danielle Jurinsky earlier this year in a scheme to falsely accuse the lawmaker of child abuse, according to sheriff and court documents.
Arrest affidavits revealed that Niceta made a false "anonymous" claim about unproven abuse by Jurinsky with the intent of persecuting her in a sordid act of revenge.
Niceta was at the time involved in a romantic relationship with former Aurora Police Chief Vanessa Wilson. Jurinsky was a vociferous critic of Wilson, who was a staunch advocate for reforming the city's beleaguered police department. After months of haranguing Wilson in public, Jurinsky, speaking on a local right-wing talk radio show, demanded Wilson's firing and called her "trash."
Wilson was later sacked by Aurora City Manager Jim Twombly, who cited Wilson's management deficiencies.
Attorneys for Wilson have since said Wilson is no longer involved with Niceta.
Arapahoe County prosecutors say Niceta was incensed by Jurinsky and first faked a complaint and then used her position in the social services department to persecute Jurinsky in an attempt to have her toddler son removed from Jurinsky's care.
Arapahoe County officials have essentially stipulated the Niceta allegations made by sheriff officials and prosecutors from the 18th Judicial District.
But two weeks ago, Jurinsky returned to the media spotlight, announcing a class-action lawsuit brought forward by up to 40 other parents, all claiming similar, lurid cases of abuse by Niceta — and other, unnamed Arapahoe County social workers.
"What happened to me was not an isolated incident," Jurinsky said at an Aug. 24 news conference.
Jurinsky said her going public with her instance of Niceta's scheme prompted other parents to come forward.
Lawyers said most but not all of the allegations by numerous parents of harassment and vindictiveness were at the hands of Niceta.
Social service officials and the county are accused of selectively considering and not sufficiently vetting evidence related to child abuse complaints, illegally seeking protection orders against parents and caretakers and otherwise acting unethically to remove children from their care.
The lawsuit alleges the abuse "occurred over the course of many years," affecting "dozens, if not hundreds (or more), of Arapahoe County families," according to previous Sentinel reports.
Jurinsky told the media that only about 75% of the complaints by parents involved Niceta, although neither Jurinsky nor her lawyers offered further details.
County officials said Jurinsky's allegations about Niceta were deeply troubling and under investigation by the department. 
County spokesperson Luc Hatlestad told The Sentinel there are "many checks and balances" that the county uses to weed out false allegations of abuse, including evaluation by "multiple layers of human services, educational, medical, mental health and legal professionals."
Clearly, those multiple checks and balances failed in the Jurinsky case.
The well-publicized allegations of dozens of parents at this point, even undetailed and unproven, have created a catastrophic credibility problem for Arapahoe County social services, which could only be made worse by an internal investigation of any kind.
The county, reportedly working with the state, should immediately step back from any kind of analysis or investigation and the Colorado Department of Human Services and the Colorado State Attorney General should coordinate a transparent investigation into the department.
While county officials say parents have always had the courts to depend on for being a referee for fairness and accountability, it's beyond the pale to insist that is an acceptable substitute for ensuring parents and children aren't abused at the whim of disgruntled or disturbed social workers.
Only an accountable investigation from an outside and independent agency can reliably ensure that additional or systemic problems are identified and corrected.
With such an immense amount of power, made potentially dangerous by the need for privacy and discretion, departments of social services must have credibility and accountability to protect children.
Because of the extremely public nature of these allegations, Arapahoe County, at this point, has neither.