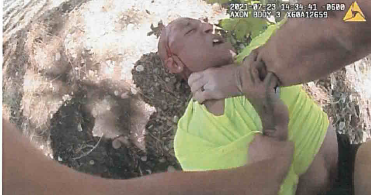 A police department decimated by seemingly endless stories of drunken, lying, physically abusive, racist, discredited cops wants to make it easier to hire people to be cops who have been caught or convicted of some of those behaviors.
What could go wrong?
While the notion on some levels doesn't ring the alarm bells as one of the worst ideas ever, there's no getting away from the fact that Aurora just cannot avoid the appearance of being one of the nation's law enforcement dumpster fires.
Although it seems that some city and police leaders have forgotten, the Aurora Police Department has been forced into a bevy of reforms, which must be supervised and guaranteed by the Colorado Attorney General.

An investigation by state AG officials determined that Aurora police have shown "patterns and practices" of police abusing members of the public and then working to hide multiple instances of that abuse from the public.
In short, for years, Aurora police have egregiously indulged in a lack of accountability and transparency.
Elijah McClain was killed at the hands of Aurora police and medics, and some of those officers are charged with his murder. The police department obscured an incident involving a cop so drunk in his police car that he passed out and had to be rescued by fellow officers.
A current top commander became intertwined in a domestic violence and divorce incident involving another Aurora police officer. Together, they violated police department regulations and principles. The commander was not only absolved by an interim police chief, but promoted. The public is aware of the scandal only because the media outed it.
This is a police department that arguably requires federal intervention to stop the onslaught of perversion of the need to serve and protect.
These repeated gaffes and crimes not only make the public fearful and suspicious, but all of this impugns the hundreds of Aurora police officers who exhibit integrity and professionalism with every shift they work.
Just last week, police revealed that an officer likely used excessive force while trying to subdue a Black man inside a local hospital — in August of last year. In a video posted Friday by police, an Aurora officer suddenly slams a handcuffed man to the ground causing the man's head to bleed profusely while leading him out of the hospital.
After releasing the video and announcing an internal investigation into the incident, police officials announced that they were changing APD procedures by being transparent about such startling events. That's welcome news but draws attention to when the policy, official or not was changed again.
After years of concealment, former police Chief Vanessa Wilson was scorned by police union officials and their city council supporters for immediately making very public a handful of allegations of abuse or malfeasance, including one incident of an officer pistol whipping a Black man.
This new announcement, without explanation, only draws attention back to the department's problems with credibility and transparency because the police chief leading the effort for accountability was fired after promoting the policy the city is now lauding. 
If that was APD's policy a year ago, why is it that this flagrant episode of abuse was not reported to the public for nearly six months after it occurred?
Conflicting stories like this don't elicit public confidence in allowing the city's civil service commission to waive critical conditions of employment at APD.
Proponents say the changes would allow for qualified and quality police candidates to have a chance to get hired who otherwise were excluded for past behaviors that really have no bearing on the ability to serve and protect.
The city, like hundreds of others, is hard pressed to find qualified police recruits or hires. Hiring standards is not Aurora's problem, past city and police management is.
Maybe. It's hard to argue that legally using marijuana should be a reason for exclusion as a policy officer in Colorado. The same goes for traffic and other misdemeanor infractions committed years before application.
One condition for exclusion police want to overlook, however, should raise red flags for any police department, but especially this one.
The change allows candidates whose backgrounds include "dishonesty and/or integrity issues" to make the grade at APD and don a gun and badge.
While the philosophy of assessing the "whole person" for a job is defensible, blanket acceptance of integrity issues is essentially the foundation of the problems at APD, not the solution. 
The public can and should expect police officers to be held to a higher standard than water quality engineers. Their veracity and integrity is what the public depends on in fairly policing the community — and fellow officers.
Drag racing as a teenager can be absolved with maturity and experience. Lying about critical issues is not just a problem of weak character, it's anathema to criminal justice.
Even if Aurora was years down the road in successfully reforming its police department and restoring public confidence, allowing for liars and cheaters to become police officers is a genuinely bad idea.
The Aurora Police Department, whose credibility has been decimated by concealing toxic integrity issues, is in no position to offer jobs to applicants who did or do suffer the same problem. The line has to be drawn at veracity and integrity, which APD currently lacks.