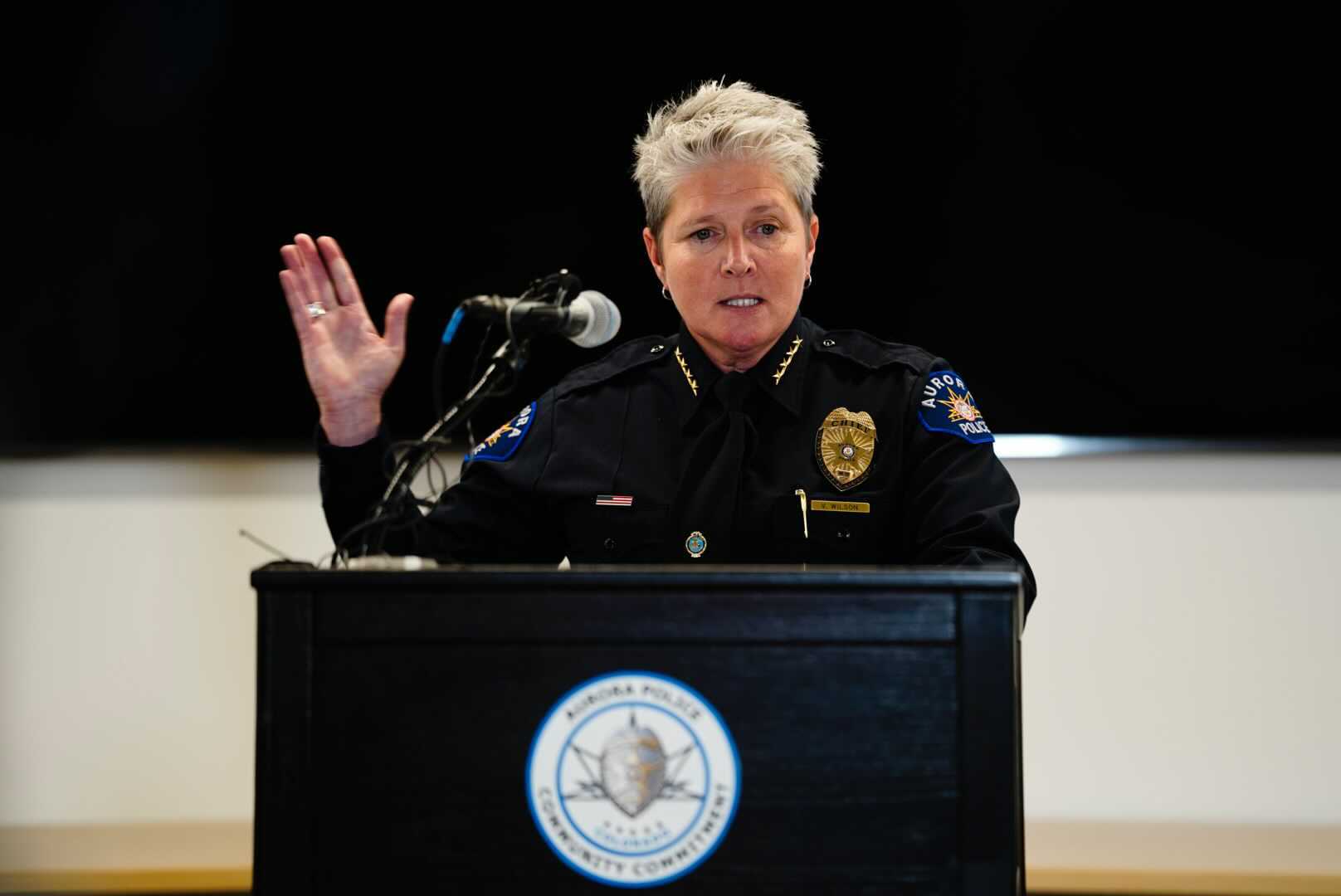 AURORA | A majority of Aurora police officers have said they do not have confidence in Chief Vanessa Wilson's ongoing leadership of the department in a symbolic survey, escalating the turmoil for the beleaguered agency.
Members of the Aurora Police Department's two labor unions, the Aurora Police Association and a local chapter of the Fraternal Order of Police, responded to a single-question poll this week voicing their lack of support for the chief, who was awarded the full-time role last August after serving as head of the organization on an interim basis for eight months.
Union members voted 442 to 16 against Wilson, with the majority responding "no" to the question: "Do you feel confident in the leadership of Chief Vanessa Wilson?," according to Doug Wilkinson, head of the APA.
"She should be removed immediately," Wilkinson wrote in an email.
Marc Sears, president of the local FOP branch, did not immediately respond to a request for comment Friday.
Both unions boast several hundred members, and officers can opt to pay dues and join either or both organizations, which offer legal counsel and other resources to officers. The APA was the designated bargaining unit for officers for decades, but the FOP assumed that role following a vote in 2019.
Aurora police reported having 744 sworn officers in August, though several dozen of those workers are in roles that preclude them from being union members, according to city documents.
The vote was prompted following a CBS4 story published last week on a controversial traffic stop in May. The report on a Black man who reported being tackled and stunned with a Taser after nearly hitting officers with his car prompted Wilson to open an investigation into the incident.
That irked Wilkinson.
"After a recent event in which Chief Wilson restarted an investigation on officers who had already been cleared of wrongdoing by department experts the Aurora Police Association Executive Board determined it was necessary to hold a vote of no confidence on her administration," he wrote.
The vote comes about a month after Attorney General Phil Weiser announced that a state grand jury had indicted several officers and paramedics on homicide charges related to the arrest of Elijah McClain, a 23-year-old Black man who died days after first responders restrained and sedated him, in August 2019. Weiser also recently published a damning report on the agency that outlined repeated patterns and practices of racially-biased policing in Aurora, which will likely cause the agency to be overseen by the state for years to come.
The announcements came as a record number of Aurora police officers were reported to have left the department so far this year, surpassing the number of departures in all of 2020. A total of 96 officers had left the organization as of the middle of September.
When asked for a statement from Wilson on the recent vote, a spokesperson for the Aurora Police Department referred a reporter to a deputy city manager, who serves the conduit between Aurora's civil service workers and City Manager Jim Twombly.
Unlike in Denver, where the mayor has the final say on most issues, Twombly is tasked with effectively running the city.
"Chief Wilson has my full support to lead the agency," Deputy City Manager Jason Batchelor said in a statement. "The members of this agency have my full support. She was selected because we believed, and still believe, that she is the right person. She accepted and embraced her role knowing significant challenges were ahead. She is responsible for making difficult and, at times, unpopular decisions to meet the needs of both employees and our community. Over the last 21 months, she has been a vocal champion for Aurora police officers while also making it clear that she supports implementing best practices. This vote comes at a time when there are a lot of changes underway for the policing profession. I believe we all share the same goal in supporting our officers and look forward to working with the FOP to address their concerns and restore trust."