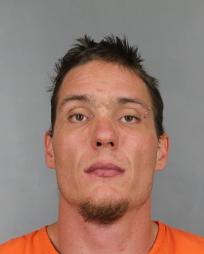 AURORA | An Arapahoe County sex offender who tried to abduct an 11-year-old girl off an Aurora street last year will spend the next two and a half decades in prison, according to the 18th Judicial District Attorney's Office.
An Arapahoe County District Court Judge sentenced Tyler Christensen, 33, to 25 years in prison last month after Christensen pleaded guilty to three felony counts of sexual exploitation of a child, according to Vikki Migoya, spokeswoman for the local DA's office. 
Christensen, who was a registered sex offender in Aurora when he was arrested in October 2018, had pleaded not guilty to all charges filed against him in the case earlier this year. The case was originally scheduled to go to trial last month. 
A plea agreement struck between Christensen and local prosecutors means the girl Christensen attempted to kidnap will not have to testify, which she would have if the case had gone to trial. 
Investigators determined Christensen grabbed the 11-year-old Aurora girl and covered her mouth as she was walking from her bus stop to her home near the corner of East Exposition Avenue and Nome Street around 5:15 p.m. on Oct. 11, 2018.
The girl was able to flee the area after she screamed and bit the suspect's ring finger. She then ran home and called 911. 
Aurora Police Chief Nick Metz and prosecutors praised the girl's bravery after the attempted kidnapping.
"This is the nightmare scenario that haunts parents — the one we try to reassure ourselves will not happen to our children," District Attorney George Brauchler said in a statement. " … The bravery of this 11-year-old girl cannot be overstated in defeating the desires of a prior sex offender who sought to rip her out of our community for whatever horrible uses about which we can only speculate." 
Police linked Christensen to the crime after obtaining surveillance video footage from a homeowner on East Exposition Avenue that showed a man matching Christensen's description sprinting away from the area around the time the crime occurred.
Christensen's last registered address before he was booked into jail was a home on South Oakland Street near Expo Park, less than a block from where he tried to kidnap the young girl, according to the state sex offender registry.
Christensen was arrested a day later after investigators located him getting off an RTD bus at the Nine Mile Station.
"Honestly I had an urge," he told police during a polygraph exam, according to an arrest affidavit filed against him.
Christensen later told police he is autistic. Police confirmed with Christensen's employer he has "an intellectual disability," according to court documents.
Christensen has an extensive criminal history in multiple cities across the state, according to records retrieved from the Colorado Bureau of Investigation. He has been charged with more than two dozen crimes, mostly around Denver and Grand Junction, since 2005, including burglary, misdemeanor assault and felony sexual assault, according to CBI records. 
Christensen had previously sexually assaulted an 82-year-old woman, according to Arapahoe County prosecutors. 
His sex offender registry stemmed from a 2012 conviction for sex assault, according to state records.
Brauchler encouraged state legislators to remember the case when considering sentencing and supervision reforms. 
"As the legislature flirts with further reducing the sanctions and supervision for sex offenders in our state, they should take note of this case," Brauchler said in a statement. "One in which a previously convicted and incarcerated sex offender who had already been through treatment was sent back onto our streets."