AURORA | Nearly three weeks after their original in-person request, Aurora Congressman Jason Crow and Aurora City Councilwoman Allison Hiltz were granted a a tour inside the Aurora immigration detention center.
"This (tour) was never my end goal," Crow told reporters on a phone call following the visit on Friday. He went on to say the tour is just a step in his ultimate goal of achieving more transparency in the detention center, which has experienced multiple cases of mumps and chickenpox in recent months.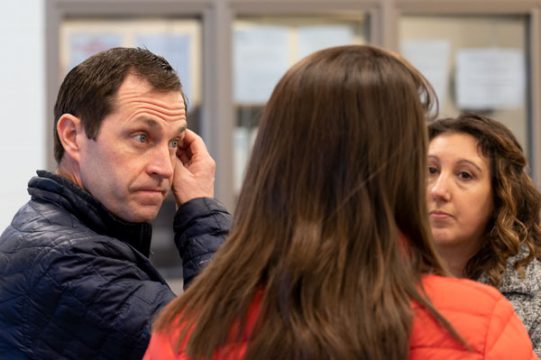 He said he wants to look at possibly addressing transparency through the appropriations process in Congress, but didn't provide any further details on what that may look like. 
Crow and Hiltz were turned away from the privately-owned and operated facility on Feb. 20 after they arrived without scheduling a visit — Crow called it an "inspection." He told reporters he didn't want officials to put the "window treatment on" for his visit and that arriving unannounced would give him a more accurate idea of the conditions at the detention center.
The mood of the tour was professional, Crow said, explaining that oversight of the facility owned and operated by the GEO Group Inc. is a matter of his role as a congressman, not a personal matter.
He said he felt some conditions at the facility have improved, and that Immigration and Customs Enforcement officials and facility staff are working with local and state health officials to prevent the spread of diseases like mumps and chicken pox. 
But Crow said he still skeptical of practices at the facility.
"I don't have comfort that they have the process in place to identify outbreaks as they occur and report them," Crow said.
A Sentinel investigation revealed last month that the GEO Group staff had not been reporting cases of mumps to the Tri-County Health Department. Crow said Tri-County is now actively involved in the outbreak at the center.
Crow cited on-going concerns about access to legal counsel for the quarantined detainees. 
He said ICE and facility staff were candid that the quarantine has been creating delays in the legal system, but that staff have implemented a video conference system to address that specific problem.