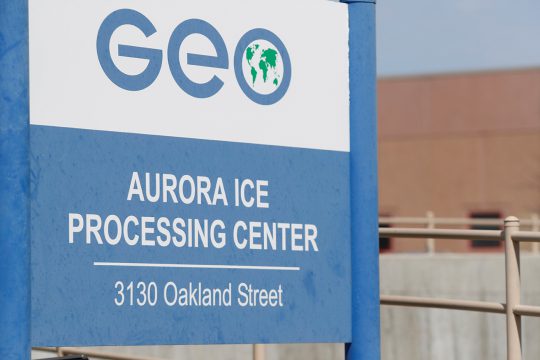 AURORA | Blue signs on the front doors of Aurora's privately-owned immigration detention center warn visitors of mumps and chickenpox among inmates.
It's a new feature on the holding facility run by GEO Group, Inc. for the U.S. Immigration Customs Enforcement agency. It was posted two days after Aurora Congressman Jason Crow called for more transparency at the facility.
Since Crow voiced concerns to reporters in front of the facility on Feb. 20, when he and Aurora City Council member Allison Hiltz were turned away from an unannounced "inspection," questions have emerged about oversight of the facility — especially how its staff addresses mandated state reports of confirmed cases of communicable, reportable diseases.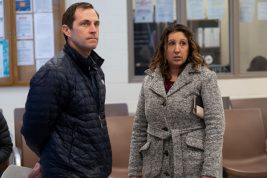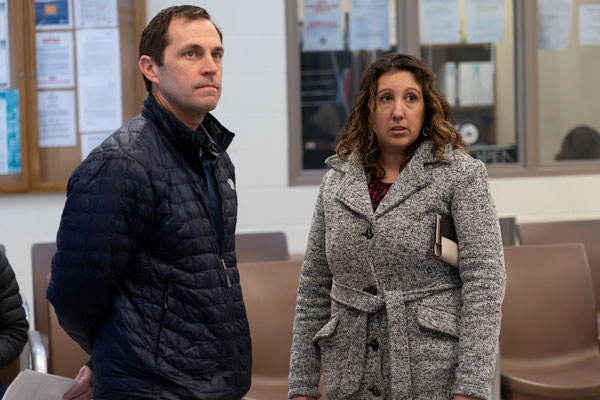 Who is aware of the level of disease inside of the facility and where they are reported hasn't been clear. News about communicable diseases inside the Aurora GEO facility and others across the nation have recently garnered the attention of Congress and the public — federal investigators said "inadequate" and "untimely" medical care in a GEO-operated immigration detention center in Adelanto, California, was of concern in September.
The last two confirmed chicken pox cases at the north Aurora facility were reported  Feb. 1, according to ICE. A case of mumps at the facility was confirmed to media on Feb. 20, but it's unclear when that was first realized by GEO Group Inc. healthcare providers in the detention center and reported to state and local health officials.
ICE officials say the cases of chickenpox and mumps are a result of "…the recent influx of migrants coming from the southern border." The facility opened up more than 400 additional beds in January to accommodate the migrants who arrived at the border and asked for asylum.
The Sentinel is still awaiting responses to open records requests filed with the Colorado Department of Public Health and Environment and the Tri-County Health Department that ask the number and frequency of reports from the facility. Tri-County staff say, however, there was little involvement from their department prior to February because GEO Group Inc. staff were unaware they had to report cases to the local health department.
They don't know what they don't know.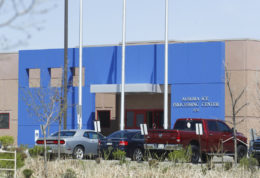 "I don't think we've heard about all the cases of mumps at the facility," Tri-County epidemiologist Bernadette Albanese told the Sentinel. "They weren't necessarily aware of reporting requirements…a lot of providers don't know about it in Colorado. So while it seems shocking to say that, and we do our best and try to keep providers up to date, and that providers should know (to report), it's not always their first and foremost (thought)."
GEO Warden Johnny Choate told reporters this week during a tour of the facility that his staff has been reporting communicable reportable diseases to the proper authorities. He said that's always been the case.
Colorado and Tri-County health officials disagree.
State health officials and an ICE spokeswoman affirmed that there has been miscommunications between the detention center and the local and state health departments about self-reporting those diseases.
"There were some initial reporting delays at the GEO facility. Now that disease reporting to public health is in place, state health department and Tri-County are working with the full cooperation of facility staff to improve reporting and communication among the entities," said state health department spokeswoman Shannon Barbare.
"Tri-County and Colorado Department of Health and Environment have set the expectation that any new cases of mumps or other reportable conditions must be reported to (state health) and/or (Tri-County) within the required timeframe. The normal reporting requirement for mumps is four days, however because of the outbreak, Tri-County has requested that the facility report new cases to (state health officials) no later than 48 hours."
Albanese said other recommendations to GEO included vaccinations, appropriate testing for the diseases and proper surveillance for any symptoms.
Moving forward after the GEO facility having not reported an unknown number of mumps cases, Albanese said "we educate and we rectify it and hope that doesn't happen in the future."
The GEO Group Inc. is required to report the cases because the detention center has health care services, according to local health officials.
Now, Tri-County officials say they are working with the facility, in conjunction with the state health department, to contain and address the reported diseases in the facility — which GEO Group Inc. staff say is why the signs are now outside of the doors of the facility. There are six pods where 357 detainees are quarantined as a result of possibly being in contact with detainees who tested positive for the respective diseases.
The facility comprises a total of 13 pods, each with the capability to hold 80 detainees. One of those quarantined pods is at maximum capacity, according to numbers provided by Choate this week.
Albanese said it may be weeks before health officials know the extent of the contagious diseases because of the nature of mumps, and when symptoms appear. The pods will be on quarantine for 25 days, Choate said. Many of the quarantined pods are anticipated to come off isolation near the end of March.
With chickenpox, Albanese said that is often handled by the state, so the there was no involvement at all from Tri-County in October or in January when other cases were reported.
Crow and Hiltz highlighted their concerns regarding adequate health care in the facility in a news conference after attempting to get an unscheduled tour.
"We're pretty concerned about the health and public safety concerns that are presented by this facility," Crow said to reporters outside of the facility after GEO Group Inc. supervisors said they could not grant a tour. "One of the fundamental responsibilities of Congress is to conduct oversight and accountability over our federal agencies and government activities in our respective districts."
Crow sent a letter to Department of Homeland Security officials, which oversees ICE, following the visit, requesting more information about how the facility, and the agency, are responding to infectious diseases in a growing population in the detention center. Since, he's sent another letter. Crow said he has not received a reply.
In his letter, he asked about the number of detected diseases and outbreaks in the facility, what actions have been taken to prevent outbreaks and whether more medical staff will be hired with more detainees coming into the facility.
"I would like to see some responsiveness and transparency by DHS, ICE and GEO," Crow said this week.
"I will say in the last two weeks, the oversight we have conducted has forced some change," he pointed to new vaccinations detainees and staff underwent last week.
Since the visit and news conference, Crow has sought to tour the facility twice, but was turned down by GEO Group Inc. leaders. John Fabbricatore, the acting ICE field office director in Denver, told reporters the agency thought it best to keep politicians and media separate, and that Crow possibly would have been granted a tour on Feb. 20 if it weren't for the media he had alerted he would be there.
"Giving media access, and not Congress, raises the question why they're trying to slow down oversight from Congress," Crow said. ICE officials said, however, that a media tour was already in the works prior the Crow's visit.
The detention facility can house up to 1,532 detainees. A significant increase from the center's early days when GEO won a bid to open up a 150-bed facility in 1986.  It recently opened up an annex that increased capacity by 432 detainees, according to ICE spokeswoman Alethea Smock. ICE OK'd the annex in January for 90 days. There is so far no indication whether that 90 days will be extended beyond April 27, according to Fabbricatore.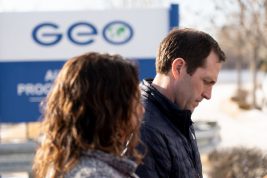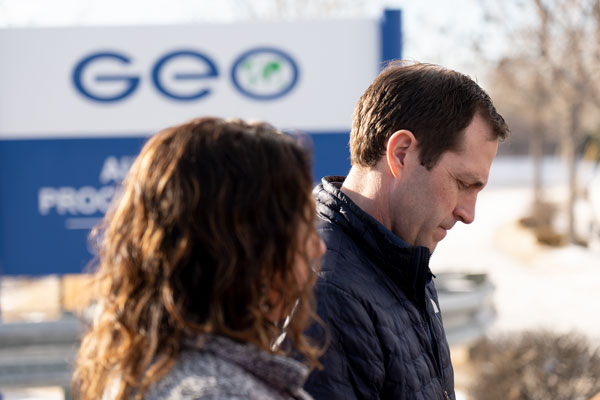 "Detainees in the annex receive hot meals and medical care, including daily medications. The open environment allows for detainees to socialize," Smock said in a statement following the concerns voiced by the lawmakers about healthcare not meeting the expanding population. "In addition, all pods have regularly serviced phones for detainees to contact family members and support groups. Mobile phones are also available for private calls to legal teams. ICE takes very seriously its responsibility to care for detainees."
Choate said the facility is meeting federal standards for healthcare — which has recently hired an additional psychologist and at least six full time nurses.
He said there is currently on site one full-time medical doctor, two physician assistants, two dentists, a psychologist, two psychiatrists available via teleconferencing, 17 registered nurses and at least a dozen other available health care and administrative workers.
Choate said he believes that medical staff are meeting the facility's needs and detention industry standards, which have been confirmed by multiple certifications.
But activists say they've been told conflicting stories from those who have either been inside or have family inside the detention center.
Feven Enkuselasse, an immigrant justice organizer who works with Colorado People's Alliance, has been collecting stories about what it's like to be detained inside the detention center.
Enkuselasse said she and her peers, who sometimes wait outside of the facility to talk to visiting families, worry there aren't enough health care workers inside the facility. The alliance's ultimate goal is to see the private facility shut down.
"Nothing really shocks me anymore," she said of the conditions she's told about sometimes from people inside the detention center, noting that she often hears about the lack of communication regarding outbreaks, quarantine and general medical care shortfalls. One family reportedly told Enkuselasse that a man's complaint of a stomach ache was put off until he was eventually diagnosed with an appendicitis.
Records from the Aurora Police Department show the facility has requested help from police more than 400 times since 2011, including for escapes, assaults, and sexual assault.
Crow said he plans to schedule a tour with the facility, and that the first step of oversight for health and safety inside the detention center is to start with the facts and information he requested from the agency.
He said he still expects a response from DHS.