AURORA | There will officially be six names for voters to choose from for Aurora mayor this fall — but only five names made the ballot.
Candidate Tiffany Grays will be a write-in option after failing to meet the required number of petition signatures, according to the city.
Grays, who announced her candidacy late last month, filed a lawsuit against the city this week to add her name to the ballot, claiming she fulfilled the petition requirement.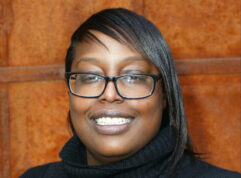 "The suit was filed because the city has performed multiple errors," Grays told the Sentinel, explaining that she believes all of her signatures were valid. "The city is egregiously denying my rights to participate in democracy."
Aurora City Clerk Steve Ruger said his office was able to confirm 96 signatures of the 100 needed to make the ballot. Now, Grays will only be able to receive votes as a write-in candidate. Winning the mayoral, she said, would have the statistical equivalent of "hitting the lottery 10 times in a row." 
The process for being a write-in candidate closed last Tuesday, making her the only person eligible to be written-in on the ballot. 
"She did file the necessary paperwork to run as a write-in candidate, and we have certified her as such," Ruger confirmed to the Sentinel. 
As a write-in candidate, Grays will still be required to file the necessary campaign finance paperwork like the other candidates. She's raised $175, according to this week's latest campaign finance reports. $100 was of her own money.
Grays claims she was able to reach the required number of signatures, first being told she only had 39 signatures, then 54, and finally 96 signatures.
"The city has escalated to an outright denial of my rights," she said. "This is exactly why I am running."
But Ruger and the city say they've gone through the signatures and are confident in their analysis that only 96 valid signatures — from eligible Aurora voters — were collected by Grays.
"We stand by our good faith effort (to verify signatures), but now it's up to a judge to decide," Ruger said.
Grays said she filed the suit on Tuesday and is not being represented by an attorney. 
"I am actively litigating my own cases in court over the last year," she said. "God has blessed me with the ability to fight back in the judicial system."