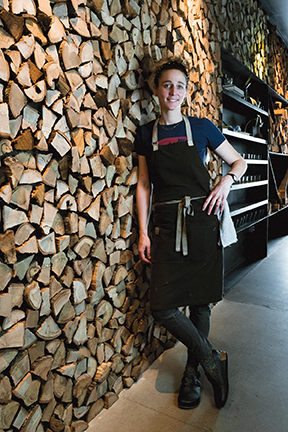 AURORA | Aurora's diversity isn't limited to just its population. Immigrants from across the globe that now call Aurora home have brought with them their home country's cuisine, and the city is the beneficiary of some of the best ethnic food in the region.
But for as wide and varied the menu is in A-Town, one thing that has been missing is restaurants at the top of trendy. For as many amazing tacos and bowls of pho found inside city limits, Aurora trails its big sister to the west in dining that could be considered haute cuisine.
But given the success of one of the city's newest restaurants, that perception is changing.
The creation of owner/head chef Caroline Glover, Annette may just be six months old, but it already is making a name for itself in the city and across the country. The small restaurant that calls home the hip Stanley marketplace was just named by Bon Appétit magazine as one of the 50 best new restaurants in the United States.
"(Bon Appétit) emailed me that morning to let me know we had been named to the list. I got the email and it just felt surreal," Glover said. "They had been in taking pictures for an article on the Colorado food scene and I was excited about that. But when I found out about the top 50, it was just crazy to hear."
Annette has been collecting honors locally as well. City magazine and food sources are raving about plate after plate Glover and her staff send out to the happy dining room. Everything is fine here, critics say.
One look at the restaurant's space and menu, and it's easy to call Annette "fine dining." Yet Glover is quick to push back against that moniker. While the small staff works to provide stellar service and unique dishes made from fresh ingredients all in a upscale atmosphere, the term "fine dining" isn't how Glover sees her creation. And she doesn't want people walking in to be burden by what they think customers have to be to participate in dining with attitude.
"This is a beautiful space but you don't think comfort when you hear 'fine dining.' I tend to fight that idea. There's a certain style and service we try to achieve but I don't want to call this 'fine dining,'" Glover said. "To me it's just preparing really good food in a comfortable environment and atmosphere."
This, she says, is created to be fun, comfortable and easy.
That comfort is what attracted Julia Kramer, special projects editor for Bon Appétit, to Annette's in the first place. She said she was impressed with every element of Annette's, from the service to the intimate space in the unique Stanley marketplace.
"Though I don't know Caroline Glover personally, her point of view really came through in the food, which was ambitious without being overcomplicated," Kramer said in an email exchange. "I go to so many restaurants (in fact, Annette was just the first of two dinners that I had that night!) that blur together; Annette is one I couldn't forget. There is a casual elegance to the cooking that is really rare and special. I only wish I lived closer so that I could return again and again to see how Glover's cooking continues to evolve."
That relationship between Glover and her patrons which drew Kramer's praise is one that the chef strives for with each dish. Annette's kitchen is completely open to the seating area, and regularly customers come up to Glover during service to praise the food and sometimes offer helpful criticism.
It's something she has grown to love and tries to ensure can happen during every shift. She's even slowed down the seating on a busy Saturday to make sure she isn't so rushed on the line that she can't have that interaction with the people she's cooking for.
"I want to be able to look up and hear about their meal. When I started here I didn't know how important it would be for me to have that experience," Glover said. "Most chefs don't want to be out front, that's why we're in the back of the restaurant. So I was surprised by how much I enjoy those moments with customers."
One of those happy customers is Aurora City Manager Skip Noe, who has been a repeat diner at Annette since it opened. Noe has been with Aurora for the past seven years and he couldn't recall in his time with the city a restaurant that received the type of national acclaim that was just bestowed on Annette.
"We've been known for a long time to having a great ethnic restaurant scene. I just read an article about the 10 best Korean restaurants in Denver and nine of the 10 were in Aurora," Noe said. "We're excited that this is putting Aurora on the national map. I had their first reservation and we've been back many times since. We've tried almost everything on the menu and been there for lunch and dinner and for the weekend brunch which is amazing. I've not had anything that wasn't over the top great."
The menu at Annette is populated by dishes that combine the idea of comfort food with pushing boundaires of what people may normally gravitate to on the menu. Choices range from the traditonal like pork chops and roasted chicken to items that might push some peoples culinary boundaires like octopus with patatas bravas and beef tongue with marrow toast. While Glover couldn't name a favorite dish, since she's the creator she loves them all, she hoped people would look past ingredients they may not have experience with and take the dive.
Annette
2501 Dallas St. in the Stanley Marketplace
Open Tues.-Sat. 11:30 a.m. to 10 p.m. Sun. 10 a.m.-3 p.m.
720-710-9975 www.annettescratchtotable.com