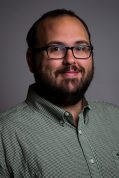 YOUR NEWS | The Aurora Singers welcomes Tanner Kelly as new director.  Kelly brings impressive talent and new perspective to the Singers, which should make for an exciting and entertaining 2018-19 season.
Kelly adds much to the stage.  Kelly is an active performer, teacher and Henry nominated music director in the Denver-Metro area.  
Kelly brings an extensive résumé to the position. Currently, Kelly is the Executive Music and Education Director for Inspire Creative, where he has directed, performed, conducted, and directed music for main stage shows, youth productions, summer programs, and classes for the previous ten years.  For the last four seasons, Kelly has also directed music for the PACE center in Parker with Inspire, a partnership that has received fifteen Henry Nominations the last two years, including his nominations for Outstanding Musical Director for Hairspray in 2018, and Outstanding Production of a Musical for Spamalot in 2017. 
When asked about his opportunity to direct the Aurora Singers, Kelly said, "One of my favorite things about the Aurora Singers is the commitment and personalities of every member of the group. They are inclusive, talented and a joy to be around. Not only am I excited to continue the great legacy these singers have worked so hard to establish these last years (decades…), but also to continue showcasing the power and importance of music."
All are excited anticipating the possibilities of this new collaboration. 
The Aurora's Singers will present their first show of the season, "Another Opening Another Show," at 2 p.m. and 7 p.m., Oct. 6.  Both shows will be at East Middle School, 1275 Fraser.  Tickets are $12 for adults and $10 for students and seniors.  Season tickets and single show tickets are available online at https://www.aurorasingers.org/buy-tickets-online.
Upcoming shows include:  Holiday Extravaganza, Dec. 1-2;  Director's Choice, March 2-3; and Broadway Bound, May 4-5.
Come join The Aurora Singers for, "Another Opening, Another Show," as it proudly debuts its new director.