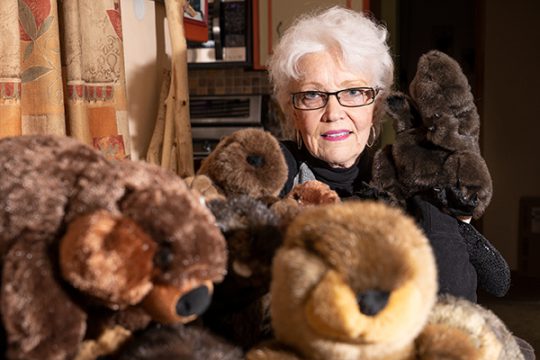 DENVER | Sherri Tippie, 71, poured a dash of salt on her wrist in front of the camera crew, licked her wrist and knocked back her shot of Kirkland brand tequila. After sucking a lime, she spread her arms wide and proclaimed "Praise Gaia!" — the mother Earth of Greek mythology.
The occasion? She'd caught four beavers in an Aurora creek in front of award-winning documentary filmmakers.
Tippie — a Denver local who has been called North America's best beaver trapper — is featured in "The Beaver Believers", a documentary underscoring the role that beavers, and their dams, play in preserving scarce water as climate change and drought intensifies.
Early this month the film was screened at the Banff Mountain Film Festival in Denver, and it's picked up awards on a cross-country tour.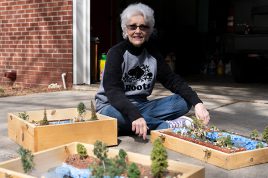 Tippie features prominently in the full-length documentary alongside five scientists introducing beavers into habitats as a means of preserving increasingly scarce water. Although Tippie is not a scientist — in fact, she's a hairdresser by trade — she's become an authority on beavers and their ecosystems through more than 30 years of trapping the aquatic rodents in Colorado.
For decades, Tippie has fielded requests from local governments and landowners to safely remove beavers from metro-area streams and irrigation ditches where they do what they do best: Down trees, build dams and flood waterways.
Instead of killing the industrious but irksome creatures, Tippie live-traps entire families of beavers, holds them in her Denver backyard for several days and then deposits them safe and sound where landowners or governments want them, usually in Colorado's high country.
For Tippie, beavers are more of an obsession than an occupation.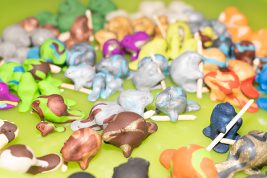 Her Denver home is chock-full of beaver-themed knick-knacks: Tiny clay beavers she'd made herself, piles of beaver stuffed animals and even bath towels threaded with little beavers. Her sweater had a picture of a beaver on it.
As a recognized authority on trapping, she's been featured in many newspapers during her three decades of work including Sentinel Colorado, Time and her favorite — Costco's magazine.
For Tippie, beavers are more than just a beautiful animal: They're a keystone species that create entire ecosystems by damming streams, creating rich conditions for plant and animal life and keeping water in dry soil for longer.
"Everything I do is for them," she said.
She's dedicated her life to trapping and spoke at length about trapping tricks and techniques, boring into the mind of the beaver. Her home is also full of professional materials for beaver trapping, including photos of irrigation infrastructure she's installed to accommodate beavers and beaver documentaries she's been asked to review in her newsletter.
"I'll trap rings around anybody who live traps (beavers)," she said.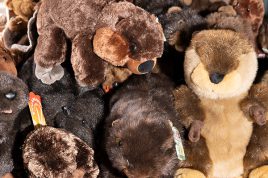 She spoke frankly about local governments and politicians who she thinks are abandoning beavers and destroying the environment. She swears like a sailor and isn't afraid to tell people how she feels, she said.
Tippie was a natural subject to feature in "The Beaver Believers", said Washington-based director Sarah Koenigsberg. She originally heard Tippie speak at a beaver education event in Utah, she said.
"This woman is a firecracker. I've got to track her down," Koenigsberg recalled thinking. "Obviously, she captivated everyone."
Koenigsberg met with and filmed scientists across the West; and in Colorado, her crew camped out in Tippie's backyard for about 10 days. They forged a deep friendship.
In fact, Koenigsberg said she would buy a bottle of Kirkland tequila when production and editing got tough.
"Whenever I was feeling overwhelmed… I would knock back tequila and scream 'Praise Gaia!'", she said.
Tippie's passion for beaver conservation was infectious, she said.
"I've inadvertently become a beaver believer myself, I suppose," she said.
Both Koenigsberg and Tippie are extremely concerned about climate change, having witnessed fires and droughts firsthand. But "Beaver Believers" intentionally takes an optimistic tone by offering beavers as a natural solution to a massive problem.
Tippie said she isn't optimistic about the future, but she's still going to save beavers as much as possible, she said.
But she's especially frustrated with new rules at Colorado Parks and Wildlife. She said the agency, charged with wildlife protection, has created too much red tape that prevents her from trapping during a narrow season in the summer.
The result was that she didn't trap a single beaver last year.
"I'm pissed," she said.
Even so, she has plans to work in Boulder and a couple of golf courses this summer, where landowners have reached out for her expertise.
In the meantime, she is busy fielding calls from across the country, writing her newsletter and educating people about beavers from her Denver home; a celebrity of conservation in her own right.