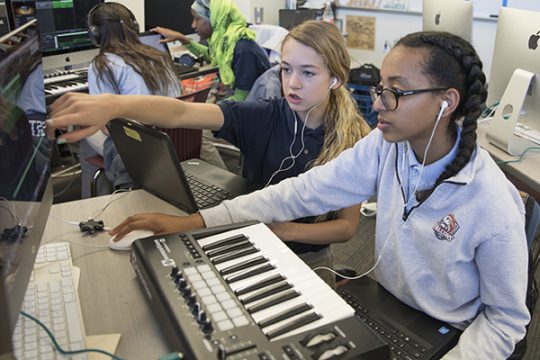 America's in need of the next generation of Einsteins and Turings.
The country is facing a deficit of young minds geared up to head into STEM careers, the buzz-wordy acronym for science, technology, engineering and math that has been driving the conversation on educational reforms for more than a decade. But to help cultivate the future innovators in math and science, the country's education system needs more than just a focus on the hard skills of a STEM-based education.
It also needs to ensure students are spending as much time learning about Mozart and Van Gogh as they are about equations and formulas.
As schools across the country have pushed to increase students' access to STEM classes, advocates for arts education are pushing back. And those advocates aren't just from the world of painting and music. Many engineers, scientist and the like are the ones championing the transformation of STEM education into STEAM, emphasizing the place that the arts have in education.
Everyone wants a piece of STEM
The Denver School of Science and Technology has been a success story when it comes to STEM education. The charter school system with 13 schools in Denver Public Schools boasts a 100-percent acceptance rate of its students to four-year colleges and universities.
DSST's success in Denver classrooms has even opened doors in Aurora for their charter system. In an environment where some school districts actively fight the incursion of charter schools opening up in their boundaries, Aurora Public Schools Superintendent Rico Munn invited DSST to consider opening up a campus in north Aurora.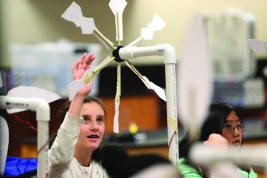 The APS school board approved late last year DSST's application at Munn's behest. DSST is set to open its first campus in 2019 near University of Colorado Anschutz Medical Campus with the possibility of a second campus in the district down the road.
"APS is a district of momentum, opportunity and impact," Munn said when the new campus location was announced in February. "We are eager to help grow the next generation of APS doctors, researchers and medical professionals who will be inspired to learn, work and give back to our community."
For a system that emphasizes STEM learning, DSST has worked for the past few years to make sure there is a major arts component to the education they're providing students in the classrooms.
Mike Lang, a computer programming and music teacher at DSST Byers High School, said the push now is to make sure DSST isn't just creating mathematicians and engineers but well-rounded students who can draw from the entirety of their experience to tackle real world problems. And while DSST has a long way to go in incorporating arts into the student experience, Lang said they're moving in the right direction.
"Six years ago they saw the gap. They said, 'yes we're a STEM school. We know this is what most jobs will require, we know this is what's lacking in public education right now'. But after about five years of STEM focused work, we're not getting our kids to be whole people," Lang said. "We're not giving them the arts, we're not giving them creativity like we should. And they realized it was an error."
Joe Saboe, DSST's director of strategy, said the charter system has worked to provide avenues of learning beyond the core STEM curriculum. The inclusion of arts and other humanities serves two purposes: foster creativity in students and help develop them as whole people who can thrive once they leave the confines of the school.
"We believe that creativity is really important regardless of what field you go into after high school and college. It's an essential skill in our world, to be able to think adaptively and to be able to express yourself and to overcome problems in the world," Saboe said.
The idea of taking away STEM class time for the arts having a detrimental effect on students trying to get into high performing universities is a fallacy, Lang said. One of the reasons DSST reevaluated it's vision on including arts into the curriculum was students wanting to attend elite colleges on the west coast weren't able to apply because they were missing electives like music and theater.
"It's a myth. These classes are the ones that are setting applications apart from the rest and making them eligible to apply to certain schools," Lang said. "It's far from a waste of time. It's the opposite."
STEM needs exploding; pathways still needed
The focus on STEM education has been driven by two major factors — decreasing STEM test scores for K-12 students and a looming shortage of workers trained in the hard skills of math and science.
Students in the United States have seen their science and math scores continuously fall in comparison to the rest of the world. One study, the Programme for International Student Assessment, found in 2017 the U.S. was 38th out of 71 countries in math and 24th in science. That data is worrisome on its own, but coupled with the growing demand for STEM focused employees, and it is no wonder politicians on both sides of the aisle want more focus on science-based education.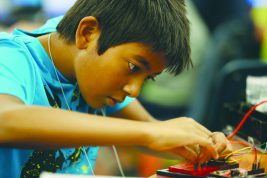 According to data from the U.S. Department of Education, more than 1 million new jobs requiring a STEM background will need to be filled by 2020. To remain not only competitive but to be at the top of the hill when it comes to economic power, America needs K-12 and college students to step up and be ready to fill those jobs.
Ensuring students have access to a STEM education is an important step in tackling the problem. The Department of Education's Office for Civil Rights' Data Collection in a 2017 study found 50 percent of high schools do not offer calculus and 27 percent do not offer physics. But as schools turn their limited resources to expanding access to STEM classes, many experts are fighting to make sure a critical component to STEM learning is saved from the chopping block.
Critical thinkers versus rote memorization
Noah Finkelstein knows a lot about STEM education. He's the co-director of the center for STEM learning at the University of Colorado at Boulder and a professor in the school's physics department.
For Finkelstein, when it comes to STEM learning, he said students are done a great disservice when their education only focuses on the narrow subject of the hard sciences. If a student doesn't know how to connect the skills they've learned in calculus, physics and chemistry to real world problems facing society, they're only seeing part of the big picture.
"The core element of engineering is to solve problems for people. And that's a core element of humanities. (The sciences) have a great deal to learn from the arts and the humanities," Finkelstein said. "We have to teach our students to think about what questions should we be asking and what problems we should be solving."
The emphasis on the STEM subjects, while cutting out arts and humanities, has been the focus for many politicians and educational reformers. The conventional wisdom is that students don't need to waste time learning about the poetry of Shakespeare and the philosophy of Saint Augustine to be able to succeed in the 21st century job market.
But as is often the case with conventional wisdom, this vision of education misses the mark substantially, experts say.
"People look at (arts and sciences) as an either/or situation," said Kevin Riebau, learning resources director for APS. "I would posit when we take a look at how kids learn, they're at their best when they're able to put their learning of any content matter into the context of what's relevant and making connections to the real world around them."
Riebau said when students are able to connect their educational work with what's happening in their neighborhood or their city, it moves the lessons they're learning from the abstract into tangible examples. And the arts and humanities are what's able to help students make those connections.
Finkelstein said the ability to understand issues facing society and to use a base of knowledge that draws upon the sciences and humanities to solve the problem is the type of skill set employers are looking for from STEM employees. It's not enough to learn how to code in Java or how to solve equations. Employers want to hire people that can think critically, communicate ideas effectively and work as a team.
"If we empower and engage students in thinking about social issues, then workforce needs will come along for the ride," Finkelstein said.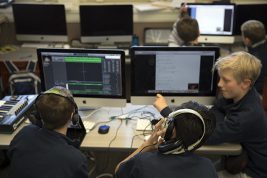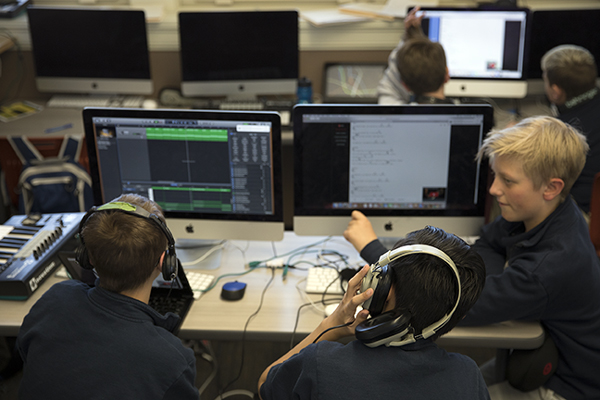 Opening up the arts to children helps them in a myriad of ways, from learning to embrace experimentation and how to work in a collaborative effort with a team to developing critical thinking skills that they will need to help solve the real-world problem they'll face if they pursue a career in the sciences.
A student in an engineering class can learn to design a building that fits every criteria needed for it to be successful at providing shelter. But when that student is also taught about artistic design, they not only design a building that is functional, but is aesthetically pleasing and inspiring to those that open the doors of the building, said Sarah Grobbel, Cherry Creek School District's executive director of career and innovation.
"Just because something is functional doesn't mean it's inspirational," Grobbel said. "To solve these problems, students have to come up with the best solution. And our kids are amazing when it comes to using science, technology and math to develop answers.  But it's the arts that come up with the solutions that are plausible."
Grobbel said CCSD focuses on design thinking with their students, not just in STEM classes but in subjects like history and English as well. Students need to be able to take the background knowledge they develop throughout their educational careers and ask the right questions to be able to synthesize that knowledge into real world solutions.
She gave the example of a group of students a few years ago from Eaglecrest High School that was working on a challenge from NASA. While the students had come up with an idea that would solve the problem, it wasn't until an art student was included in the group that the solution went from a concept to a practical solution that worked in the real word.
"When we get stuck just in the realm of STEM, we don't think critically about solutions that can take an idea from the theoretical to what it could be in the real world," Grobbel said.