Nothing like home for holidays. Scrap that. Actually there's nothing like a home you can make rent or mortgage payments on and still be able to put gas in the car to get to the job you can never leave because you're not living in the metro area in a tent in a park or Wal Mart parking lot.
You didn't hear it here first: housing costs have gone San-Fran crazy in the metroplex.
Rather than wring your hands over the why and how, we're offering readers a look at the too-bad-so-sad reality of what your dollars will get you these days if you're looking to spring out of your parent's basement, or if you chose to sell and move elsewheres.
Buying for $200,000-ish

 

and renting for $1,000-ish
Good luck with that.
This is slim pickings, folks. If you live by the golden rule that no more than a third of your monthly income goes to housing costs, this is the category for those earning near $36,000 to $43,000 a year.
Be prepared to share a space or get depressed.
Sure, a modest salary keeps folks down to earth. But it also presents real challenges for living in the Denver metro, where rent and real estate costs have been driven skyward.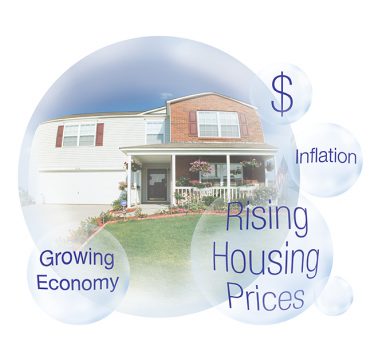 There are still options. According to a recent report from the Apartment Association of Metro Denver, there are an estimated 29,051 units available with rent under $1,000. The report named central-northwest Aurora as one of the cheapest locations in the entire Denver metro – good news for Aurorans or metro residents flocking to affordable neighborhoods.
Even if you can get away with paying about $1,000 a month for rent, what would the money actually get you? Residents want space and in-home laundry – not bed bugs, grimy carpet and flimsy walls. They also want safe neighborhoods with restaurants and storefronts within reach.
That's a more pressing concern for would-be homeowners, who shell out for mortgage down-payments, inspections, appliances, insurance and repairs before aesthetic-minded moves like upkeep, furniture and other decor.
It's not all doom and gloom. We found hope for those of you in our lowest cost bracket, and with a little tender-love-and-care, you could not only survive but thrive with your honest salary. Here are your options: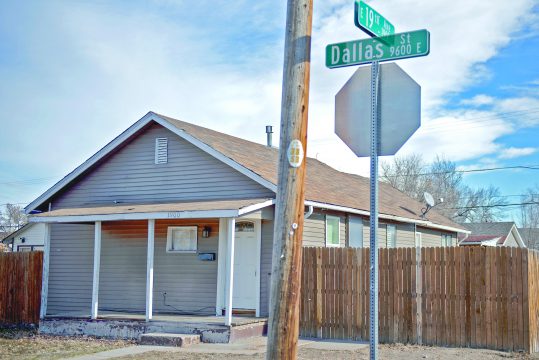 BUY IT — Welcome to 1900 Dallas St., Aurora.
We've outdone ourselves with this pick. The 1,640 square-foot property is listed at only $225,000 on real estate website Zillow, but the estimated mortgage of $993 per month sneaks in just below our lowest category of $1,000-$1,200 per month.
We've included the property because we know Aurorans need every possible opportunity for housing cost relief. Plus, there's the real possibility that inspection and other costs would kick this property into the loving arms of our lowliest housing category.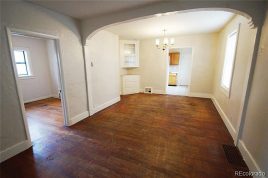 The home is a two-bed, two-bath structure built back in 1927. The home can heat, but not cool itself, so it would be best to prepare for stifling summers in our sun-scorched future. A more than 6,000 square-foot property means a big backyard, enclosed by a tall fence lending privacy.
A microwave and refrigerator are included, according to the Zillow entry.
The house is also described as a flippable property in an up-and-coming neighborhood. Trulia, another real estate website, found relatively high rates of crime in its northwest Aurora surroundings.
If that doesn't scare you off, this is spacious property with serious potential. Patch the sidewalk cracks, slap a new coat of paint on the exterior and open the windows. With a little initiative, Dallas Street could be a home-sweet-home.
The price: $225,000
The good: Proximity to Stanley Marketplace and Stapleton to-dos
The really good: The price
The unexpected: Zillow entry instructs to "bring your toolbelt"
The bad: Property is in mild disrepair
The ugly: The yard is an unsightly patch of dirt
The mortgage: $993 per month
SEE FOR YOURSELF: https://ow.ly/CAOy30mXNzs
---

RENT IT — Welcome to 12450 E. Cornell Ave, Apartment 301
This apartment complex, just down the road from the Sentinel offices, is listed as $995 per month on Zillow. Electric and gas are not included, so actual costs of living here will be higher.
The space itself boasts hardwood floors in good condition, a bar and wood-burning fireplace in addition to the one bedroom and one bathroom.
At 786 square-feet, there's ample room for a single occupant or partners. The refrigerator, microwave, washer and dryer are included – a major bonus.
In online photos, the space looks clean and bright. The wood floors and carpet appear to be in especially good condition.
Undoubtedly, this space would be overpriced near downtown Denver.
That's where the pros end. The landlord, Mavi Unlimited, bars individuals with felonies from renting the apartment. They also stipulate that your monthly income be at least twice the monthly rent rate, though they will accept co-signers. A one-time $60 "administrative fee" is attached to signing the lease.
Finally, the property also won't accept pets. (Sorry, Fido.)
If you fit the bill, the Dam West apartment in the sunny-yellow apartment complex is yours.
The price: $995 with fees
The good: Appliances are included
The really good: Wood-burning fireplace for cold and cozy winter nights
The unexpected: No felonies allowed
The bad: No pets allowed
The ugly: The kitchen is packed tightly
SEE FOR YOURSELF: https://ow.ly/B8r430mXNFj
• .    • .    • .    • .    •
Buying for $300,000-ish and renting for $1,600-ish
This isn't your father's third of a million dollar home.
So, you've finally moved out of your grime-covered, straight-outta-college cesspool and you're making a little coin, but not enough to sip on Mr. Leach's champagne wishes and caviar dreams.
As Scottish rockers Stealers Wheel put it, you're stuck in the middle. And you may or may not be sandwiched between a make-up covered humorist on your left and some sort of jester on your right.
Lucky for you, kind reader, the Aurora area offers plenty of options for folks looking to buy or rent a home for somewhere between $1,300 and about $1,600. (But if you happen to stumble upon a bodacious condo right next to Cherry Creek State Park that pushes that upper limit, you find a way to pinch those pennies and make it work.) From the peculiar Green Valley Ranch annex up north, to the Woodgate neighborhood way down south, there are more than 100 options across the city in the middle price range on any given day, according to most real estate websites. And in Aurora, many of those options include perks like swimming pools, accessibility, and even an on-site gym or two.  Sure, many of the options aren't sporting goose-neck faucets, but they're stellar starter homes that stretch your dollar miles further than what you'll net for a cool stack of Benjamins in the Queen City of the Plains.
Here are a few of our top picks from the middle of the pricing pack: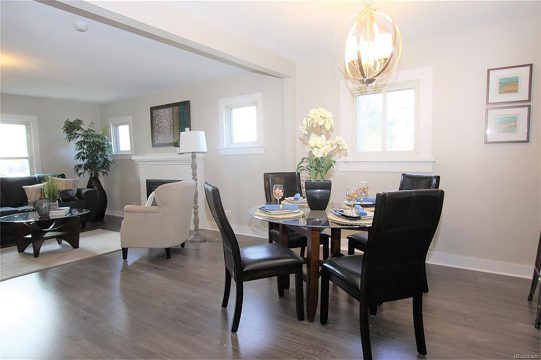 BUY IT — Welcome to 2094 Fulton St.
North Aurora can be hip? North Aurora can be hip, people.
Despite the constant onslaught of negative headlines about the neighborhoods that hang off of East Colfax Avenue and East Montview Boulevard in Aurora's northern corner, the area is slowly blossoming.
To the haters: There's Stanley Marketplace. There are stores like Bike Shop Girl Family Cyclery. There are new business owners like Yemane Hebtezgi of Laundry on the 'Fax who are striving to help every strata of the community.
And, of course, you've got classic mainstays like the Aurora Fox and La Cueva.
And you've got the proof in the goddamn pudding at 2094 Fulton St.
Constructed in 1923, this diffident single-family home is a microcosm of its greater Boston Heights neighborhood: unassuming on the outside, HGTV-ready on the inside.
The space was gobbled up and seemingly flipped by a Denver management and development company this spring, and now boasts uber-modern design and functionality. It checks just about every box save the claw-foot tub.
The single-family abode is listed as containing three bedrooms and one bathroom, as well as a detached garage. The 1,846-square-foot space is listed for $329,900, which is about $111,000 more than the the Denver firm nabbed it for in May, according to county records. It could be financed through a 15-percent down payment of about $50,000, followed by monthly mortgage payments of about $1,500. At least, that's what comes out on the back of the napkin.
Despite those slightly squinty numbers, the house has nearly doubled in value in the past 20 years. And with the way the market has been trending across the metro area, it could be on its way to another significant valuation bump in the coming decades — crime data be damned.
The price: $329,900
The good: The detached, 200-square-foot garage with room to park two cars.
The really good: A 6,500-square-foot lot with a patio and gobs of gardening potential.
The unexpected: New hardwood floors, a dash of exposed brick and several new, stainless-steel appliances.
The bad: Washer and dryer aren't included.
The ugly: The very unfinished basement.
The mortgage: About $1,500 a monh with a down payment of about $50,000.
SEE FOR YOURSELF: https://ow.ly/POD530mXzIq
---

RENT IT — Welcome to 14150 E. Temple Drive #V
I've been told I'm a tall fellow. With a decent pair of loafers, I measure about 6 feet 5 inches tall.
Due to that increased altitude, ceilings can be tough.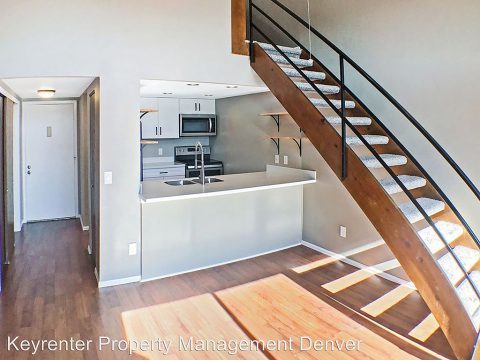 I've regularly bonked my noggin against molding, beams and lighting fixtures in bungalows, apartments and residences across this beleaguered country and abroad. So when I stumble upon a room sporting a healthy vault angle, to say my battered brain is thankful would be a gross understatement.
That's precisely what caught my wandering eye in the listing for the two-bedroom condo on East Temple Drive in south Aurora. Factoring in floor-to-ceiling windows and a five-minute walk to the entrance of Cherry Creek State Park, I was sold immediately.
Although the second bedroom is technically a carpeted loft, this 978-square-foot kingdom would serve as a stellar home for an Aurora or Denver Tech Center-based couple. The loft could be for that cousin who moved to Colorado to "pursue a job in the cannabis industry." You won't even know she's there, probably.
At $1,640 a month, the space is certainly on the pricier side of this whole $1,300 to $1,600 bracket, but upon perusing comparable spots nearby, this domicile sits head and shoulders above the competition. The main perk being, again, the fact that you can walk with both your head and shoulders in an upright, vertical position around the entire place. It's the small victories.
Oh, there's also a pool on the premises. So, yeah, sign on the dotted line, junior. You won't regret it.
The good: Located in the Cherry Creek School District — and walking distance to Sagebrush Elementary School.
The really good: Located within walking distance of Cherry Creek State Park
The unexpected: The place has access to a pool, for crying out loud, it also boasts central air conditioning.
The bad: No designated parking spot.
The ugly: Minimal privacy in the city's very densely-populated Cherry Creek Racquet Club neighborhood.
The rent: $1,640 a month, plus some applicable fees.
SEE FOR YOURSELF: https://ow.ly/zKOH30mXzNi
• .    • .    • .    • .    •
Buying for $400,000-ish and renting for $2,000-ish

BUY IT — Welcome to 1437 Rosemary St.
You've finally made it. You're able to swing a housing budget that falls between $1,600 and $2,000 per month. So the question becomes whether you continue to rent or finally go all in and buy a little piece of the American dream. Down payments aside, there's plenty to choose from on either side of the spectrum around the Aurora region. At 1437 Rosemary St., between the Montclair and East Colfax neighborhoods, find a remodeled ranch with four bedrooms and two bathrooms. The home is technically in Denver, so Denver schools and the property taxes to match — but you're close to all things Aurora, too. It's about 1,660 square-feet with an updated kitchen and bathrooms. The listing boasts custom tile work, a newly finished basement and a short commute to the Anschutz medical campus. The home was built in 1925. It's cute, but a lot of the interesting things about a home built then seem to have been lost to the almost-robotic flippers who last bought this home. It's reminiscent of a brand new home you'd find on the Aurora plains, but in a more interesting neighborhood and better curb appeal.
A monthly mortgage payment here, assuming you have at least 15 percent to put down (around $80,000), will be about $1,971.
The price: $429,900
The good: The home is updated with new kitchen appliances
The really good: Congratulations, you get a yard. The lot is 6,098 square-foot.
The unexpected: Newly. Finished. Basement.
The bad: There's not a lot bad about this property. But you'll have to find the time to do some landscaping. There's a small, really barren front yard.
The ugly: For this price you get a garage, but it's only good for one car.
The mortgage: $1,971.
SEE FOR YOURSELF: https://ow.ly/cvzN30mXAQh
---

RENT IT — Welcome to 1235 Verbena St.
If a down payment that large isn't in the stars, you can always rent this two-bed, one-bath single-family home at 1235 Verbena St., near-ish Stapleton Town Center, according to the listing. It's actually just a stone's throw away from the home on Rosemary Street. The listing says, like most listings in this part of the city do, the property is a short drive to both I-70 and I-225. It's also fairly close to the Anschutz medical campus.
The rental is 687 square-feet, allows small dogs and has a fenced yard. But beware, it lacks character and has close neighbors. Some rental websites show a now well-maintained yard in an established neighborhood. But others show a dead front lawn from years ago. There's new landscaping in the front yard that really makes an otherwise boring curb appeal tolerable.
Lucky for you the price just dropped a cool $100 per month, too. It was listed at $1,700 per month a short time ago.
The price: $1,600
The good: The home is cozy and has lots of great natural lighting
The really good: There's a garage!
The unexpected: The washer and dryer is in the kitchen
The bad: There's some unexpected paint choices throughout the home
The ugly: The one bathroom is a tiled night terror

In Denver's housing market you can spend nearly $1 million and still manage to pay for the ugliest bathroom wallpaper, pale yellow walls and plywood cabinets. Sigh.
In my quest for a Denver dream home I concluded I would be the person I love to hate when I tune in to HGTV's House Hunters on any given week night. You know, the unlucky hopeful with an unimaginable budget and gripes at every turn of the tour. The porch is too small, the cabinets too dark, and an extra 10-minute commute to work? Next!
Those people are the worst, and given a TV crew and more than $600,000 I would be too.
Luckily, unlike House Hunters, I was not restrained by a budget, just my editor's instructions to find whatever I could live with in the Denver metro region if money was no option. Unluckily, the Denver housing market, even as experts say is cooling off, does not seem to have what I'm after. I want historic and cozy, but updated. But not too updated — I think the House Hunter characters call this "charm." Anything that takes up an entire city block does not have charm. The kitchen must be open and clean, and no carpet. Anywhere. Here's to you psychos who put carpet in bathrooms. How does a person justify spending so much on a home with carpet? I first settled on a modest four-bed, four-bath home in the City Park West neighborhood at just under $900,000, but the market moves fast and before I knew it was spoken for. So my search continued, and because my budget is no thing, I took the search on over to the heart of Wash Park for a recently renovated home with the works. It was originally built in 1922, offers four bedrooms and five bathrooms.  It was renovated this year, according to Zillow — and it was done right, preserving all the charm, like exposed brick walls, but updating the kitchen and adding massive closets. There's still carpet, but it's almost forgettable when you start looking at the details of the home, which sits on a 4,791 square-foot lot and has an unattached two-car garage.

DREAM HOUSE: 880 S High St, Denver
The price: $1.7 million
The good: A minimal, floating staircase
The really good: The classic, modern aesthetic of the facade
The unexpected:  The details in the lighting and cabinet hardware — nothing was overlooked in this home
The bad: You're going to have to host some dinner parties, because everybody will want to hang out here
The ugly: They didn't take out all the carpet
SEE FOR YOURSELF: https://ow.ly/DjIc30mXBgm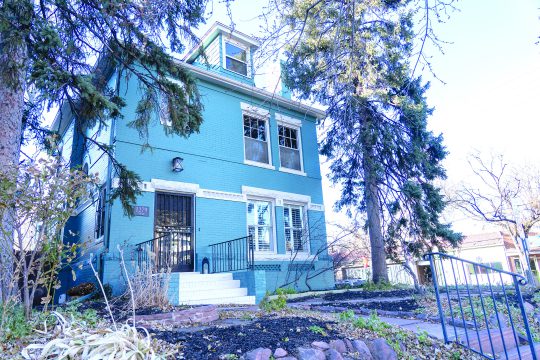 DREAM HOUSE: 1279 Vine St., Denver
Dream on.
This three-story, teal masterpiece would be desired anywhere, but its perch on Cheesman Park kicks the home into the upper echelons of metro housing stock. At almost 3,500 square-feet, the gorgeous interior boasts hardwood floors and plush carpet, three bathrooms including a five-piece master bath, and four bedrooms.
Two evergreens bound the front of the house, and the spacious, grassy backyard would be sublime on summer afternoons.
Enough said.
The price: $970,000
The good: near 3,500 square-foot interior
The really good: Master bathroom comes with clawfoot tub
The unexpected: Complete with an oversized two-car garage
The bad: Your friends will be jealous of you and this abode
The ugly: Sorry, N/A
SEE FOR YOURSELF: https://ow.ly/WsyI30mXNCP

DREAM HOUSE: Mercedes Sprinter
Foundations are overrated.
Homes in the Denver-Aurora metroplex are nice and all, but they present two massive problems: they can't move to chase nice weather, and they're not quite close enough to rocky cliffs.
See, I'm still trying to rock climb as much as my tired tendons will allow — a year gallivanting across the globe chasing limestone merely whet my excitement for the sport. And in order to do that, I'm going to need a Mercedes Sprinter van, ideally tricked-out by Aaron Haack of Runaway Van.
Haack and the Runaway crew built-out the Instagram-famous van for renowned Estes Park-based climber Tommy Caldwell, and let's just say it's not Matt Foley's jalopy down by the river. Caldwell's van — and umpteen others in the #vanlife cult — is a certifiable mobile studio apartment that comfortably supports a family of four, as well as gobs of that sweet, sweet climbing gear.
The buildout's from Runaway start at about $10,000, but can easily run into six-figure territory. Combine that with the minimum $40,000 you need to purchase the base-level Sprinter, and you're looking at a price tag similar to the listing price of, say, a modest bungalow around Washington Park in 1980. It's a reasonable sticker price, but, most importantly — it's mobile. The newest Sprinter models even boast airy, some 14-foot-tall ceilings for the long-limbed, providing "plenty of standing room for individuals over 6 feet 4 inches," according to a recent write up on Curbed. Color me smitten.
But, alas, even though the total build-out would likely run less than the cost of the down payment for some of my colleague's selections, this whole journalist's salary thing will keep this pipe dream just that — a fantasy. Well, until those Power Ball checks start rolling in, anyway.
in the meantime, I'll just plan on seeing you in the back of my Subaru in some parking lot in Cañon City.
The price: Roughly $60,000 for the vehicle, whatever your imagination and wallet allow for the build-out.
The good: It's mobile.
The really good: German engineering
The unexpected: The ability to stand upright in a vehicle with four wheels.
The bad: Laundromats become a necessity.
The ugly: The mud-soaked bumper after whomping through puddles in Moab.
The mortgage: Please, I'm paying for this puppy up-front and in cash.
SEE FOR YOURSELF: https://runawayvan.com/