AURORA | With all eyes now on local government for oil and gas development regulation, it's unclear how the Aurora Oil and Gas Advisory Committee will adapt to a hyper-local regulation process.
"The only evolution that I can see (for the committee) is that it seems like this just has been such a hot button topic and what have we done? Not much of anything," said Polly Page, a member of the committee. She's also served as a state Public Utilities Commissioner, Aurora City Council member and Arapahoe County Commissioner.
Councilwoman Marsha Berzins and former council members Renie Peterson and Brad Pierce — who now sits on the committee — helped create the group in 2016 to study and make recommendations to city council members. At that time, there was little that local government could oversee when it came to approval of oil and gas development.
The advisory committee has mostly served as an educational group, hosting industry and regulatory experts to prepare for any recommendations they may be asked to make.  Since the group's inception the rule-making process has significantly changed.
This year, Aurora city lawmakers adopted operator agreements to iron out details of how companies like ConocoPhillips and Extraction will work in the community. Some council members have championed those agreements, saying the legally binding contracts are stronger than new state legislation passed this year that allows local governments to give initial approval on oil and gas development, instead of the Colorado Oil and Gas Conservation Commission. Others have wanted to slow down the process on the agreements.
There was some discussion on whether the advisory committee could review the agreement between the city and ConocoPhillips, but the committee ultimately decided that not being able to reach a quorum for a special meeting prior to the agreement being formally considered the review would not be well-received by the council and resolved not to study the agreement.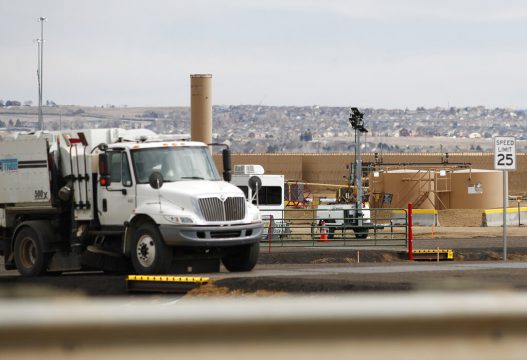 Since the adoption of operator agreements here hasn't been a major shift in the role of the advisory committee, which was written into the charter to serve as a place for local lawmakers to seek advice and industry and community members to have an educational forum. There also hasn't been a lot of direction from the council members on whether to study regulations under the city's purview.
The group does not have the authority to pursue ordinances, resolutions or charter amendments.
"I really think the committee should be dismissed, because we seem to be a whipping boy, and we haven't done anything to be whipped for," Page said.
Three groups of stakeholders make up the group: industry members, citizens and property members. Councilwoman Nicole Johnston, who first got involved in city government through oil and gas regulation advocacy, is a former citizen member of the group.
Last year, as a city council member, she attempted to overhaul the make-up of the advisory committee, claiming that in its current state it is too skewed toward industry representation.
As the committee stands now, five residents, three industry representatives and three surface property owners make up the advisory committee. Up to two residents are to be from areas "most affected by oil and gas at the time of appointment," according to city guidelines. But the rules don't point out whether those panelists are allowed to be associated with oil and gas.
Johnston wanted to either add two residents to the committee or subtract one industry representative, but couldn't garner enough political will on the dais to make the change.
"It's predominantly industry on the committee, that's an issue still for me," Johnston said as to why she hasn't leaned on the advisory committee for more input about oil and gas topics. "Even so, I'm a believer of having feedback."
But even before the legislation, the group of committee members was seldom making suggestions to city council members. Pierce and Page both said they could only think of one or two times when the committee released a formal review during their time.
On those reviews, Johnston pushed for a minority report to also be presented along with the majority findings of the group.
Councilman Dave Gruber said he sees the group as a way to regain trust among citizens who are skeptical of the agreements that are mostly discussed in executive session.
"We have to bring the city back together," he said.
Gruber also sees the advisory committee as having a unique role to play in monitoring the oil and gas companies once they've made an agreement with the city.
In those agreements are accords for air quality monitoring and providing information to the community. Gruber said the group could be an asset on that front.
While no formal review requests have come from the council since the adoption of operator agreements, Gruber said they're on the horizon.
The city council is expected to take up another agreement, a proposed central processing facility, on Monday, June 24. Those details are not yet available to the public.