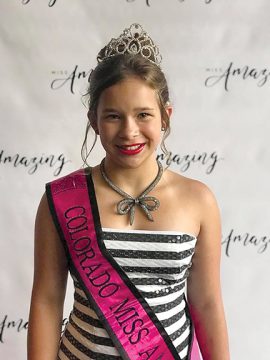 The only thing holding us back is ourselves.
For most teens, adolescence is a tough time — their vulnerable egos are inexorably linked to their shifting body images. Many struggle with just wanting to fit in, and yet, most of them are blessed with all of their natural senses.
But not Lilly Hinsley.
Lilly, who attends Liberty Middle School in Aurora, began losing her hearing when she was a child. "From the time she was 3 to the time we got her the implants, she just gradually went really, really down," said Daisy Howell, Lilly's mother. "She'd be standing in front of you with her back turned and she just couldn't hear."
Her family tried several treatments, including cochlear implants.
"We tried tubes in her ears," Howell said, adding that Lilly kept getting ear infections and her hearing kept deteriorating so we tried hearing aids for about three years.
"We kept tuning them to see if it just needed to be louder but nothing worked," she said.
Ultimately, the family resorted to cochlear implants when Lilly was 7. The implants allow Lilly to hear; she also utilizes sign language to communicate.
Earlier this year, the hearing impaired, 12-year-old from Aurora, who always fancied herself a princess, decided she wanted to enter a pageant. So she signed up as a contestant in the Miss Amazing Colorado 2018 pageant.
"When I was younger, I always dressed up as Princess Belle," Lilly said, referring to the main character of the classic fairy tale, Beauty and the Beast. "When I heard about this program, I thought this has been my dream since I was little."
Lilly's grandmother, who had learned about the Miss Amazing pageant, shared the info with Lilly and her mother. The three then discussed Lilly possibly entering the event, knowing the challenges that entailed.
"I said 'Absolutely.' Let's put her in this," Howell said. And Lilly agreed.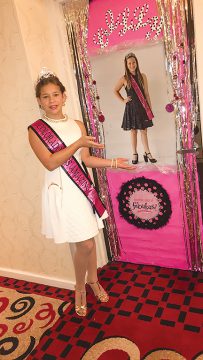 Up first was the state level competition held in Parker in the first week of March.
Lilly competed against 23 other girls in the Pre-Teen category in three rounds: an introductory speech, evening gown and talent portion.
For her performance, Lilly danced to the song, "This is Me," from The Greatest Showman soundtrack.
She took home the crown, suprising herself but also proving to herself that she could make her dream a reality. After winning state, Lilly said she was ready for the national competition in Chicago.
"I wasn't nervous," she said. "I've been brave my whole life."
At nationals, held in August, Lilly went up against 79 other girls in the Pre-Teen category, which included the same three-round format as in the state competition.
The teen queen stole the show with her rendition of "Like a Girl," by The Hachak Sisters; and she wowed the judges during her introductory speech as she spoke about her passion to become a search and rescue officer, working closely with her German Shepherd.
Lilly was stunned and overcome with joy on receiving the announcement from the judges that she had won her category and that she was a national champion.
"I was shocked and couldn't believe I did it for Colorado," she said.
As a winner, Lilly received a crown and sash, and will serve as an advocate for girls with disabilties.
Howell explained how the Miss Amazing program personally helped her daughter and how it can benefit anyone who is challenged with special needs.
"It's technically a competition but the Miss Amazing program strongly supports the girls coming together and forming strong bonds and lasting friendships, building confidence and self-esteem," Howell said. "So that way, these girls have a chance to shine."
While some may perceive the concept of a pageant — where contestants are judged on superficial qualities — as ironic, Daisy disagrees.
"I don't think it's ironic," she said. "I think it's brilliant that someone came up with something so real as a beauty pageant for what others might see as imperfect. Each and everyone of these girls were beautiful and the best part was that they had inner beauty as well."
Daisy explained that the girls Lilly competed against were dealing with Down's Syndrome, Tourette's and other disorders.
"There's just no limit," Howell said. "There's 100 percent chance they can win a pageant."
And it's not just for young ladies. The event categories ranged from Junior Miss to Senior Miss (50 and older).
"To me, this program means that I can speak my heart out," Lilly said. "And most of all — friendship."
For Lilly, the sky is the limit, and she intends to prove that as she expects to enter — and win — more pageants in the future.
"She has gained a lot of confidence from this," Howell said. "I hope and I plan to put her in other types of pageants."
The pre-teen beauty queen shared some words of wisdom for anyone listening, or signing.
"Be yourself," she said. "Don't try to be anyone else."