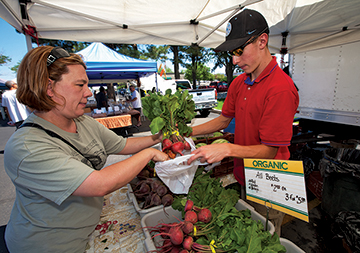 For those culinarily inclined or curious, Colorado summers mean fresh Olathe corn, succulent Palisade peaches, fiery rhubarb and syrupy strawberries. And there's no better place to get a fresh fix than the cornucopia of farmers markets that have already begun to sprout across the metro area and across the state.
While a majority of markets open at the start of June, ones at Southlands Shopping Center, Denver's Union Station and Cherry Creek Mall have already kicked off the season. And with more opening up every weekend, now is the perfect time to start game planning where to go shopping for some of the best produce Colorado has to offer.
"People really get excited to go out to the markets," said Wendy White, marketing specialist at the Colorado Department of Agriculture. "It's great to just spend a few hours on a weekend and walk down the aisle and network with their community."
White said one of her favorite parts of markets is seeing new produce come in as the growing seasons change.
"I love seeing the bounty of Colorado produce come in as the seasons change," White said.
White said the state, through the Colorado Proud initiative, makes a yearly list of hundreds of markets, roadside stands, u-pick farms and ranchers who sell directly to the consumer. And the number of participants keeps growing. 
While markets may seem like the most traditional way to purchase fresh produce and meat, there has been a true renaissance when it comes to the expansion of farmers markets across the country. Between 2000 and 2012, the U.S. Department of Agriculture estimated that the number of farmers markets across the country increased by 17 fold.
Matthew Boulter, founder of Boulter's 5280 Urban Market, has been in the business of putting on markets in the metro area for the past three years, including in downtown Littleton and Castle Rock. He started the markets in large part because he wanted to be able to connect consumers with small producers that made great food.
"I wanted to create this wonderful weekly ritual where people can come together," Boulter said. "You can go to a local farmers market and you can meet the farmer and grower you can get an A-plus product. And you'll spend less money than what you'd pay at the store."
That interaction with farmers, producers and ranchers is one of the things about farmers markets that is difficult to replicate elsewhere, White said. And in a world where people are becoming less and less connected to where their food comes from, it's an important experience to have, especially for kids.
"It is just great to get out and experience something different, to talk to farmers and educate your family where their food comes from," White said. "It really is an experience for customers as well as their kids to see where their food comes from, to have that engagement and being able to talk to farmer and rancher where the food is from and how it was raised. Farming and ranching is a lifestyle and a labor of love. They do this because they love what they do and they like providing healthy and affordable products for their customers."
Where to go:
Some highlights of farmers markets around the area. For the comprehensive list which is updated frequently, visit coloradoproud.com. The first week of June, the state Agriculture Department rolls out its free guide book and mobile app.
Fridays
Stanley Market Place
June 1 – Aug. 31, 9 a.m. – 2 p.m.
www.thelocalcolorado.com 303-693-3662
Saturdays
Southlands Shopping Center
May 12 – Sept. 29, 8 a.m. – 1 p.m.,
-303-693-3662
Cherry Creek Shopping Center
May 5 – Oct. 27, 8 a.m. – 1 p.m.
Coloradofreshmarkets.com (303) 442-1837
Boulder 13th St. between Canyon Blvd.
& Arapahoe Ave.
April 7 – Nov. 17, 8 a.m. – 2 p.m
www.bcfm.org 303-910-2236
Denver Union Station
May 12 – Oct. 20, 9 a.m. – 2 p.m.
www.bcfm.org 303-910-2236