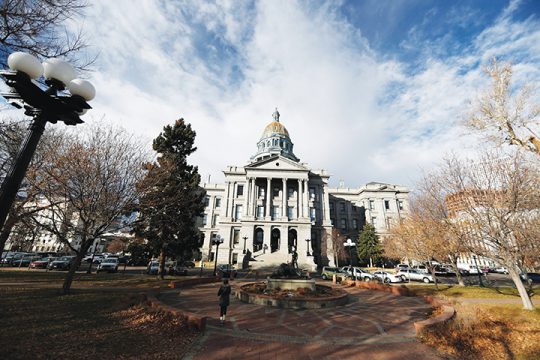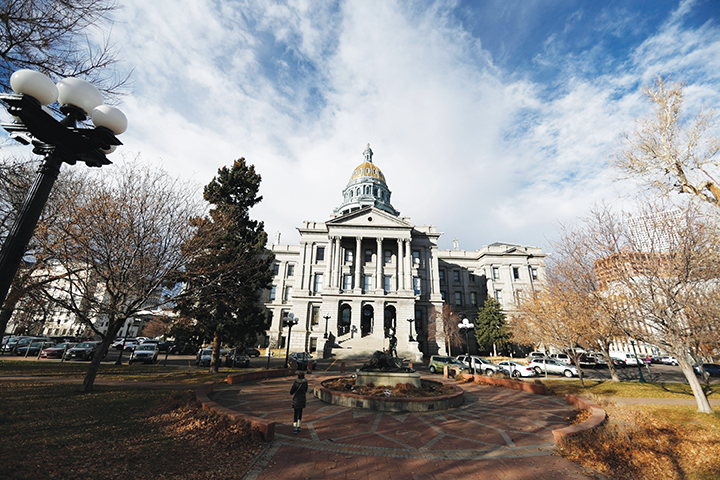 From guns to needles to empty freight trains, Colorado's 2019 legislative session has been, like so many others before it, a spellbinding morass. Here are a few of the most important, controversial and peculiar new laws to make it out of the Gold Dome this year, many with direct Aurora ties.
Colorado lawmakers delivered many of newly minted Gov. Jared Polis' first-term priorities, but minority Republicans also claimed some victories by the last day of the session, especially in slowing down or killing legislation they considered overreach by majority Democrats.
At the start of the year, Polis pledged to stabilize fragile and costly health markets, push renewable energy, establish state-funded full-day kindergarten and grant more local control over how and where Colorado's $32 billion oil and gas industry can drill.
By the final day of the four-month session, lawmakers had delivered on those promises.
"We want you to pay less for health care because you are getting ripped off," the Democratic governor said, flanked in his office by white billboards listing his health care and education achievements. "Americans are getting ripped off on health care every day."
Lawmakers passed an ambitious proposal to create a state reinsurance program designed to lower health insurance premiums on the "Obamacare" individual market by up to 35% in rural areas and an average 21% across Colorado.
If approved by Washington, the initiative could have an immediate effect on the 251,000 residents who buy health coverage on the individual market set up under former President Barack Obama's health care law. Reinsurance allows insurers to lower premiums by having the state take on their highest-cost cases.
Polis said he hoped that President Donald Trump's administration will look favorably at the initiative. He said he was consulting with Florida Gov. Ron DeSantis, a Republican who plans to submit a similar request.
"What helps is that we have a blue state and a red state going in with very similar requests," Polis said.
Colorado lawmakers also passed legislation to seek federal permission to import cheaper prescription drugs from Canada. Vermont led the way by enacting a 2018 law but has yet to ask Washington for approval.
The U.S. pharmaceutical industry fought the measure, arguing the safety and quality of prescription imports cannot be guaranteed.
Colorado adopted a hospital price transparency law earlier this session. Another measure is designed to protect consumers from surprise out-of-network medical bills in emergencies.
Also on the governor's desk is an ambitious climate change measure calling for a drastic reduction in greenhouse gas emissions by 2050. That complements a new law emphasizing safety and local control over production in oil and gas regulations. Republicans fought both measures.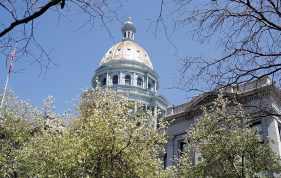 GOP Sen. Jerry Sonnenberg said this year, his 13th in the Legislature, was the most acrimonious. He insisted that Republicans were compelled to resort to filibustering and other methods to force the new Senate Democratic majority to slow down, seek compromise or fail.
"It didn't always work," he said.
At the top of Polis' January wish list was full-day kindergarten, and lawmakers overwhelmingly endorsed it. Polis, an education and technology entrepreneur, stressed in his campaign the importance of early childhood education in providing students, especially the disadvantaged, a step up in their school and career prospects.
Democrats also delivered hotly contested victories in enacting a "red flag" gun law designed to remove firearms from people who pose a threat and adding Colorado to the National Popular Vote movement, in which states agree to award their electoral votes to the presidential candidate that wins the nation's popular vote.
They're also asking voters in November if the state can permanently keep excess tax revenue that otherwise would be refunded to residents.
Lawmakers did endorse a bipartisan bill to ask voters to legalize online and on-site sports betting. If approved, Colorado would launch a limited betting market that would generate roughly $10 million for a state water conservation plan and health programs.
Red hot, red conflagration
Perhaps the most contentious bill — and that's saying a lot this session — to successfully emerge from under the Gold Dome in 2019 was the so-called red flag bill, which in 2020 will grant judges the ability to temporarily strip firearms from people deemed to be a threat to themselves or others because of some kind of a mental health problem or crisis. Sponsored by Democratic Centennial state Rep. Tom Sullivan, the bill signed by Gov. Jared Polis on April 12 earned condemnation from dozens of sheriffs across the state, as well the primary union for the Aurora Police Department. However, top brass from the city's police department supported the measure. The Rocky Mountain Gun Owners on May 2 filed a lawsuit in Denver District Court claiming Democrats stymied debate on the measure by not allowing House Republicans to read the bill at length earlier in the session.
-QUINCY SNOWDON, Staff Writer
Statute of limitations for mandatory reporters
In late March, the governor signed Senate Bill 19-049, which doubled the statute of limitations for filing charges against someone who is legally required to report suspected child abuse, but fails to do so. Sponsored by Aurora Democrat Sen. Rhonda Fields, the measure had sought to extend the statute of limitations for reporting child abuse from the current limit of 18 months to five years. But Republican State Sen. Bob Gardner successfully passed an amendment that only extended the statute to three years. Arapahoe County District Attorney George Brauchler vehemently advocated for extending the statute. Earlier in the year, charges of failing to report abuse filed against several Cherry Creek School District administrators were dismissed because the corresponding statutory clock to levy such charges had expired.
-QUINCY SNOWDON, Staff Writer
Tampons for female inmates in city and county jails
Thanks to alarm bells rung by a former inmate at the Arapahoe County Detention Center, a bill guaranteeing access to tampons and other menstrual products for women in local jails was signed by the governor late last month. Unanimously passed in the House and Senate, House Bill 19-1224 requires a state Department of Human Services facility to provide tampons, pads, sanitary napkins or pantyliners to women who request such items while incarcerated at a city or county jail. The items must be provided for free. Criminal justice reform advocate and abolitionist Elisabeth Epps brought the issue to the attention of the law's sponsor, Democratic Rep. Leslie Herod, when she was serving a several-week-long sentence in the Arapahoe County jail earlier this year. Epps was sentenced to work-release at the local facility for a conviction from a four-year-old case out of Aurora.
-QUINCY SNOWDON, Staff Writer
Trailer indicators
After a spate of controversies in regional mobile home parks, including Aurora, House Bill 1309 focuses on the rights of mobile home owners in parks. As part of a national trend, mobile home parks in urban areas are being closed and sold to developers.
The bill is on its way to the governor's desk.
The measure is separate from the laws that govern tenant-landlord relationships, because mobile home parks often operate much differently than typical rental situations. Many people living in mobile home parks own their mobile home, but do not own the land.
The bill will allow the state to register manufactured home park fees and allow for the state to also administer a resolution program for residents and park ownership.
Counties will now be able to regulate mobile home parks more closely, like how home rule cities are able to. The act also lengthens the right to cure from five days to 10 days for overdue rent payments, and gives the homeowner more time to sell their home after an eviction takes places. Currently the owner has 48 hours to sell the home, now they will have 60 days.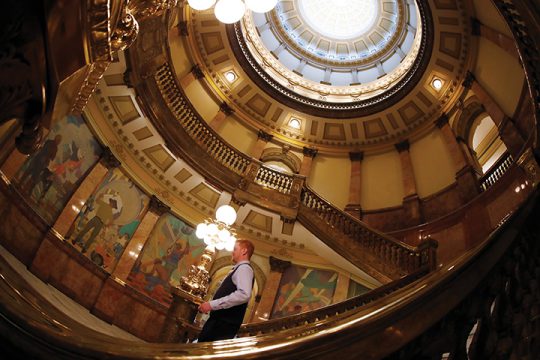 9to5 Colorado, a community advocacy group that has put a notable focus on affordable housing across the Denver metro area, endorsed the legislation.
"Currently there is no state department charged with enforcing the mobile home park act so we have heard of countless stories of residents being taken advantage of by landlords with little to no way to hold landlords accountable short of hiring a private attorney, which is financially out of reach for many. In addition, many parks are located outside of city limits in unincorporated counties. Counties that are not home-ruled have little power when it comes to creating local protections for mobile home owners," the organization said in its support of the legislation.
9to5 has been a major advocate for helping residents at the Denver Meadows Mobile Home Park in Aurora get resources for their closing park.
"I've been living in Denver Meadows Mobile Home Park in Aurora for six years. The park owner has been trying to displace and close it for three years and we have been fighting to save our homes," said Hilda Lopez, a resident of the Denver Meadows Mobile Home Park in Aurora, in a statement. "We almost always have community HOA meetings at my house and the owners have retaliated against me for it. The other day, even though I only have two cars and they were parked in my driveway, my car was towed in the middle of the night, the car they towed was my company car….The owners know we are about ready to move out and we needed my son and my grandson to live with us for the last couple of weeks, they are here to help us move things since my husband can't. They try and take advantage of us every way they can."
— KARA MASON, Staff Writer
Taking a hard renters rights
An affordable housing bill that has traditionally had a tough time in a divided legislature got the green light this year and is expected to soon be law.
The Residential Tenants Health And Safety Act was sponsored by a duo of Aurora legislators. Sen. Dominique Jackson told The Sentinel before the start of the session she felt strongly that this bill would finally become law this year.
It seems that she was right. HB19-1170 is awaiting final approval from Gov. Jared Polis.
The legislation states that a landlord breaks a warranty of habitability if a housing unit is "unfit for human habitation or in a condition that is materially dangerous or hazardous to the tenant's life, health of safety."
Landlords will now be considered in breach of that warranty of habitability if the tenant has submitted written or electronic notice of a dangerous or uninhabitable situation and the landlord hasn't employed actions within 24 hours of a hazardous condition or in 72 hours if the premise is uninhabitable.
The new law also adds two conditions to the list of uninhabitable situations: lack of functioning appliances and mold associated with dampness.
— KARA MASON, Staff Writer
Shining a light on Colorado campaign dark money
The governor is expected to sign a piece of legislation that the Colorado Secretary of State's office says "will shine light on secret political spending in Colorado elections and help Colorado hold those that break campaign finance laws accountable."
HB1938, sponsored by Aurora Rep. Mike Weissman, bars foreign entities, such as corporations and countries, from spending money on any type of political communication or contributing to any type of state campaign finance committee.
The bill also applies existing election rules to more entities. Currently, only an issue committee that spends more than $1,000 has to disclose that information. But the new law will require candidate committees, political committees, small donor committees, political organizations and political parties to do the same.
"Coloradans have the right to be able to follow the dollars in our elections," Weissman said in a statement about the bill's goal.
Colorado Secretary of State Jena Griswold praised the legislation. In a news release the state elections official said "it's time to put democracy back in the hands of everyday Coloradans."
"Too often, Coloradans feel that their politicians are beholden to big money special interests, and that the rich and powerful are allowed to side-step the rules," she said. "Right now in Colorado, a $50 contribution to a candidate is more transparent than a $50,000 contribution to Colorado's version of a SuperPAC."
— KARA MASON, Staff Writer
Equal funding for charter schools
Lawmakers this session soundly defeated House Bill 1190, a mill levy equalization fund repeal. The bill was an attempt to remove equal funding regulations for charter schools. State Representative Cathy Kipp (D-Fort Collins), a former school board member who resigned this year to fill a vacancy in the state House of Representatives, sponsored HB-1190 in an attempt to repeal the state's mechanism for sharing local tax increases with charter schools. The House Committee on Education stymied her efforts in a 12-1 vote, with Kipp the only supporting vote.
Charter school advocates lauded the vote as evidence that charter schools – the public schools with autonomy from school districts and state rule – enjoy strong bipartisan support.
— GRANT STRINGER, Staff Writer
Vaccinate or vaccinot? Not.
A hotly contested attempt to require some paperwork for parents with personal or religious exemptions to vaccinating their school-age children also failed this session, marking a victory for so-called "anti-vaxxers." HB 1312 would have required parents with objections to vaccinations to file paperwork in a timely matter, and also allowed the Colorado Department of Public Health and the Environment to create some rules for immunization requirements. However, the bill would not have removed the religious or personal exemptions from vaccinating children, which allows un-vaccinated children to attend public schools. Gov. Jared Polis told The Sentinel in an editorial board meeting that he supported educating Colorado families on the importance of vaccines, but did not support the state mandating vaccines for children. Regardless, the bill fell short and died sputtering int he final hours of the legislative session.
— GRANT STRINGER, Staff Writer
Teacher's pet peeve
A teacher union-backed effort to overhaul teacher evaluation requirements died quickly in the Senate Committee on Education last month. The Colorado Education Association teacher union has long criticized the current model for evaluating teaches' work in their classrooms, which is mostly contingent on whether their students' test scores improve enough. Senate Bill 247 would have reduced the test score growth aspect of teacher's success or shortcomings with their students, and set up a process to make a new standard.
— GRANT STRINGER, Staff Writer
School district death and rebirth
Gov. Jared Polis signed a bipartisan-backed bill last month to allow school districts to dissolve and become annexed into a neighboring school district under special circumstances, such as if the district loses accreditation. Aurora state Sen. Nancy Todd sponsored the Senate Bill 183, which also sets up a procedure for merging school districts. If utilized, the process would involve lengthy public comment, merging assets, and likely, no shortage of drama.
— GRANT STRINGER, Staff Writer
Sex sells controversy at Capitol
State lawmakers are quick to talk about the 2019 legislative session being rife with controversy, and House Bill 1032 fed the fires of adversarial debate like no other this session. A bill modifying state law regarding sex education public schools was particularly divisive and acrimonious. HB 1032 led to all-night hearings and heated testimonies from both sides of the issue. The focus of the bill requires schools that teach sex-ed to ensure teach kids that homosexuality is not an abnormality. That set up a fuming criticism from parents who said it's their religious right to teach children homosexuality is sinful, a choice or an abnormality. The measure prohibits so-called abstinence-only sex ed and focuses on teaching children to protect themselves from sexual abuse. The measure still allows parent to prevent their children from participating in the sex-ed classes.
The  mostly Democratic-backed push that would successfully overhaul the state's sexual education guidelines in schools, pending a signature from Polis. Polis told The Sentinel early in the session that he supported the bill in theory. HB 1032 would removes a waiver exemption for charter schools from comprehensive sexual health education.
— GRANT STRINGER, Staff Writer
Associated Press writer Jim Anderson contributed to this report.