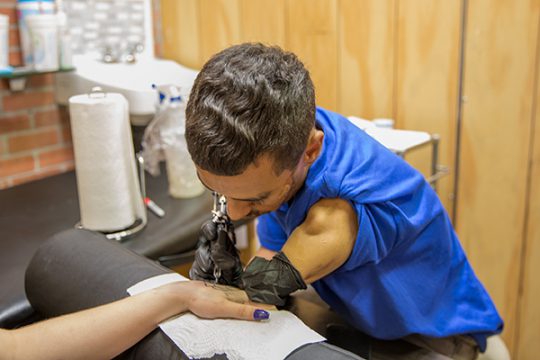 Gregg Jones was 10 years old when he hopped the fence at his family's Aurora home and landed in the thick of the never-ending debate over the most controversial dog breed in the region, and probably the country.
Before he hit the ground, one of his family's two pit bulls, a 3-year-old boy named Pepper, grabbed onto the fifth-grader's pant leg and threw him down.
The dog then latched onto the boy's left arm, shredding it while the family's other pit bull, Doja, tried to pull Pepper away.
"It seemed like forever, but I honestly don't know how long," Jones, now 22, said of the attack.
However long the horror lasted, it was long enough for Jones — who lost his left arm in the attack and whose face was injured — to be forever linked with the metro area's debate over pit bulls. Even today, "the 10-year-old Aurora boy" gets mentioned in seemingly any discussion of the breed.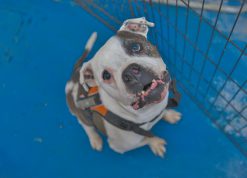 The Aurora City Council had voted just a few days before the attack to ban 10 different "fighting dog" breeds, including pit bulls like Jones' family dog. The ban would take effect a few months later in early 2006, but that hardly marked the end of the debate.
Over the years, the city tweaked the rules, removing seven of the banned breeds from the list and later asking voters if they'd like to keep the ban. During that election, Aurora voters strongly backed a prohibition. To this day, it remains in place.
Through all of that, Jones' phone remained silent.
"What's funny is no one ever asked me for my side of the story," he said.
The city's animal control division contacted him in the immediate aftermath of the attack, but no local media or city officials crafting pit bull regulations reached out to the person with an undeniably worthwhile perspective on the whole thing.
And it's not that Jones has a shortage of thoughts on the breed.
"My opinion on it?" he said. "I love pits. It wasn't the pit's fault at all."
Earlier this year, the city of Castle Rock lifted its long-standing breed ban. Other communities are flirt
ing with the idea.
Could that mean Aurora will review its ban? Council members say it's unlikely, though a few on the dais have long opposed breed-specific bans in general. Some newer members are non-committal.
Jones said he would be happy to see Aurora's ban lifted.
"They're still a normal dog, they're not vicious," he said. "It's just the way that you treat them."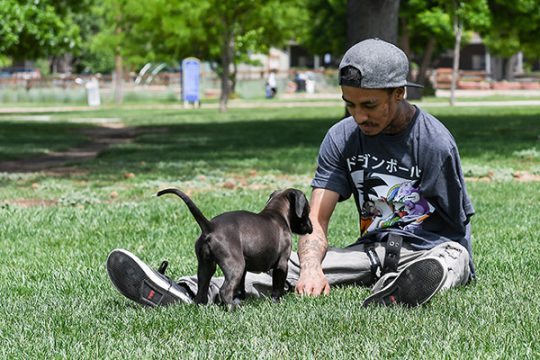 Change coming?
In the early 1990s, Denver handed down a strict ban on pit bulls, a move that followed multiple attacks by the breed in the late 1980s. Several other municipalities followed suit, including Aurora in fall 2005, right around the time Jones was attacked.
Castle Rock was one of those cities that followed Denver's lead in the early 1990s, banning the dogs from calling that Douglas County suburb home.
This spring, the Castle Rock City Council ended that, voting unanimously to lift their ban on the dogs.
The council there made the move after local police told officials that lifting the ban would not jeopardize residents' safety.
Instead, officials left in a provision in the city on "dangerous dogs" that will be placed on a two-tier system.
The first tier is for dogs that are deemed dangerous. Those dogs will either be removed from city limits or put down.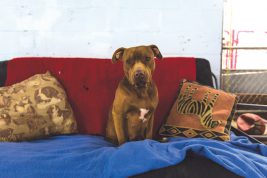 The second tier is for dogs that are seen as a potential danger after inflicting a minor injury on a person or a domestic animal.
Owners of second-tier dogs will need to obtain a permit for them.
What could happen in Aurora is more complicated. The ban was decided by voters as a charter change. Councilwoman Allison Hiltz, who says she neither supports the ban nor voted for it, said she thinks reversing the ban could be something legally done by the council. But whether there's a political will is another question.
Hiltz doesn't think there are six votes on council that could overturn the ban. Not necessarily because of the subject matter, but because of the voter approval aspect.
Instead, Hiltz wants to take a look at changes that can be made inside the ban, such as behavioral assessments or allowing people to keep their dogs long enough to move out of Aurora.
"I don't think there's a lot of wiggle room, but there's enough to mitigate the impact," Hiltz said.
By impact, she means the dogs. Hiltz highlighted that the city isn't just roaming the streets and taking dogs. There's a process that's followed. Hiltz said that policy could be made into an ordinance — that way it's concrete.
Tara Bostick, an advocate for reversing the ban, said legislation needs to focus on the owner, not the dog.
She first became involved in the issue after seeing Kara, a pit bull that is a trained narcotics and tracking dog used by the Colorado Mounted Rangers, on the news last year. But it was before that Bostick had experience breed-specific legislation.
Four years ago, Bostick said she decided she didn't want anything to do with Aurora after the city took a dog from her son and ex-husband. That dog didn't show any signs of aggression, Bostick said.
Neither does her dog, McKlarin, a pit-bull mix that she originally adopted for her daughter as an emotional support dog. McKlarin doesn't have any formal training, so Bostick said she doesn't try to claim her as one. Bostick lives in Arvada, but she still wants to see Aurora's ban reversed.
She noted that goal is a long shot right now. So instead she's proposed to council members that they focus on more regulation of owners, potentially on all dog owners, regardless of the breed. That could look like behavioral tests or some type of registry for owners who have a history of animal abuse.
"You're missing the safety feature here," she said of Aurora's ban.
Those suggestions are all tentative, she said. But to her, it's clear the current rules aren't working.
"I think that provisions should be followed for dangerous dogs," Bostick said. "But it's not the dog's fault. It's the owner's."
A nasty debate
Even before Pepper mauled Jones' arm that afternoon back in 2005, Aurora officials had been fretting about pit bulls and considering ways to bar the animals from city limits.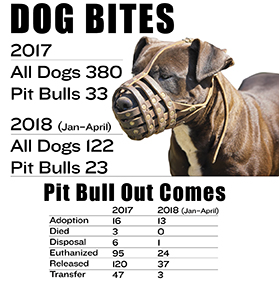 The worry among many was that Aurora would become a sort of "dumping ground" for dogs banned from Denver.
The city's initial ban — which city council passed over the howls of a particularly-loud contingent of pit bull advocates — covered 10 breeds: American Pit Bull Terrier, American Staffordshire Terrier, Staffordshire Bull Terrier, American Bulldog, Cane Corso, Dogo Argentino, Fila Brasileiro, Presa Canario, Presa Mallorquin, and Tosa Inu.
Opponents challenged the ban in federal court, but the city prevailed, and the ban stayed in place and officials continued to review it.
In 2011 council tweaked the ban, yanking seven of the breeds and leaving only American Staffordshire Terrier, Staffordshire Bull Terrier and American Pit Bull Terrier. Jenee Shipman, the manager of the city's Animal Services Division, said in a memo last month that all three of those breeds are "commonly known as pit bulls."
City officials included a provision allowing designated "service dogs" to stay in Aurora, even if they were among the three banned breeds, and the debate over the dogs raged on.
Shipman said the city's animal control officers aren't as rigid in their enforcement of the ban as they once were.
"In 2015, the shift in our internal culture regarding restricted breeds showed a need to think of each of those dogs individually rather than as a specific breed," she said in the memo.
The staff works hard to accurately determine what breed a dog is using DNA tests instead of relying on physical characteristics, she said. And if a dog owner thinks they might have a pit bull, they can get one of those DNA tests and keep the dog in their home until the results are in, she said.
City Councilwoman Molly Markert, who served on council from 2002 to 2015, said the debate over pit bulls was always among the city's nastiest.
"Unfortunately I have been involved with it from the very get go," she said last week.
Markert, who has long supported the ban, said that in today's politics, seeing a high-level of vitriol is common, particularly on social media. But 13 years ago? At least in local politics, things were generally pretty civil — unless the discussion centered on pit bulls.
"If it was today it wouldn't be unusual to see people so hateful, so violent, and so angry out of proportion to the issue," she said.
She said it was even hard to get local surgeons to testify in front of city council about the damage they had seen pit-bull attacks cause because the doctors didn't want their name associated with such a divisive topic.
Still, for all the passion the issue stoked, voters overwhelmingly backed the ban in 2015, voting almost 2-to-1 in favor of keeping the ban the way it is.
Markert said that's important to remember, and a fact she hopes isn't lost on city council members who might want to wade into that battle again.
"The voters decided," she said. "So the council, any elected official, would be smart to listen to the voters."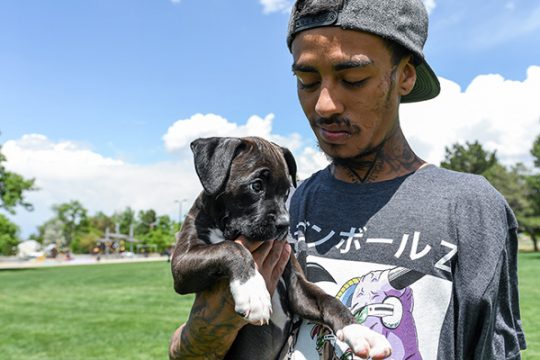 'Not afraid of dogs at all'
As odd as it might sound, Jones doesn't seem to have much animosity toward the dog who attacked him, or any dog for that matter.
He said that before the attack, Pepper was always good to him and his family, following Jones' mom around when she was pregnant and sleeping near Jones and his friends from pee-wee football.
"The dog that attacked me didn't know it was me until it was too late," he said.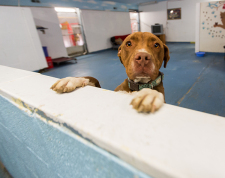 That fall afternoon wasn't the first time Jones had forgotten his keys and had to hop the fence to get into his family's home. But normally when he did it, he made sure to get the dogs' attention, to make sure they knew it was him before he hopped the fence.
That day, he was in a rush, and he forgot his routine.
His guess is that a neighbor kid, who was a few years younger than he was, had been antagonizing the dogs that day, getting them riled up. The kid had done that before, he said, throwing sticks or other items at Pepper.
Even after the attack, he still loves dogs. He always planned on getting a pit bull — these days he lives outside Aurora in Adams County where the breeds are allowed — and he came across a little pit bull and boxer mix that he fell in love with. That dog, whom he named Hennessey, is a few weeks old now, and Jones takes her to work with him at a local tattoo shop where he works.
"I'm not afraid of dogs at all," he said.
These days, Jones is better known by his nickname, "Nemo." It's a nod to the Disney fish who has one bad fin but refuses to let it hold him back.
And all in all, he's a laid back, friendly man in his 20s.
"I'm doing pretty good, and I love dogs," he said. "It's just the way that people treat them."
Still, his injuries are obviously severe, and having one arm has made finding a career a challenge.
When he wanted to get into the tattoo business a few years ago he tried to land a few different apprenticeships. But nobody wanted to give one to a tattoo artist with one arm, so Jones headed to YouTube and largely taught himself how to do it.
"They told me I couldn't do it," he said, dipping the needle into ink to finish the line work on a young woman's lotus flower tattoo this spring. "And I was never good at being told 'no.'"
— The Associated Press contributed to this report.