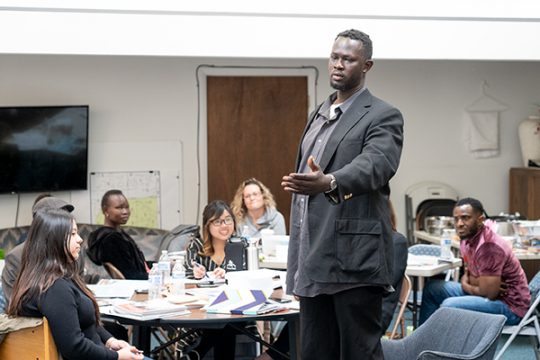 A lot of people who grew up in Aurora talk their entire lives about how tough school was or lament the lack of snow days when they had to brave the cold or snow against their will.  Dominic Kudung began his life as a child soldier, a "lost boy of South Sudan," in the 1980s.
Like so many people who've come to Aurora over the past several decades, he fled horror most Coloradans will never know. He lost his family when he was forced into fighting for a militia as a boy. Sometimes the fighting in villages would get so intense, he said, people would jump into rivers to try to save themselves, but most of them couldn't swim.
Eventually, Kudung escaped Sudan and became a refugee. He made it to a refugee camp in Kenya where a million people were temporarily living. He spent 12 years there, he said.
In 2001, the U.S. government took an interest in resettling the so-called lost boys. Kudung was one of them. He was processed as a refugee and resettled in Salt Lake City that year, and spent three years there before he won a scholarship to study in Colorado.
Kudung is now one of thousands of refugees from countries across the world that make up a vibrant cultural life in Aurora and the Denver metro, including many from Sudan and South Sudan.
He and many other here in Aurora, and across the metro area, say people like Kudung bring strength and richness to the community. Regardless, factions in Washington and here at home say they no longer want as many or even any refugees moving into the country and Aurora neighborhoods.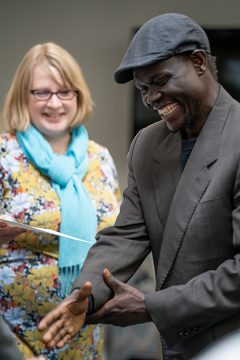 The push back against Colorado refugees is just one of may obstacles Kudung faces these days. He works in manufacturing, making ice machines, but his free time is devoured by his civic duties as President of the South Sudanese Community Association of Colorado. The cost of living is rising in Aurora and the Denver metro, where the bulk of the state's refugees are resettled. Kudung has seven children, and beyond that, he said Sudanese people share what they have with each other – spreading thin resources even thinner.
Kudung doesn't draw parallels with his past life in Africa, but he said he's struggling.
"The work you do, it's not enough to take care of your family," he said. "People think that when you come to the U.S., you are safe – but there are challenges."
Although Kudung is exhausted, he's devoting even more of his time to working with his community and other refugees. He knows that refugees can be terrified of things American citizens can take for granted every day – how to file a police report, earn a high school or college degree, apply for federal welfare benefits, do taxes or simply ride the bus.
Without that knowledge and help, Kudung said some refugees can get lost in the struggle.
"Some people end up taking their life because of the stress," he said.
That's a far cry from the euphoric feeling many refugees say they feel when they are finally settled in the U.S. And now, refugee arrivals in Colorado are in a historic decline under Trump administration policies, along with some federal funding for refugee assistance.
That leaves Kudung and those who work with refugees an opportunity to work more deeply with refugees already here, they say, to avoid crises that can leave some refugees harkening back to the places they fought so hard to leave.
However, some refugees and their advocates say a spiking cost of living in metro Denver is leaving them more vulnerable to poverty and displacement, requiring more investment in these communities than ever before.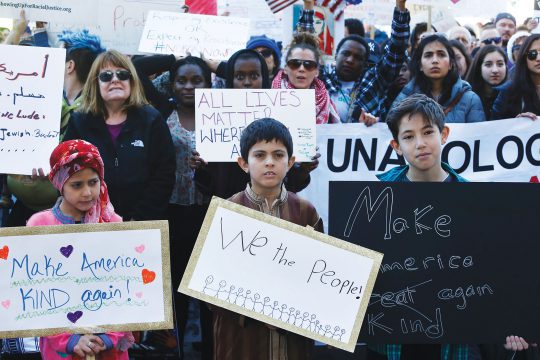 A HOME FOR EVERYONE
It's no secret that Aurora prides itself as a home for refugees and immigrants. About 20 percent of the 375,000 people who live here were born in another country – a portion that doubled between 2000 and 2016, according to city data. A third of Aurorans don't speak English at home. Cultural events like the City's Global Fest regularly celebrate the diversity of human traditions that are represented here, from Latin American countries to Africa, Asia and Europe.
Many immigrants in Aurora arrived in the U.S. primarily to find better jobs and a better kind of life than in their home countries, but a select portion of the foreign born population were accepted into the country from foreign refugee camps, where they proved they could not return to their home countries for fear of violence or persecution, like Kudung and other lost boys.
More than 1,600 refugees were settled in Aurora since 2002 from countries as diverse as Bhutan, Burma, the Democratic Republic of the Congo, Afghanistan and Iraq. More than 20,000 landed in the rest of the state, overwhelmingly in the Denver metro. A small portion were also translators for American military forces abroad.
It's a priority to creating a welcoming and constructive environment for refugees said Ricardo Gambetta-Alvarado, the City of Aurora's liaison to the Immigrant and Refugee Commission. He touted Aurora's refugee integration plan – the only one in Colorado, he said – as proof that Aurora is uniquely welcoming to people who fled persecution.
Although the city wants to be welcoming, federal policymakers decide how many refugees and immigrants the country will accept. Since his election in 2016, President Donald Trump fulfilled campaign promises to limit legal immigration into the U.S., including immigration by refugees.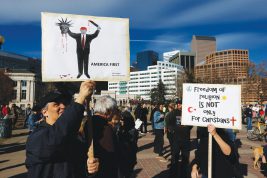 "The U.S. has become a dumping ground for everybody else's problems," Trump said in his 2015 campaign kickoff speech, referencing immigration from Mexico. In office, Trump reportedly derided "s***hole countries" in Africa and the Caribbean in a meeting with lawmakers to discuss protections for some immigrants last year.
Trump administration policy has brought the U.S.'s refugee intake to the lowest level in the previous eight presidential administrations. The U.S. resettled an average of about 78,000 refugees a year from around the world from 1975 to 2016, the last year of the Obama Administration. Comparatively, the Trump administration admitted about 22,000 refugees in 2018, according to State Department data. That doesn't include about 800,000 pending requests for asylum that are filed at the U.S. border. There, migrants predominantly from Latin American are trying to prove similar claims to refugees. Asylum claims are heavily backlogged, especially at the southern border with Mexico.
Former Aurora Congressman Tom Tancredo said the many illegitimate asylum claims at the southern border are clogging the national immigration and refugee system, which gives refugees with legitimate claims less of a fair chance to get into the country.
He added that he's concerned about immigrants in general assimilating into the cultural fabric of the country, and that a pause in immigration overall can provide a "respite."
Mike Coffman, who succeeded Tancredo as Aurora's Congressman until this year, disagreed.
"I think it's very sad that this administration has reduced the number of refugees allowed into our country to historically low numbers," he said, adding that the policy "denies the positive impact that refugees have had in our community, our state, and our nation."
Refugee intake in Aurora has been reduced to a trickle. According to State Department data, the city has seen one refugee resettled so far this year, compared with 34 last year and over 200 in 2013 at the peak of Obama-era refugee arrivals here. The entire state received over 530 refugees last year compared with over 1,900 in 2014, not including a small portion of translators and asylum seekers.
There are still thousands of refugees in the Denver metro, but agencies that work with them lost federal funding attached to individual refugee arrivals, according to Kit Taintor, the state refugee coordinator.
That's been the case for Lutheran Family Services Rocky Mountains, one of three agencies in Colorado that settle refugees here after they have arrived in the U.S.
Spokeswoman Dona Dalton said she couldn't give details on the group's budget, but she said she sees the reduced refugee arrivals and funding as an opportunity to help more refugees who are already here.
That's as some refugees are leaving Aurora because of the rising cost of living, and more mull over the merits of living in the Denver metro.
REFUGE FROM MANY THREATS
Before he came to the United States, Habil Rasaily spent more of his life in a refugee camp than in his home country of Bhutan, which borders India.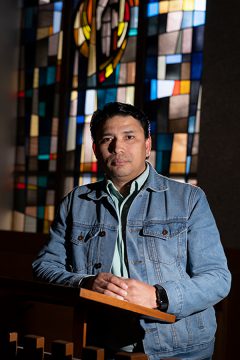 His family was expelled with many others who opposed the monarchy government, he said. The Buddhist government forces also persecuted his family for their Christian beliefs. His family left when he was 14.
For 18 years Rasaily lived with his family in a small bamboo home in a Nepali refugee camp until they were finally resettled in the U.S. in 2009. Now Rasaily is the pastor of a Bhutanese-Nepali Christian congregation that meets Sundays at the Village Exchange Center, a former church-turned-nonprofit space near the intersection of East Colfax Avenue and Havana Street.
But When Rasaily arrived in Aurora, he didn't speak or understand English, he said, the way that government works and the way that people interact here. For example, Americans are much more private and sequestered in their homes and cars, whereas people in Nepal, Bhutan and India are more communal.
Thankfully for Rasaily, Bhutanese and Nepali people are one of the Denver metro's largest refugee populations. He built a Christian congregation of well over 200 people, he said. He's much happier now than he was when he arrived 10 years ago.
Many in his community have left Aurora and Denver because the area has become too expensive, he said.
Housing prices in particular spiked at the same time that the foreign population of Aurora doubled. Only about a quarter of Aurorans paid more than $1,000 in rent per month in 2000, compared with almost two-thirds of renters now, according to City data. Furthermore, one-third of homes are now valued over $250,000. In 2000, that portion was just 3 percent.
For many refugees who begin working in the state for minimum wages, the housing costs are a challenge. In fact, Rasaily said it's a motivating factor for many Nepali and Bhutanese refugees leaving the region.
Correspondingly, his church community has been halved because many have left to move to the Midwest where homes are cheaper. He doesn't know if he'll leave, too.
Gambetta-Alvarado, the City's refugee liaison, said he isn't aware of any big exodus of refugees from Aurora because of housing prices, but added it is possible that some refugees and immigrants are moving away.
Gambetta-Alvarado and other refugee advocates, including Dona Dalton of Lutheran Family Services, say refugees weigh the cost of living with the amenities of living in the Denver metro just like the rest of us.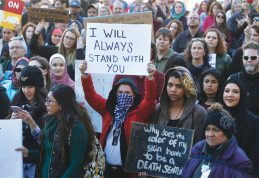 Down the hall from Rasaily's worship space, Dominick Kudung considered just that. He lives in Montbello and grimaced when he spoke of the cost of living, but said his community work here is very important to him. He doesn't have plans to leave.
In fact, he's resolved to work harder. Kudung sat last weekend with refugees, graduate students and nonprofit workers who completed a training to become community liaisons between a bevy of groups and resources and refugees that could otherwise be left on their own.
They flipped through enormous resource guides compiled by the Village Exchange Center, the former church that converted into a nonprofit.
The group helps connect refugees, immigrants and citizens alike to a huge social safety net for help with problems as wide as domestic abuse and childcare to English language classes and education programs to increase their earning power.
A "U"-shaped curve hung on the wall of the makeshift classroom. In it, refugees marked their euphoria at arrival in the U.S. as a high point; the curve then dipped into a bowl indicating their crisis points when they realized they needed help, which climbed back up to the level of the euphoria.
The idea is that, if guided by nonprofits and each other, refugees can not just survive but thrive in Colorado and become staples of their communities.
Kit Taintor, the state refugee coordinator, said refugees are naturally ambitious and independent people. Her agency has estimated that refugees contributed a net benefit of over $1 billion to the state economy from 2007 through 2017. She sees that data as an indicator of refugees' value in the state.
But many refugees and their supporters focus on the moral imperatives of resettling people languishing in refugee camps around the world. About 25 million people worldwide are considered refugees, in addition to 40 million people displaced within their countries, according to the United Nations High Commissioner for Refugees. The top countries hosting refugees are Turkey, Uganda and Pakistan, according to the agency.
Rasaily said he wished the U.S. would take in more refugees.
"I'm so sad about that," he said in his thick accent. "When I was in Nepal in a refugee camp, my life was not secure. I had nothing. But if American opens the door for refugees to come here – it would be very good."