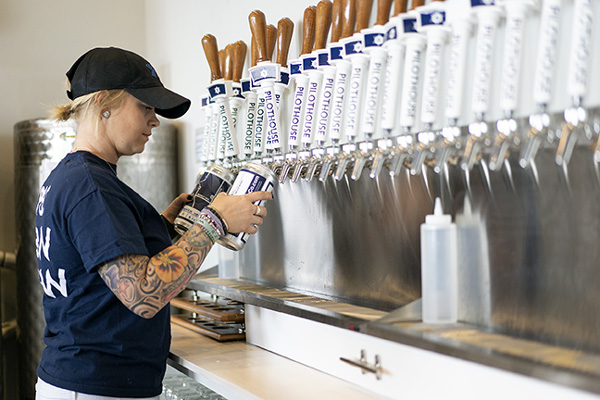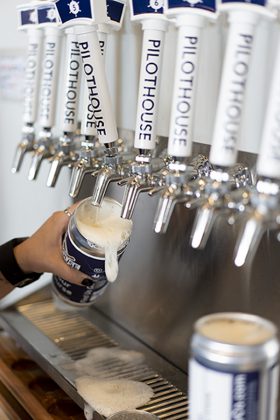 AURORA | In a typical summer, Jean and Michelle Verrier can usually be found on a sailboat, letting the breeze push them around Lake Dillon or the Aurora Reservoir.
But this summer, the owners of Aurora's newest brewery, Pilothouse Brewing Co., have traded waves for suds.
"This is our sailboat," Michelle said with a laugh in the brewery's tasting room on a sunny afternoon last week.
After months of construction to transform the storefront at East Quincy Avenue and South Buckley Road into a nautical-themed brew house, the couple opened Pilothouse in June.
Getting a brewery up and running — which means staffing the business as well as perfecting the brews — has been a lot of work, but the Verriers aren't complaining about the lack of time out on the water.
"Maybe next summer," Jean said as a steady stream of customers ordered beers and grabbed stools that look like they would be at home on a typical Cape Cod dock. 
Jean Verrier said the first couple months have gone well. When they opened, the brewery had 32 beers on tap, a hefty number compared to many metro breweries where about dozen is pretty typical.
That number dwindled to about 15 as many of the brews proved particularly popular, but Verrier said the goal is to get the figure closer to 30, something he said will happen soon.
A longtime home-brewer, many of the beers flowing at Pilothouse are crafted by Verrier and his staff, which numbers about 10 people today.
But Pilothouse is a little different from the average brew house in that they also give amateurs the chance to crank out their own beers on the brewery's professional, German-made equipment.
The amateurs get to compete against each other for a shot at making a progressively bigger batch on Pilothouse's system. When the brewery opened, six of the taps were dedicated to those amateurs and Verrier said he hopes to have another contest with them in September.
Bill Sparks was one of those amateurs who brewed on Pilothouse's system for their opening weekend.
The longtime Mission Viejo resident said he has been making beer at home since about 2010 but never on a scale like the 50-litre system at Pilothouse.
Sparks brewed an Irish red for that first competition, but he is planning something a little more exotic for a chili-spiced peach IPA. And Sparks isn't planning on trying that brew on his home-brew set up first. Instead, he is going to take a crack at it right away on Pilothouse's pro system.
"We are going to jump right in," he said.
Beyond getting a chance to brew on the big system, Sparks said he enjoys just having a new brewery in his neighborhood. The brewery on the northwest corner of Buckley and Quincy is a short walk from his house, he said.
For the Verriers, the focus going forward will be to make sure the tap list remains a diverse mix of brews.
Jean Verrier said even if Pilothouse opts to have a handful of IPAs on tap, for example, they are all going to be significantly different.
One might be a New England style, one a black IPA and one a double, but that's about as similar as they'll get.
That sort of "stylistic diversity" is important, Verrier said, and it's proven popular among the customers. The flights of brews — which, keeping with the sailing motif,  come out on a board with sailing cleats affixed to each side — have been particularly popular so far, Verrier said, and he attributes that to the wide variety Pilothosue is offering.