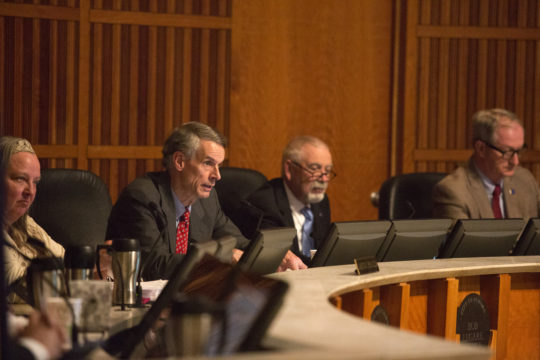 AURORA | Councilman Bob LeGare wants a shot at being Aurora's next mayor. 
The at-large councilman who's served on the dais for a total of 16 years during two council tours of duty is one of two people who have turned in applications to the city. 
LeGare said he turned in his application earlier this week, which a city clerk official confirmed.
City Clerk Linda Blackston said an application from Eric Mulder has been verified, too. Mulder is a registered libertarian candidate for the Arapahoe County Sheriff race, according to Colorado Secretary of State documents.
Applicants have until May 29 to submit their paperwork to the city before council members decide who to interview and eventually appoint to the seat, which was vacated by Steve Hogan, who died earlier this month from cancer.
The person appointed to the seat would fill out Hogan's term, which was set to expire in 2019. LeGare's council seat is also up in 2019, as are the seats occupied by Bob Roth, Francoise Bergan, Angela Lawson and Charlie Richardson.
LeGare said he believes the person to fill that seat should have a deep knowledge of city government and is well-versed on its operations.
LeGare said he would not run for mayor once his appointment is up in November.
— KARA MASON, Staff Writer