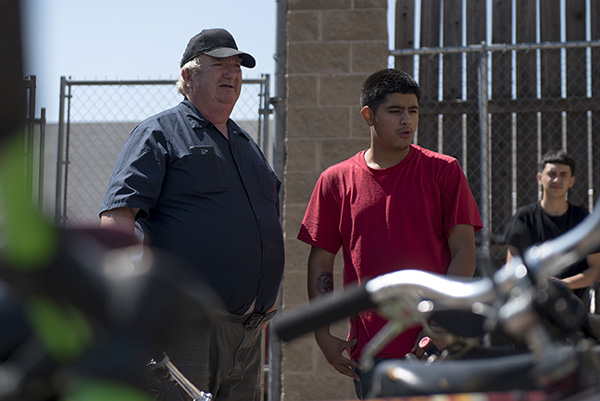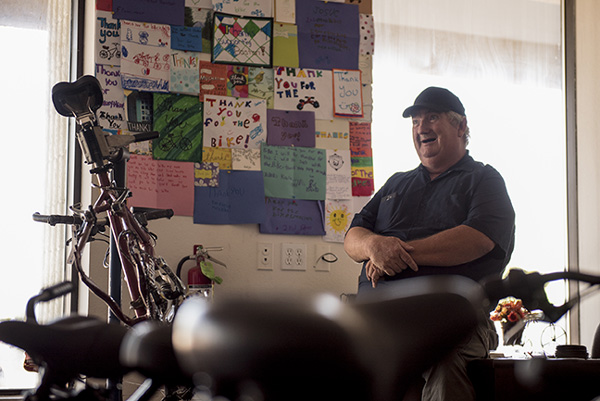 AURORA | As crews of volunteers hoisted used bikes onto piles lining the fence at Second Chance Bikes, founder Ernie Clark did something he hadn't done in several months.
He relaxed — if only for a minute.
The nonprofit shop that repairs and refurbishes old bikes and gives them to needy people was forced out of their old home at East Alameda Avenue and South Sable Boulevard earlier this year because that storefront was slated for redevelopment.
In early June, Clark and his volunteers moved to their new shop on the northwest corner of East Quincy Avenue and Parker Road.
"It's a little bit bigger than the one that we had," Clark said as he strolled through the showroom of his new home.
The storefront, tucked between a religious store and a barber shop in the sprawling shopping center, used to house a boxing gym.
Since Clark and his team moved in, they've steadily filled it with hundreds of bicycles destined mostly for children, but also for pretty much anybody who needs a bike and can't afford one.
As he showed off the new digs, several recently-refurbished bikes sat in neat lines near the front, including a bright-yellow tandem bike that Clark picked up for just a few bucks at a local thrift shop and had his crew fix up. In other rows sat a bright-red girl's 10-speed with "Scorcher" splayed across the frame and a small black Specialized mountain bike.
Clark said many of the bikes ready to head out the door are destined for some local homeless veterans, while others are headed to Arapahoe County social services.
Clark's shop has bounced around town multiple times in recent years in an endless search for a permanent home.
The program got its start in a single-car garage before moving to another building behind the old Aurora Warms the Night headquarters near Dayton Street and East Colfax Avenue. From there they moved to the basement of the Kim Robard's dance studio before stops at Community College of Aurora, a storage unit, and then that last spot at Alameda and Sable.
The new location is a good fit, Clark said, but it isn't permanent, either. The lease runs for one year. So next June, Clark could be in the same pickle he was in this past spring, searching for a rent-free home where he and his crew can get bikes ready for donations.
Clark said his preference would be for a permanent home in north Aurora because that's where the bulk of the children and schools he works with live.
When the program started, Clark's crew was largely made up of homeless men who helped build bikes in exchange for a bike of their own — a crucial possession for people living on the street. These days that isn't the case. Instead, Clark said he relies on many young people sentenced to community service in municipal court.
Still, Clark said, he gets quite a few homeless folks in need of bikes, and he worries that even if they can make the trek from north Aurora to his new spot on the south side of town, having a stream of homeless folks coming through might bother his neighbors.
Tim Gonerka, the city's retail specialist who has worked with Clark to find a new home for the nonprofit, said he, too, would prefer to find something permanent for Clark on the north end of town but that hasn't happened just yet.
The city's retail scene is jammed these days, Gonerka said. In general, that's a good thing for a retail specialist, he said, but it has made finding a home for Clark tough.
"There is always a vacancy somewhere, and it's better to have somebody in and operating it than it is just having it dark," he said.
At the last spot Northstar Development stepped in and gave Clark the space for a few years. This time Gonerka said it was Kimco Realty that gave him the storefront.
Clark said the temporary nature of the spot is a little stressful, but at least they have a home from now until next summer. That means his team can crank out bikes for the busy Christmas season, when he hopes to donate more than 500 bikes.
Hopefully, Clark said, after they get through that Christmas rush they can get their location nailed down permanently once and for all.
"If we have to move again?" Clark said, anxious about what next summer could mean when the lease runs out. "I don't know."