AURORA | Five-term Republican U.S. Rep. Mike Coffman blamed his defeat in Aurora on resentment toward President Donald Trump — but Trump is offering no sympathy and accepting no responsibility.
"Too bad, Mike," Trump said at a news conference Wednesday.
Coffman had held the greater-Aurora  district for a decade, holding off a series of Democratic challengers as the district turned more liberal and diverse. But dislike of Trump and mistrust of the GOP's immigration policies proved too much this election, Coffman said after losing to first-time Democratic candidate Jason Crow on Tuesday.
"In this congressional district, in this race, it was a referendum on the president," Coffman said. "In the end, the waves were too big for this ship to stay afloat."
Trump on Wednesday listed Coffman and seven other Republicans who lost after distancing themselves from the president — refusing what Trump called "the embrace."
"They did very poorly," Trump said. "I'm not sure that I should be happy or sad, but I feel just fine about it."
Noting the shifting demographics of his district — where one in five residents was born outside the United States — Coffman said spending time with diverse communities made him a better congressman and a better person. He softened his position on immigration but said he could not overcome immigrants' mistrust of his party.
"They believe that Republicans aren't simply against illegal immigration but they are against immigrants," he said.
Three other incumbent Republican congressmen won re-election in Colorado, but the rest of the state was trending blue. Democrats held on to the governor's mansion and defeated the incumbent Republican secretary of state. They were leading in the races for state treasurer and attorney general, offices now held by Republicans.
Democrats also were on track to take over the state Senate from the GOP and expand their majority in the state House. They held on to the congressional seat vacated by Jared Polis, who was elected governor.
Coffman's seat was one of more than two dozen that Democrats took from Republicans on Tuesday as the GOP lost control of the U.S. House. The telegenic Crow, an attorney, was the choice of national Democratic leaders to challenge the incumbent.
Both candidates are veterans: Crow is a former Army Ranger who served in Iran and Afghanistan, and Coffman is an Army and Marine veteran who served twice in Iraq.
But Crow campaigned on his differences with Coffman on gun control, health care and immigration.
Crow called for expanded background checks on gun purchases and restrictions on high-capacity ammunition magazines, proposals that resonated in a district where a gunman opened fire in a movie theater in 2012, killing 12 people. The district also abuts Columbine High School, where two students killed 13 people in 1999.
Coffman opposed blanket gun restrictions but advocated for mental health and school safety measures.
Crow assailed Coffman for voting for the GOP tax measure that revoked tax penalties for those who don't buy health insurance. It was a key provision of former President Barack Obama's health care law, which Crow defended as a first step toward his goal of universal health care.
Coffman was booed at town halls last year for insisting that the health law be repealed, though he eventually voted against the GOP effort. He insisted that any replacement legislation guarantee coverage for people with pre-existing conditions.
Coffman cited his longtime advocacy for veterans, his military service, his self-described moderate stance on immigration and his occasional bucking of the GOP to try to persuade voters to keep him.
Crow depicted him as someone no longer able to act as a check on Trump and the Republican Party.
Voter Darnell Driskell said Trump was a big factor in his decision to support Crow.
"I don't like the hate, you know what I'm saying?" Driskell said as he waited to vote outside a library. "I don't like the discomfort, I don't like what he stands for and what he does, what he represents."
Jeff Johnson, who voted for Coffman, said Trump didn't figure into his choice. Johnson said he considers himself a conservative, not a Republican, and he votes for candidates who support his values.
About Trump, Johnson said, "He's egotistical and he runs his mouth off, but look at the economy. The economy is a hell of a lot better than it was two years ago."
Coffman also lost the crucial fundraising battle. With the support of gun control groups, Crow raised more than $5 million, while Coffman collected $3.4 million. Big Republican donor groups pulled out of Coffman's campaign to focus on races they saw as more winnable, and he was outspent 3-to-1 on the airwaves.
Crow made scant mention of Trump in his victory speech but noted "the dark and uncertain political moment we find ourselves in."
"You sent a message that democracy is alive and well in America and that you will not be silenced," he told supporters.
Crow was more conciliatory than jubilant in his victory speech, praising Coffman as a hard worker who served his country with honor.
"Mike Coffman and his supporters are not our enemies. This is politics, not war, and I will never stop trying to find common ground wherever I can," he said.
Colorado voters have rejected a proposal to raise income tax rates to fund public education.
Other local and statewide issues
Arapahoe District Court Judge Phillip Douglass ousted
For the first time in recent memory, voters in the 18th Judicial District have chosen to remove a sitting judge.
District Court Judge Phillip Douglass was voted off the bench Tuesday night, following a vote of no-confidence imposed by a state-appointed judicial review commission.
With about 305,000 votes tallied across the four counties in the 18th Judicial District early Wednesday morning, about 56 percent of voters rejected the judge, according to the results tabulated by the Secretary of State's office.
In Arapahoe County, 55 percent of the some 178,000 votes cast were against Douglass. That number tracked up to about 58 of about 115,000 ballots in Douglas County, and nearly 60 percent of some 11,000 voters in Elbert County.
A majority of the some 1,600 votes cast in Lincoln County were in favor of Douglass.
Douglass did not "meet performance standards" in his past year on the bench, according to a report compiled by the commission on judicial performance for the 18th Judicial District. 
Popular GOP Sheriff Dave Walcher washed away in local blue wave
A Democratic cop from the diminutive town of Mountain View has defeated Republican incumbent Dave Walcher and will become the next sheriff of Arapahoe County, marking another seismic upset amid numerous Democratic triumphs this Election Day.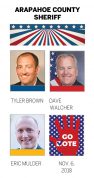 Democrat Tyler Brown controlled about 50 percent of the vote as of about 1 a.m. on Nov. 7, placing him about five percentage points ahead of Walcher, according to election results reported by the Arapahoe County Clerk and Recorder's office. The remaining five percent of votes went to Libertarian Eric Mulder.
About 213,000 votes were cast in the sheriff's race as of Wednesday morning, and about 224,000 ballots were filled out throughout the county, according to the county clerk. There are about 423,000 registered voters in Arapahoe County, pinning the estimated voter turnout rate in the county at about 53 percent.
Brown started his policing career as a patrolman in Northglenn before working in the armed officer division of Aurora Public Schools. He's been an officer with the Mountain View Police Department since 2015. Located just northwest of Denver, Mountain spans about 12 square city blocks and boasts a population of about 520 people, according to recent census data.
Brown unsuccessfully ran against Walcher for the same seat in 2014.
Despite calls to resign, Rep. Jovan Melton holds on to seat
State Rep. Jovan Melton was elected to a final term in Aurora's House District 41, despite suggestions from fellow Democrats to resign his seat after it came to light he has two separate charges related to domestic violence. 
Melton has not returned calls for comment since the scandal broke late last month.
Both of those cases are more than a decade old.
Melton won the race with roughly 62 percent of the vote. Results are still unofficial.
Melton faced a challenge from former Arapahoe County Commissioner Lynn Myers, who was chosen by county Republicans to fill the candidacy left vacant by Dahlia Weinstein, who dropped out of the race in late September due to medical reasons. 
Ballots were already certified and printed by the time Weinstein dropped out. Every vote for Weinstein was applied to Myers. 
"Having lived and worked in Aurora for 40 years, I just could not sit on the sidelines anymore," Myers said on her website just after being appointed to the candidacy. "The citizens of HD 41 deserve a voice in the legislature that can work across the aisle and solve problems. That is how I approached my work as an Arapahoe County Commissioner, where we found ways to build consensus across the public and private sectors to build road, parks and libraries. And that is what I want to bring to this race."
Democrat Tom Sullivan, whose son was slain in Aurora theater shooting, defeats GOP incumbent Cole Wist in GOP stronghold
Tom Sullivan, whose son Alex died during the Aurora theater shooting, unseated GOP incumbent Cole Wist, who also championed a "red flag" bill this year in the Legislature.
It was a closely-watched race for two candidates that have made major moves on gun legislation.
At press time Sullivan had 53 percent of the vote in HD37, which includes parts of Aurora, Centennial and Foxfield. The district has previously been a Republican stronghold. 
Sullivan was not available for comment at press time.
The two have taken strong stances on gun legislation. Sullivan has been a regular in statehouse hearings since the 2013 session, when legislators approved limiting gun magazines to 15 rounds and universal background checks.
Wist gained attention, and some significant disapproval from gun rights advocates, for sponsoring a "red flag" bill this year — which would have allowed courts to temporarily disarm a person who presents a serious threat to themselves or others. The bill passed the House, earned approval from some top law enforcement officials in the state, including Arapahoe County District Attorney George Brauchler and several Republican-elected sheriffs.
The HD37 race drew in nearly a quarter of a million dollars, with Sullivan raising nearly $140,000.
Beyond money, Sullivan, a former mail carrier, also gained a key endorsement from the Colorado Fraternal Order of Police in October. 
Sullivan, who has called the south metro region home for decades, ran for a state Senate seat in 2016, but lost to Sen. Jack Tate.
Statewide school funding plan nixed
Amendment 73 would have increased the state individual income tax rate for people who earn more than $150,000 a year and boosted the corporate income tax rate to raise an additional $1.6 billion annually for schools.
The proposal was defeated Tuesday in a state that has typically been averse to raising taxes. Voters rejected similar measures in 2011 and 2013 by a 2-to-1 margin.
The Colorado Education Association, the statewide teacher union, said in a statement that school under-funding has to be addressed one way or another.
"It shouldn't take 17,000 educators marching to the Capitol as we did in April to make our voices heard, but we are prepared to do what it takes to stand up for our students," said CEA President Amie Baca-Oehlert, referring to the massive Red for Ed marches last spring that drew thousands of teachers.
Opponents of Amendment 73 argued the measure would be bad for the economy and would not guarantee better academic performance. They also said the Legislature would not have been able to adjust tax thresholds to account for inflation.
Boulder congressional seat stays blue
Democrat Joe Neguse has won the Colorado congressional seat being vacated by Democrat Jared Polis as he runs for governor.
Neguse on Tuesday defeated Republican Peter Yu in the 2nd Congressional District that includes Boulder, Fort Collins and parts of north-central Colorado.
Neguse becomes Colorado's first African-American member of Congress. He is the son of immigrants from the African country of Eritrea.
Neguse is an attorney, co-founder of a voter registration group and a former regent of the University of Colorado.
Jeffco keeps Perlmutter in office
Colorado Democratic Rep. Ed Perlmutter has won a seventh term in Congress.
Perlmutter defeated Republican Mark Barrington on Tuesday in the 7th Congressional District that encompasses Denver's western and northern suburbs.
Last year, Perlmutter entered Colorado's Democratic race for governor, saying he could do more for the state in the governor's seat than in Washington.
He abandoned that bid after fellow Rep. Jared Polis entered the race. Polis is independently wealthy and self-financed his campaign against Republican Walker Stapleton.
Perlmutter initially said it'd be unfair to run for re-election to Congress since three other Democratic politicians were already competing for his seat. He later reversed himself.
Lamborn survives blue wave in Colorado Springs GOP stronghold
Colorado Republican Rep. Doug Lamborn has been re-elected to Congress.
Lamborn defeated Democrat Stephany Rose Spaulding on Tuesday to win a seventh term. His 5th Congressional District is centered in Colorado Springs and is heavily Republican.
Lamborn's political career almost ended in April when the Colorado Supreme Court ruled he couldn't appear on the Republican primary ballot for technical reasons.
A federal judge quickly allowed Lamborn back on the ballot, and he won the GOP primary.
Spaulding is an associate professor of women's and ethnic studies at the University of Colorado, Colorado Springs, and senior pastor at the city's Ebenezer Baptist Church.
Republican Ken Buck returned to Congress
Colorado Republican Rep. Ken Buck has been re-elected to Congress.
Buck defeated Democrat Chase Kohne, a veterinarian, on Tuesday in the 4th Congressional District.
Buck will serve a third term in a strongly Republican district that stretches from northern parts of the state across the eastern Plains and into suburban Douglas County.
He is a former Weld County district attorney who unsuccessfully ran for U.S. Senate in 2010. Buck was first elected to the House in 2014.
Aurora Public Schools wins tax hike for mental health
Voters in the Aurora Public Schools district approved a tax increase for mental health services and other safety measures in schools, while raising teachers' salaries.
As of 10:39 p.m., Tuesday, the measure had received 57.2 percent of the votes to 42.8 percent voting against the measure.
5A will increase property taxes by $8.22 a month for $100,000 of home value. The homeowner of a $500,000 home would pay an additional $41.1 in property taxes each month.
The tax revenue will create a fund of $35 million to place mental health professionals like social workers, psychologists and counselors in elementary through high schools. Teachers and staff will be trained to recognize behavior from students who may be experiencing trauma. Teachers salaries will also increase by three percent.