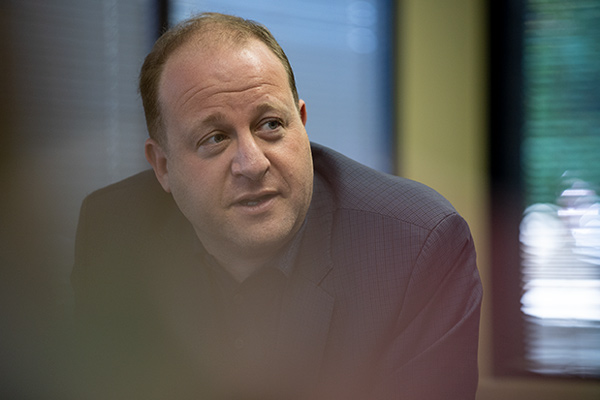 AURORA | Amid incendiary accusations of tax evasion and unethical investments, just how much the Republican and Democratic nominees for Colorado governor know about their substantial assets isn't easy to determine.
At issue are the blind trusts of this year's uber-wealthy gubernatorial candidates, GOP Colorado Treasurer Walker Stapleton and Democratic Congressman Jared Polis.
Polis has been the subject of attack ads focusing on his considerable wealth, and Stapleton's finances have been media fodder during previous elections.
Stapleton's so-called blind trust  — Rocky Mountain Trust LLC — first garnered media attention during the gubernatorial primary when he told a reporter from the Colorado Independent he would release information on his finances, but not on his "blind trust" because "that violates the spirit of setting up the trust to begin with."
The articles of organization for Rocky Mountain Trust LLC show no trustees, just a current registered agent of the LLC, which has since changed to Denver lawyer Catherine Hance. The articles show that Stapleton is listed as the only person who established the corporation.
Rocky Mountain Trust LLC is named in a Jan. 1, 2011 consulting contract with the holdings company, SonomaWest, which is owned by Stapleton and other family members, according to filings at the Securities Exchange Commission. In that filing, Stapleton is named as a "consultant" to SonomaWest Holdings under the moniker Rocky Mountain Trust LLC.
How Stapleton set up the trust on Dec. 20, 2010, and how it's managed defies the typical description and function of a blind trust.
Blind trusts are typically established so that the beneficiary has no knowledge of how the assets in the trust are being managed. A blind trust set up for Polis has multiple devices to prevent Polis from having knowledge of — or control over — the trust assets and holdings.
State and SEC records show that Stapleton had, as a consultant, access and control of the trust and its assets. In addition, his father, Craig Stapleton, is now CEO of SonomaWest Holdings Inc., which controls substantial holdings in the trust.
Walker Stapleton was CEO of the company before taking office as the state treasurer. His father, Craig, took over the company after Stapleton's election in 2010. At the time, a filing with the SEC indicated the younger Stapleton would end his CEO tenure of the company on Dec. 31, 2010 because of his upcoming swearing in as Colorado State Treasurer, then just days away.
Stapleton did not respond to repeated requests for comment.
Although Stapleton was no longer the CEO of SonomaWest Holdings, his consulting agreement stipulated he'd receive $250 per hour, with an annual maximum payment of $150,000, for his consulting services that included assisting the CEO, managing properties and participating in conference calls.
SEC records show he did just that. On Feb. 18, 2011, March 16, 2011 and on March 26, 2011, all weekdays — after becoming state treasurer — Stapleton conferred with other shareholders to move the buyout forward.
That deal was ultimately consummated after a series of back and forth offers regarding the sales price of shares of stock, according to records. The move made the public company private.
The issue of his blind trust was raised again during the Republican gubernatorial primary, and the Colorado Independent pointed out that Stapleton's state candidate filings left out the supposed blind trust.
In a May 25, 2018 letter to the Colorado Secretary of State, Stapleton said the trustees of the trust manage all of the assets he previously listed on the disclosure. There are no records of trustees, only the attorney and himself, according to state records.
He also said that a list of assets recorded with the Secretary of State from the previous October should have been included as assets of the blind trust. Those assets include SonomaWest Holdings, Wells Fargo, Kroger, Cisco Systems Inc., Kansas City Life Insurance Co., Metro PCS Inc., and several more.
Congressional experts say that such hands-on management of a blind trust or its assets defies the purpose of creating one.
To qualify as a blind trust in Congress, an elected official must relinquish "the management of assets to an independent trustee, who makes investment decisions for the individual's benefit without the individual's knowledge," according to a 2015 brief on qualified blind trusts presented to the Senate Ethics Committee.
Stapleton's campaign did not respond to multiple requests for comment and clarification on the status and handling of what he has referred to as a blind trust.
Polis appears to handle his blind trust very differently.
Polis, who is regularly ranked as one of the wealthiest members of Congress, has adamantly defended his establishment of a blind trust shortly after he was elected to represent the state's 2nd Congressional District in 2008. Polis worked with the House Ethics Committee — a committee on which he now serves — for nearly a year to place a majority of his vast portfolio of assets into a trust with Texas-based firm Kanaly Trust, according to an open letter from 2012.
"I wanted to go above and beyond what typical members of Congress do to be transparent about their assets, which is why I established a blind trust immediately when I got to Congress," Polis said in a statement. "So right out of the gate, I would be able to dispel any appearances or concern of conflicts of interests."
The trust contains all of Polis' assets except those pertaining to personal property, and "legacy investments," which require ongoing investments over a fixed timeframe, according to a spokeswoman with the Polis campaign.
It's unclear what the value of those assets are.
Polis has had no contact with the managers of his trust since meeting with a trust protector, a financial acquaintance in Boulder, shortly after he was elected, according to officials with his campaign. The protector is an additional layer of separation between an elected official and his or her investments. The protector remains familiar with the trust, without sharing any proprietary details with Polis, in an effort to prevent the appearance of, or outright potential fraud, officials said.
Polis receives regular updates with the balance of his assets in the trust, and he is required to get permission from the ethics committee any time he wishes to withdraw from that pot. By law, he cannot contact, or have had any prior familiarity with the firm managing his assets.
Among the 15 wealthiest members of the House, officials with the Polis campaign claim he is the only current U.S. Rep. with a blind trust. U.S. Senators Dianne Feinstein (D-California) and Mark Warner (D-Virginia) are the only two Senators among the top 15 wealthiest members of that chamber with blind trusts.
Generally, voters don't mind too much how wealthy candidates are, said Colorado polling expert Floyd Ciruli.
"It doesn't bother the voters that they (the candidates) are really rich or that they put so much money in their campaigns," Ciruli said. "But a scandal could change that."
After riding the internet boom to a massive payday in the late 1990s, Polis has long been a multi-millionaire. And although he declines to specify his exact net worth, his financial disclosure documents filed with Office of the Clerk for the House span more than 30 pages and detail an array of assets totaling at least $140 million, and potentially much more. The reports, which only require officials to estimate the amount of most assets, outline hundreds of holdings across an array of industries, including healthcare, technology startups and more than 120 separate plots of land in south Florida.
Both Polis and Stapleton have refused to reveal recent IRS documents, which could shed light on questions regarding assets and net worth.
Polis has pointed to past filings he's released and said he would offer more if Stapleton agrees to as well.
Stapleton's campaign did not respond to queries.
The question of wealth has also highlighted personal spending on the campaigns. Polis has donated more than $18 million to his gubernatorial bid in the past year, according to his most recent campaign finance filings with the Colorado Secretary of State. Stapleton has contributed more than $1 million to his own campaign over the same time period, according to campaign finance filings.
If elected governor, Polis said through a spokeswoman, that he would continue to keep as many assets as possible in a blind trust in order to stave off any appearances of impropriety.
"As governor, I will maintain a blind trust because Coloradans deserve to know I am always looking out for them first," Polis said in a statement.