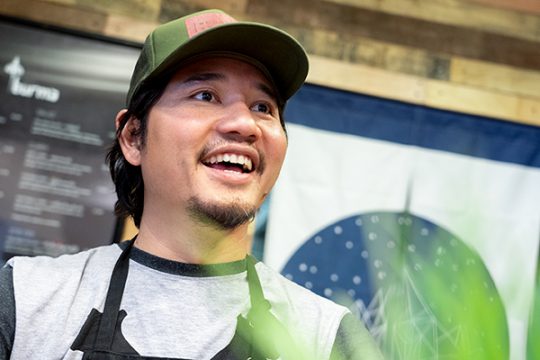 AURORA | Mohamad Alnouri is quickly making up for lost time.
The 22-year-old Aurora resident, a native of Damascus, Syria is about two years behind his father in starting his own business.
"He started his own business at 20 years old," a chuckling Alnouri said of his dad. "I started at 22 years old, so I'm a little bit late."
But the upstart entrepreneur has been busy in the past couple of years: He and his family left Egypt — several years after fleeing Syria — and came to Aurora in 2017; he learned English; got a job as a prep cook at Kachina Cantina in Downtown Denver; completed a food safety course at the University of Denver and enrolled in courses at Emily Griffith Technical College in Denver.
And earlier this year, Alnouri's parents helped him open Jasmine Syrian Food, an authentic Syrian joint sandwiched between several other immigrant-owned restaurants in Aurora's newest gastronomic bazaar.
"My parents decided to leave everything in Syria — their company, their jobs, their family — to just protect me and my older brother," Alnouri said. "I'm just hoping my parents are proud of me in the future."
Jasmine is one of half a dozen new immigrant and refugee-owned businesses that have set up shop in the new Mango House space in the former Afrikmall building at 10180 E. Colfax Ave.
For the past several months, scents of Syrian shawarma have commingled with Burmese curries and Somali baked goods in the some 56,000-square-foot former furniture store that for years has struggled to find any form of commercial footing.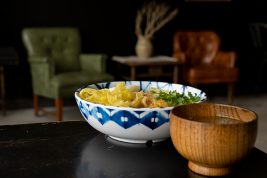 Denver real estate firm Northstar Commercial Partners bought the former Broyhill Furniture Building on East Colfax in early 2014, and sunk some $1.65 million into the property to turn it into a hub of African culture and cuisine. That concept gave up the ghost in 2016, and the pad was eventually handed to an internet TV personality who planned to turn the space into an Afro-centric cultural center. He was evicted for failing to pay rent the following year.
Then in 2017, a local pastor took the reins of the space to convert it into the Aurora Hope Complex.
But according to a Northstar representative, the Denver developer finally sold the property for an undisclosed sum last summer to Dr. PJ Parmar, a local physician who has gained international attention for offering medical services to Aurora's burgeoning refugee population.
"That space has not had a permanent tenant for a little while, and I'm excited that there is now a community space that includes our immigrant and refugee communities, and it's not just a location to seek services," said Ward I Aurora City Council Member Crystal Murillo. "I think the Mango House has had a lot of experience supporting our immigrant and refugee groups and I'm excited to see them expand to a larger space to include more community-minded organizations and businesses."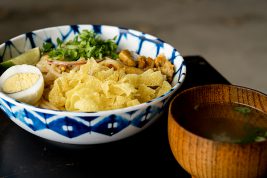 Parmar wants the space to be "a place where the community and American people are coming together and eating and meeting people," according to Diane Scanzaroli, a physician's assistant serving as medical director of the facility's walk-in medical clinic.
The new Mango House is an amplified version of the services Parmar and other like-minded organizations have for years provided to refugees at 1532 Galena St. The new East Colfax location also houses a dental clinic, market and after-school program organized by the African Community Center.
Scanzaroli said the hulking building could soon add language classes and a program that teaches refugee women how to make and sell handmade jewelry. Last weekend, the building hosted a benefit concert featuring notable Denver crooners Los Mocochetes, Anthony Ruptak, and others.
Parmar has fronted many of the costs incurred while bringing the new food hall and medical clinic online, including much of the restaurant equipment, according to Siri Tan, owner of the Urban Burma restaurant, which opened at the beginning of April.
Tan, who for the past several years has worked as a family navigator for Project Worthmore, said he's so far enjoyed slinging traditional Burmese dishes — he asserts he's the only 100-percent Burmese restaurant in the metro area — beside chefs from Sudan, Nepal, Somalia and beyond.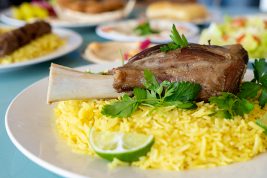 "I never met people from Sudan, or people from Syria when I was in Thailand or when I was in Burma, but since I've moved to the States I've met a lot of different people, and I just love it," he said. "I've been trying their food too: They eat my food, I eat their food — it's amazing."
Both Tan and Alnouri are intent on introducing Aurorans to uncompromising dishes from their home countries: Thai-esque noodle dishes and Indian-inspired curries for the former, and carefully mashed baba ganoush for the latter.
"I've been to a couple 'Syrian' places before and when I brought the food to my parents they said 'what is that?' They didn't eat it. Me neither, I had to throw it away," Alnouri said while wrinkling his nose in disgust. "Real Syrian food, to me, uses the real recipe — without changing it because you're in the United States."
Tan, too, said he wanted to introduce American palates to the food he grew up eating — not the ubiquitous Asian fusion found in restaurants across the country.
"During my five years here, nobody knew about Burmese food," he said. "Thai and Vietnamese food is really popular here, so I really wanted to introduce Burmese food to the Denver audience."
Scanzaroli said the new food hall could serve as a figurative passport stamp for penny-pinching travelers trying to save money before embarking on journeys across the globe.
"A lot of people want to go to Thailand or Nepal or different things," she said. "But it's right here."