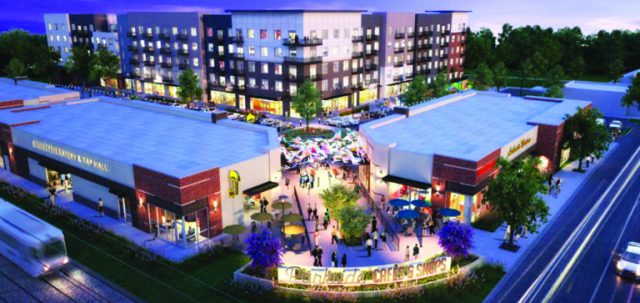 AURORA | The thousands of city employees who cruise down East Alameda Avenue to the Aurora municipal complex each day will soon have some new neighbors.
Denver-based development company Northstar Commercial Partners recently broke ground on a new residential and retail complex on a blighted lot in the shadow of the Aurora Municipal Center.
Deemed Parkside at City Centre, the nearly $80-million development is expected to consist of 216 multifamily apartments and 36,000 square feet of retail space, according to Brian Watson, CEO of Northstar.
Watson's firm, which has erected several other developments in Aurora, is partnering with a pair of other firms with offices in Colorado and California to bring the new project online.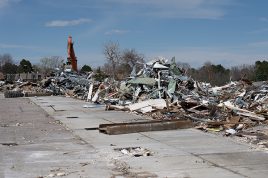 The venture will sit on 5.6 acres of land at 14531 E. Alameda Ave., which for years has been home to a mostly vacant retail strip. Watson said Northstar and its partners have rented the building to various short-term tenants since the group bought the land it sits on in 2015.
Crews began demolishing the facility last month, Watson said. He said people could begin moving into the forthcoming apartments in fall 2020.
Watson said one restaurant has already agreed to set up shop in the new development, which could be home to as many as 500 people in the coming years.
He said several entrepreneurs have also expressed interest in opening a food hall concept in the area.
The nearly six-acre lot is located in one of the city's 14 urban renewal areas, all of which grant developers years of tax breaks through tax increment financing.
Watson said the arrangement with the city helps offset the rising construction costs tied to building a multi-million dollar complex like the one slated for the corner of Alameda and South Sable Boulevard.
"The costs for construction have gone up tremendously and sometimes it's really hard to make the numbers work," he said.
"We worked with the city and received that so we could redevelop that site because it was a blighted site."
Cities are only able to establish urban renewal areas, and in turn, grant tax increment financing, in areas that are deemed legally blighted.
While Watson said the new apartments in the development will boast "market rate," sticker prices, he did not elaborate on estimated prices.
The current average monthly rent for an Aurora apartment is $1,327, according to RentCafé, an apartment search and data site based in Santa Barbara, California.
Watson, who ran an unsuccessful bid to be state treasurer last year, said he wants the new development to buoy the city's tight housing stock.
"We looked at what was needed and Aurora was often overlooked for new apartments," he said.
Rental prices have shot up more in Aurora than in any other large city in the country in the past five years as skyrocketing costs in Denver and other Front Range municipalities have pushed more renters into the region's eastern and historically more affordable peripheries.
"I think a lot of focus has been on the central core, Denver specifically," Watson said. "But we really believe in Aurora."