AURORA | Islamic-compliant lending applications come in waves at Aurora-based CEDS Financing, according to Investment Manager Alyson Anderson.
Just recently she's seen a cluster of truck drivers wanting to start their own businesses. It all started with a Somali truck driver, Anderson said. "When you're dealing with tight community groups, there tends to be trends. You'll get one Somali trucker that comes in and all of a sudden you have eight Somali truckers."
That's because the communities tend to be very close, she added. It's also because CEDS is one of the few lenders in Colorado that offer Murabaha, an Islamic financing structure that is allowed under Sharia, the Islamic religious law.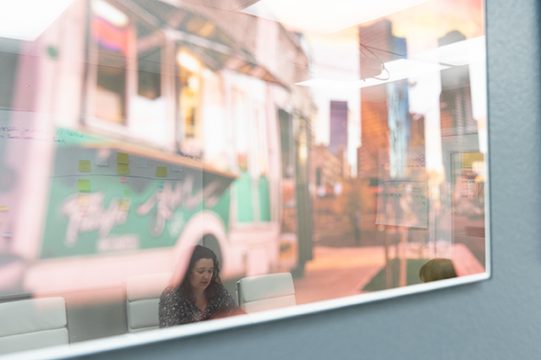 The lending, which aren't described as "loans" because the Quran instructs Muslims not to pay interest, is better described as cost-plus financing because Murabahas are fixed-term debt. CEDS buys an item requested by the client, like a truck, and adds an additional cost, a predetermined profit, instead of charging interest. 
Anderson said because each loan is tailored to the borrower, there isn't a standardized amount of money that gets tacked on. Instead the predetermined profit is based on an hourly rate of how much time the CEDS staff expects to spend working on the case.
The lending is for small businesses. Financing a home becomes much different, Anderson said. That's because the entire housing market is interest-bearing and depends on interest rate speculation, she said. In the U.S., it's rare to see Islamic-compliant lending for homes.
Just under 30 percent of CEDS clientele falls under the Murabaha lending at CEDS. The financing company specializes in offering business loans to clients who don't have credit or business experience. A sizable population of their clients are immigrants, refugees or people who have been incarcerated.
"Most clients don't come to us with strong financials," Anderson said. "That could be because they haven't had the opportunity to build that wealth, or they didn't know to keep records, or don't even have a credit score."
Many immigrants or refugees who start businesses do so with no credit history. That's something Aurora Congressman Jason Crow said he wants to work on with his role in the House Small Business Committee. He ate lunch with Aurora food truck owner Siham Halime in March after a tour of another small business.
"If we want to expand the pie, we should do that through small business," Crow said, adding that he's in favor of looking at offering small business owners some kind of credit when they come to the U.S. with prior business or credit from past experience in other countries.
Halime, an immigrant from Lebanon, opened her food truck called Laziz Ya Lebanese last year. She's lived in the U.S. for more than two decades and had eight years of experience in the catering business, but needed a Murabaha loan to make her business plan work.
With the help of CEDS and another Murabaha lender who sold her the truck, she said she's able to turn her passion for cooking into a job — "a dream come true" she said. It also provides income to her son who helps her with the business. He's in college.
For Anderson, the process of helping people who wouldn't normally be able to get funding for their small business has been equally rewarding because a lot of what CEDS does goes beyond the lending. CEDS also provides training.
"These people are really passionate about what they do, and they do it very well," Anderson said. "They don't want to do operational things. A lot of what we do is training in some of those regards. The number one thing we work on is accounting. They either don't like it or don't care about it, but it's important to understand."
That training and support can lead to more successful businesses, Anderson said. CEDS has a default rate just under 5 percent.
"If I worked at a bank I don't have a lot of options, but here I have more leeway," she said. "At every single closing, I say, 'This is tough. Starting a business is tough. The sooner I know what's going on and the more I can help you.'"
The process has been rewarding for Anderson too. Working at CEDS, where the lending caps out at $50,000, comes with a more intimate feel.
"It's particularly fun when it works and works well, and you see somebody build wealth for their family and be able to buy a house and really move from a place of instability into a place of wealth and stability and familial stability and put their kids through school," she said. "They didn't think they could do it. Those are the fun ones."