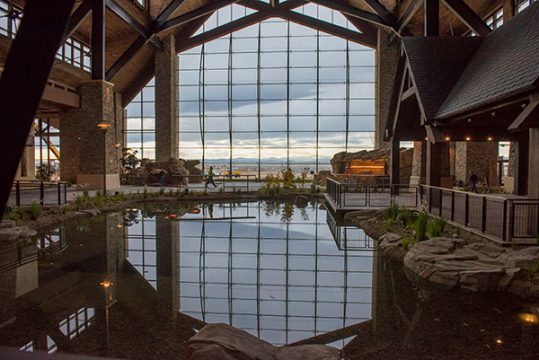 AURORA | The river isn't yet flowing through Colorado's largest hotel, but the anticipation is.
The Gaylord Rockies hotel is slated to open on Dec. 18, just weeks away. Inside, developers channeled Colorado scenery to build a resort that will be the first, and perhaps only, point of contact for millions of first-time visitors to the Centennial State.
It comes with its own heated lazy river for luxury tubing.
On Tuesday, scores of hard-hatted construction workers hustled to finish hotel rooms, vast convention halls, and the flagship water feature that will wind through the dusty plains near Denver International Airport.
Most of the 2 million square-foot leviathan is finished.
You can't miss Gaylord, which dominates a patch of prairie off of Tower Road just five miles from Denver International Airport. At 15 stories and 1,500 guest rooms, the hotel and resort is virtually a town all on its own.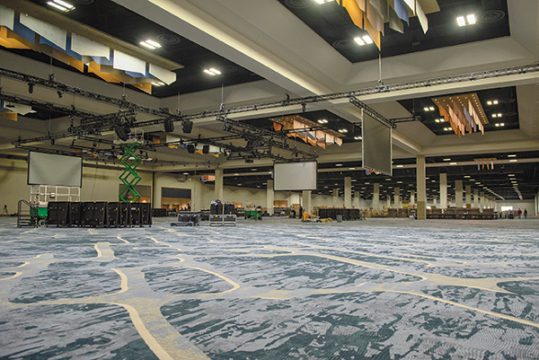 Inside the main hall, modeled after a ski lodge, the sun dipped behind Mt. Evans and the Denver metro this week through the 75-foot-tall windows.
The indoor river, dry for the time being, will cascade from a 20-foot-tall waterfall over visitors' heads, running downstream into a fountained lake.
Seven bars and restaurants will open to the public next month. In the event that the 550-person capacity sports bar is too crowded, guests can walk across a wooden bridge over the rapids to a pub carved into a make-believe boulder that looks like the real thing.
Exclusive craft beers will be on tap. If the beer is too cold, the absurdly large fireplace across the lake should melt any chill.
Gaylord already has bookings through 2028, said marketing director Deanne French, and 80 percent of those 1.1 million reservations will be first-time visitors to Colorado.
"These are all things you would see out hiking in Colorado," French said, motioning to the water features and sunset to the west.
Gaylord Rockies is the latest addition to Marriott's mega-hotel network, popular for large business conventions. The first convention will arrive at Gaylord Rockies in mid-January, French said.
French huffed as she climbed a large flight of plush stairs leading to one of three vast convention halls. The escalators weren't operating yet.
"I walked eight miles in here one day," French said. She's a recent transplant from Orange County, California. She, too, was drawn by the grandeur of the Gaylord project and natural beauty in Colorado. "I'm still adjusting to the altitude."
"Everyone who works here is going to be fit," Kristen Koszorus, a communications staffer, said as she, too, climbed the stairs. Paintings of aspen groves, jackrabbits and mountains hung on walls. Patterns of skis and poles lined wallpaper.
The three convention halls, named respectively for the City of Aurora, Adams County, and Colorado, are a nod to the years of negotiations leading to the hotel's opening next month.
A meeting room is also named for former mayor Steve Hogan, who spearheaded the project.
The hotel developers weathered withering controversial lawsuits and investment challenges to secure about $300 million in tax incentives from the City of Aurora and more than $80 million in tax rebates from the state.
After relentless efforts by political and hotel competitors to kill the massive project, it prevailed.
Aurora Mayor Bob LeGare said he recently visited Gaylord and was impressed by what he saw.
"I think it's going to be a great event when it opens for business," LeGare said.
"The economic potential that comes from the Gaylord opening is pretty phenomenal."
Although Gaylord stands unmatched on the plains, city and economic development officials aim to build a swath of restaurants, retailers, hotels and corporate offices like satellites circling the Gaylord mothership.
On Tuesday, teams of bulldozers cleared land slated for development near Tower Road and East 54th Avenue, kicking up dust.
New buildings in construction-wrap stood alone on plains near Peña Boulevard.
From its hill, Gaylord seemed to preside over the construction along Tower Road and the metroplex beyond.
The views alone from its massive windows will likely impress out-of-staters when they arrive, bags in hand, next month.
If the mountains don't do the job, the hotel should suffice.