U.S. stocks clawed most of their way back from a significant slide Thursday that at one point had decimated the market's gains for the year.
An early drop briefly knocked more than 700 points off the Dow Jones Industrial Average as the arrest of a senior Chinese technology executive threatened to inspire another flare-up in tensions between Washington and Beijing.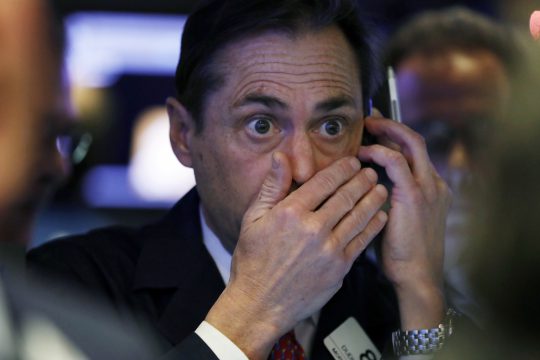 The sell-off eased by late afternoon, however, after the Federal Reserve said it is considering breaking with its current approach of steady interest rate hikes, favoring a wait-and-see approach. That was relief to investors concerned that the Fed might raise interest rates too fast, which could choke off economic growth.
"The Fed is trying to, in essence, come out and make it clear they are not on a rigid schedule of rate hikes next year," said Quincy Krosby, chief market strategist at Prudential Financial.
The S&P 500 index fell 4.11 points, or 0.2 percent, to 2,695.95. The benchmark index had been down as much as 2.9 percent.
The Dow dropped 79.40 points, or 0.3 percent, to 24,947.67. The average briefly slumped as much as 784 points.
The technology-heavy Nasdaq composite reversed an early loss to finish with a gain, adding 29.83 points, or 0.4 percent, to 7,188.26.
The Russell 2000 index of small-company stocks gave up 3.34 points, or 0.2 percent, to 1,477.41.
Traders continued to shovel money into bonds, a signal that they see weakness in the economy ahead. The yield on the 10-year Treasury note fell to 2.89 percent from 2.92 percent on Tuesday, a large move.
U.S. stock and bond trading were closed Wednesday because of a national day of mourning for President George H.W. Bush.