AURORA | Job seekers looking to buoy their bank accounts this holiday season could see a flip of the script when applying for seasonal work.
Amid one of the most employee-friendly markets in more than a decade, analysts and market observers say retailers are scrambling to fill positions, and that people on the job hunt could have the upper-hand in interviews.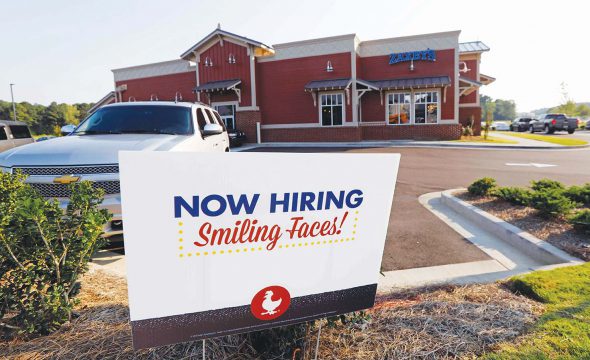 "If you're looking to make a buck during the holidays, this will be a great year to do it," said Tim Gonerka, retail specialist for the City of Aurora.
Gonerka said a continuously low unemployment rate combined with ample and better-paying opportunities in the construction, oil and gas, and restaurant industries is forcing retailers to get creative — and generous — when hiring employees.
All of those industries reported national employment gains last month, according to the U.S. Bureau of Labor Statistics. Construction, mining — which encompasses oil and gas — and leisure and hospitality added 30,000, 5,000, and 42,000 jobs in October, respectively.
The oil and gas industry reported a national unemployment rate of just 1.7 percent last month.
"The employers who are most creative may get the best pick because it may not just be a popularity contest, but a hard-nosed process of, 'How much will you pay? What benefits do you offer? Why should I choose you as an employer over someone else?'" Gonerka said. "I think it will be really unique this year."
The national unemployment rate stayed flat at 3.7 percent last month, according to the Bureau of Labor Statistics. That rate is about half a percent lower than what it was during the same time last year.
In Colorado, only 3.1 percent of residents are not working, according to the state Department of Labor and Employment.
"It's the first time in Colorado or even U.S. history that we've been reading about that there are more jobs than people looking," said Kevin Hougen, president and CEO of the Aurora Chamber of Commerce. "The last two years have just been a record economy for us, and people are scratching their heads saying, 'How did this happen?' It's hard to describe this hot, hot market we have and it doesn't look like it's going to cool off at all."
To differentiate themselves, some major retailers are offering increased salaries, discount perks and options to roll part-time or seasonal contracts into full-time work, Gonerka said.
The average hourly earnings for retail workers was nearly $19 an hour last month, according to the BLS.
The city's retail czar said most retailers are looking to bolster their workforces by Black Friday, and that seasonal workers are usually retained until about New Year's. However, Gonerka said more workers could be retained until President's Day or longer depending on the fitness of the return and gift card markets.
The seasonal hiring frenzy among retailers hadn't been reflected in national data as of last month, with employment rates staying mostly flat across the retail trade industry between the end of the summer and October, according to the BLS.
Notwithstanding murmurs that internet shopping giants are dealing a swift death blow to the nation's retail juggernauts — Sears filed for bankruptcy protection last month — Gonerka said local retailers are continuing to thrive and hire.
"Despite all of the retail apocalypse nonsense, the truth is there are a lot more retailers that are actually open and that means there are going to be more jobs available," he said.
Last month, Amazon announced it would be hiring 2,000 new employees in Colorado leading into this holiday season, many of whom will be working in the company's massive fulfillment center in northeast Aurora. That announcement came on the heels of the company reporting it will begin to pay all of its workers $15 an hour in the coming years.
Aside from Amazon, smaller retailers across the county and the state are also looking to bring on additional staffers before the holiday gift-buying season kicks off the day after Thanksgiving, data show.
There were 2,244 open retail sales positions across the state as of Oct. 31, according to data compiled by the Colorado Department of Labor and Employment. Nearly 350 of those positions were based in Arapahoe County, making Aurora one of the hotbeds for seasonal workers in the state. Almost another 200 retail jobs were available in Adams County.
Only nursing jobs outpaced retail positions on the local list of most positions available by occupation.
To fill some of those positions, Hougen with the Aurora Chamber said his organization has been working in collaboration with the Arapahoe/Douglas Works! Workforce Center, a local prong of the American Job Center Network that helps local residents find work. Hougen said the local chamber has been participating in monthly job fairs catered to new veterans across the metro area in an effort to sway the some 200 servicemembers who either retire or are discahrged from Buckley Air Force Base each month to put down roots in Aurora.
"It's a matter of: How do we get them to know that this a wonderful place to stay and work instead of going home to probably their parent's region?" he said.
Hougen added that the massive Gaylord Rockies Resort and Convention Center will add another wrinkle to the local jobs market in the coming months, as the sprawling complex plans to hire 1,500 employees by January.
Spokespeople for Arapahoe/Douglas Works did not respond to a request for comment by press deadline.