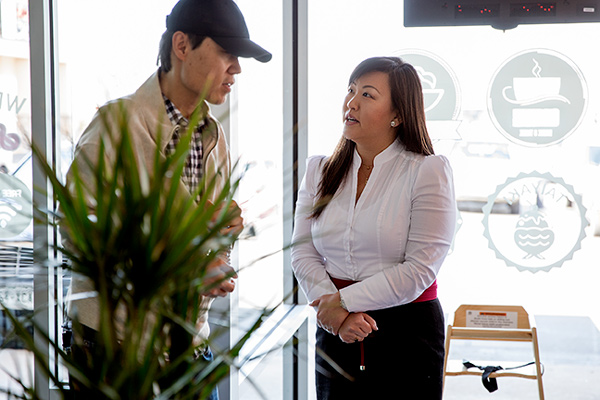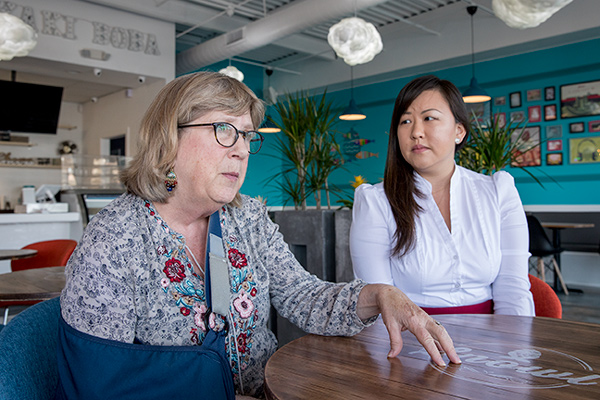 AURORA | For more than a decade, Gayle Jetchick has been synonymous with Havana Street.
The executive director of the Havana Business Improvement District, Jetchick has been a huge force in helping to turn the bustling-but-declining thoroughfare into a booming hub of updated shopping, ethnic dining and auto dealerships.
Today, the busy road near Aurora's western edge is a huge piece of the local economy, cranking out about 10 percent of the city's sales tax revenue, Jetchick said.
For the next year, Jetchick will have some help as she visits the businesses that line Havana.
Chance Horiuchi, who previously worked for the Aurora Chamber, came on board with the Havana BID in early April. For now, her title is executive director in training and the plan is for her to take over for Jetchick next year
"I'm trying to learn as much as I can in the next 12 months," she said this week during an interview at Snowl, a new dessert restaurant at Havana and East Jewell Avenue.
Jetchick, who has been at the helm of the BID since it first started back in 2007, said that when next April rolls around she will likely still be involved with the BID, but on a much lesser scale, likely working part-time or on the occasional special project.
She said Horiuchi is a good fit to run the organization because she is energetic and already has deep connections to the local business community from her time at the Chamber.
Plus, she said it helps that Horiuchi is a Millennial with a keen grasp of social media and how to use it to help market the district.
"That's just what we need," she said.
Horiuchi said it isn't lost on her that she is stepping into some pretty big shoes.
"The transformation that she has done to the corridor is incredible," she said.
She said working side-by-side with Jetchick, she marvels at how well she knows everyone along the Havana corridor, and even knows the names of their dogs and their mothers in law.
Before she worked at the Chamber, Horiuchi worked in Weld County and said even when she lived there, she thought of Havana as a go-to spot for dining out or for buying a car.
"Havana is a destination for Colorado, not just for Aurora," she said.
Horiuchi said that looking ahead, the district would like to lure more entertainment options and to see sales tax revenues from restaurants spike similar to the way sales tax review from auto sales have.
She said she is interested in projects like Stanley Marketplace in northwest Aurora, which converted an old airplane parts factory into a massive bazaar full of restaurants and shops.
The issue on Havana, though, is there isn't much open space to convert.
Today, Jetchick said the district has a vacancy rate of only about 2 percent. In the early days of the BID, the rate was closer to 10 percent, she said.
When Toys R Us announced it was bankrupt and closing all its stores earlier this year, it meant one of the anchor storefronts in the Gardens on Havana would soon be empty.
Jetchick said losing a business like that is never ideal, but these days Havana doesn't have any trouble luring a new tenant to take its place.
That's a sign of the progress the BID has made over the past decade, she said.
"We've accomplished a whole lot," she said.