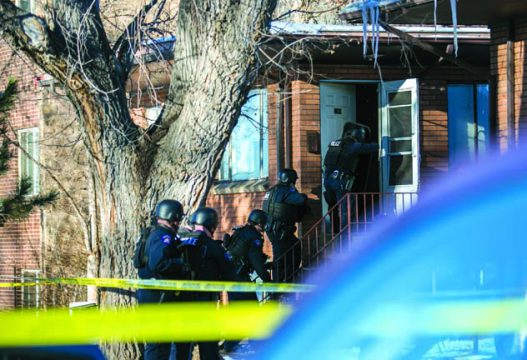 The overall crime rate wherever you lay your head probably isn't as bad as you think it is, even though these past few years have seen crime across the country rise.
And while the howls about crime waves are often overblown — rates nationwide still lag well behind what they were two decades ago — it's undeniable that the past couple years saw more crime than the mid to late 2000s did.
Aurora, despite a crime rate well below similarly-sized cities around the country and below Colorado's other big cities, saw the same spikes other municipalities did. Overall crime was up last year, and violent crime was up significantly.
So far in 2018, the trend has remained largely unchanged.
But drill down on those stats and police say there are some clear bright spots.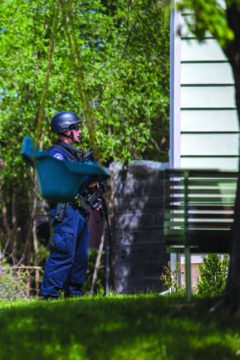 Citywide, robberies are down 17 percent this year and burglaries are down 3 percent. Deputy Chief Paul O'Keefe said those two categories of crime are significant to police because they are the sorts of pattern crimes where police can spot a trend, deploy some targeted extra resources and snuff out a serial crook.
"Those are two crimes that we can actually have some measure of influence over," he said.
And, bucking a trend from last year that irked some on city council, arrests ticked up so far in 2018. The city's police made a little more than 8,000 arrests so far this year, compared to a little less than 8,000 last year during the same time. It's a small spike, just a hair above 1 percent, but it comes after a double-digit drop in arrests last year.
Traffic citations are up significantly as well — cops have issued 4,483 more tickets this year than they did through half of 2017 — while traffic accidents have inched down.
Figuring out the precise correlation between the uptick in arrests and tickets and the dip in car crashes and some crimes is tough, if not impossible. But police say there are hopeful signs.
Crime by the numbers
Each month, tucked into a memo listing various city council meetings and other goings on at city hall, police detail crime stats for the three police districts as well as the city as a whole.
The two pages of data detail six of the major crime categories the FBI tracks — murder, sexual assault, robbery, burglary, car theft and larceny —  as well as arrests, traffic tickets and car crashes.
Halfway through 2018, those two pages of data show 285 more crimes reported in Aurora than there were halfway through 2017. The overall numbers, 6,660 this year compared to 6,375 last year, mean major crime is up 4.5 percent.
At the end of 2017, overall crime in Aurora was up 3.7 percent compared to the prior year. That spike was largely driven by a big jump in violent crime, which climbed 24 percent from 2016 to 2017. Property crime was actually down slightly during that stretch, dipping 0.9 percent thanks in large part to a double-digit drop in larcenies.
But what had many scratching their head at city hall wasn't the increase in overall crime, something that mirrored similar spikes in big cities nationwide and which had been happening for a few years.
Instead, it was the dip in arrests last year that left many puzzled.
At the end of 2016, Aurora police had thrown the cuffs on 8,545 suspects. By the end of 2017, that figure was just 7,407, a 13-percent decline.
During the same stretch, traffic tickets also fell, from 11,006 to 9,920, a 10-percent decline.
Police offered a host of reasons for the dips, including a department more-committed than ever to community outreach programs that could pull some officers away from standard patrols and motorcycle units focused on dangerous highway crashes and not low-level traffic enforcement on surface streets.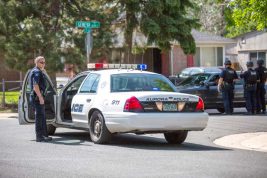 Some on council worried the dip meant the city's police force was too small and urged the city to hire more uniformed cops.
But so far this year, Aurora has reversed that trend, albeit just slightly when it comes to arrests.
Arrests so far are up 1.1 percent across the city.
O'Keefe said a change that slim in one direction or the other means arrests are essentially flat this year compared to last year.
But he said the fact that arrests aren't dropping the way they did from 2016 to 2017 is the result of a department-wide effort to make sure every shift is fully staffed. That has often meant using overtime to cover for an officer who can't work, he said, but the department has been more willing to lean on overtime this year than they have in the past.
"We are more willing to do that because we need to ensure that the folks who are out there working have the resources that they need to do the work," he said.
He said the department is also well aware that many in the city want to see police making more arrests.
"I think the community expects us to do the enforcement piece," he said.
Still, O'Keefe said, drawing a connection between more arrests and a drop in some crimes, or more traffic tickets and a dip in car crashes, is tough.
"It's really difficult to pinpoint cause and effect to enforcement stuff, with a few exceptions," he said.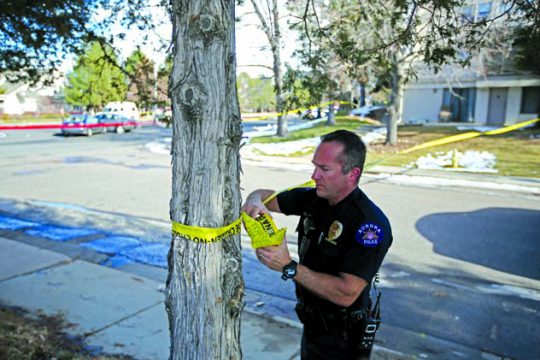 Arresting reality
Experts caution against reading too much into arrests stats, regardless of which direction they might be moving.
"Arrests are a pretty crude indicator of whether or not the police are policing," said David Pyrooz, a criminologist and sociology professor at University of Colorado Boulder.
Pyrooz has studied the so-called "Ferguson effect" at length in cities around the U.S. The Ferguson effect is the idea that police have been less-aggressive in the years since protests broke out in Ferguson, Missouri, following the slaying of an unarmed black man named Michael Brown.
He said arrest statistics on their own aren't particularly helpful. Instead, the best way to determine whether a department has stepped back from enforcement is to look at a variety of stats, including vehicle stops, contraband searches, vehicle searches and other interactions between police and the community.
If all of those show a dip, he said it's more clear whether police are doing something besides enforcement.
"Then I would be more concerned about it, that would be more of the collective indication of whether or not policing has changed in the city," he said.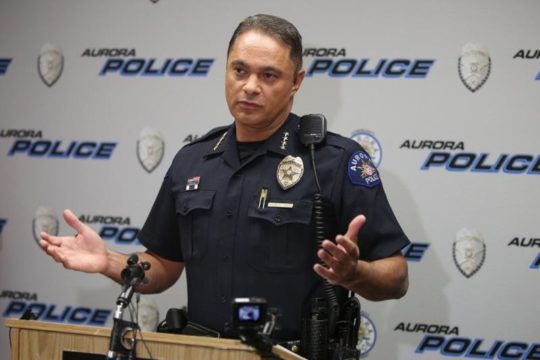 The ultimate crime
Percentage-wise, the biggest dip in crime so far this year came in the most-serious crime police investigate: murders.
Just eight people have been slain in Aurora so far in 2018, down from 17 during the same stretch the year prior.
That is a 53-percent dip, which sounds significant.
But as happy as they may be with that stat, police aren't exactly heralding the significant drop in murders, and they never do.
That's because police know that when it comes to murder — which almost always involves a suspect who knows their victim — there isn't a lot police can do in terms of prevention.
"We have very little opportunity to intervene in those until after they happen," O'Keefe said.
It's a different story from some property crimes, chiefly burglary.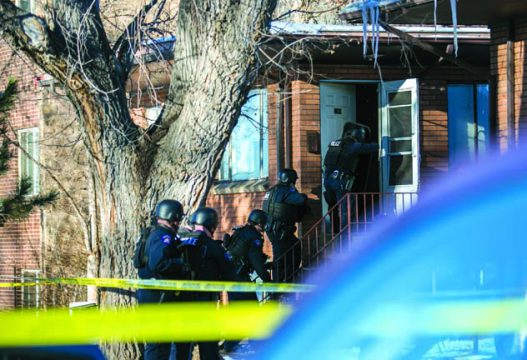 O'Keefe said that when it comes to burglary, one prolific burglar can account for a huge chunk of the reported break-ins. If police can spot a pattern and target some extra resources to where they think a burglar will be, they have a chance to catch one of these high-volume crooks and get them off the street, he said.
That's where the department's Burglary Impact Group, BIG, comes in. The department has a BIG team in all three police districts, and officers from a variety of other units rotate into BIG for a six-month stretch.
"They are finding people who are doing this on a regular basis and putting them in jail," he said.
So far in 2018, burglaries are down 3 percent citywide, from 783 through the first half of 2017 down to 757 so far this year. The drop comes after burglaries stayed relatively flat from 2016 to 2017 when they inched up from 709 to 720, an increase of 1 percent.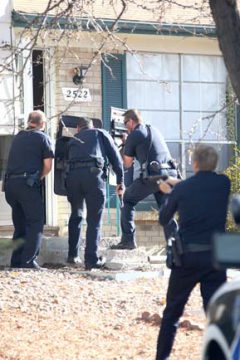 The same sorts of patterns police can track in burglaries are often present in car thefts, but that particular crime has bedeviled police in Aurora and around the metro in recent years.
So far in 2018, car thefts are up 18 percent, from 924 to 1,098.
Already there have been more car thefts in 2018 than there were in all of 2017 when there were 1,002. And the 2017 stats represented a significant spike of their own compared to 2016 when there were just more than 700 car thefts in the entire year.
O'Keefe said auto thefts are a particularly troubling crime because they are often an indicator of more crime to come. Car thieves, for example, often steal a car simply to use it to commit another crime.
"Almost every other crime you can think of is associated to motor vehicle theft," he said.
Cities around the country have seen a spike in car thefts after several years of decline, he said.
"The prevailing theory is it's a property crime, and there is not a lot of emphasis on that from a global perspective," he said.
For years, keyless entry systems likely helped drive the number of car thefts down, he said, because they made newer models so difficult to steal. Now though, thieves have figured out ways around those systems and thefts are up.
Aurora police work with a regional car theft team that tackles the crime across the metro area. O'Keefe said the plan is to keep focusing on those crimes as a regional matter because car thieves rarely care about jurisdictional lines.
"It is one of those crimes that is on our radar," he said.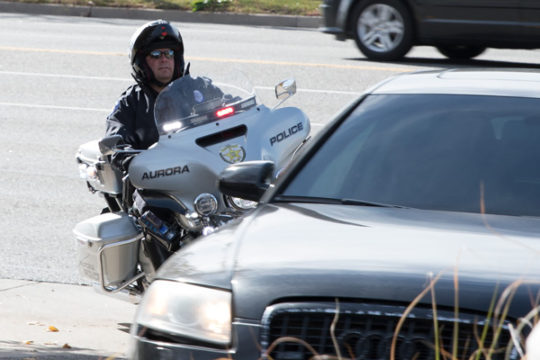 Traffic troubles reeled in
If an angry homeowner calls city hall because some hotshot in a sports car zoomed down their street, there is a good chance Aurora police Lt. Jad Lanigan's phone at District 3 will soon ring.
Lanigan oversees the department's traffic section and any complaints or concerns about traffic malfeasance make their way to him.
"All the traffic complaints in the city come to my office," he said.
From there, Lanigan deploys the traffic section's motorcycle officers and other traffic cops to troubled intersections all over town.
Those eight officers in Lanigan's unit account for the majority of traffic tickets issued in Aurora, and so far in 2018, they've been busy.
Traffic tickets citywide are up 29 percent in 2018, from 15,400 through the first half of last year to 19,883 this year.
That spike comes after tickets fell 10 percent from 2016 to 2017, when officers wrote 9,920 tickets compared to 11,006.
The increase in traffic tickets isn't limited to one corner of town, either. All three police districts have seen increases, with the biggest spike percentage wise in southeast Aurora's District 3 where tickets are up 44 percent.
And while tickets have increased, traffic crashes have dipped slightly in 2018. So far, Aurora has seen 6,072 crashes compared to 6,148 through the same stretch last year, a drop of just more than 1 percent. "I would hope there is a correlation between the tickets being up and the traffic accidents being down," Lanigan said.
After an increase in serious crashes along Interstate 225 and Interstate 70 a few years ago, Aurora police redirected some of their traffic resources to the highways in hopes of stemming those crashes.
Since then, the department's highway team has focused on aggressive drivers and serious speeders along those highways, a focus that police say has helped limit serious crashes there.
But that focus came at the cost of traffic enforcement along the city's surface streets.
Lanigan said early this year he shifted some of those resources from the highway back to problem intersections in the city.
That's meant more officers at problem intersections — including Parker Road near I-225, East Mississippi Avenue and South Sable Boulevard and other spots — writing tickets.
The hope, Lanigan said, is that even if those officers aren't writing tickets, drivers notice them. If those drivers are worried there could be a traffic cop up ahead, they'll slow down and hopefully drive a little safer.
Lanigan said the department doesn't issue quotas or anything like that to the traffic officers. Instead, he said he tells his unit they can write tickets when they see fit, or issue warnings.
"It's all up to the officer, they can write as many as they want," he said.