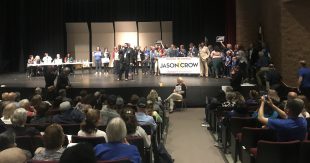 AURORA | The primary campaign between Democrats Jason Crow and Levi Tillemann is on. The two officially qualified for the June ballot Thursday night at the district assembly in Aurora.
Crow, a Denver attorney and Army ranger veteran, received 64.4 percent of the vote. Tillemann, a tech entrepreneur who worked with the Obama administration, edged on to the ballot with 35.5 percent of votes. Candidates must receive at least 30 percent of total votes cast at the assembly to make the primary ballot.
Aurora attorney David Aarestad dropped out of the race last month. He's now supporting Crow's campaign.
Democrats filed into Gateway High School in Aurora on Thursday night to listen to speeches of support, and more importantly, vote for their candidate.
Tillemann told the crowd his family didn't have a lot of money growing up, but had "food in our bellies, presents under the Christmas tree and parents who believed in us." Tillemann, the grandson of Colorado's first female lieutenant governor, said he wants to make sure other children have the same opportunities he did.
"I am the product of a working class Latino neighborhood," Tillemann told the crowd, which at times chanted "si se puede" in support of the candidate.
A few dozen supporters, including state Reps. Jovan Melton and Janet Buckner, filed on stage to vouch for Crow, who also has the support from the Democratic Congressional Campaign Committee. He said he had one simple message for district Democrats: President Donald Trump and Rep. Mike Coffman are "trying to tear us apart," he said.
"I'm ready to tell Mike Coffman it's time to go," Buckner told the crowd of nearly 400.
Crow and Tillemann will now campaign for a spot on the November ballot in hopes of outing Coffman, a five-term Republican from Aurora. Coffman outed Highlands Ranch conservative Roger Edwards in the Republican assembly earlier this month.
— KARA MASON, Staff Writer