Colorado Symphony is going to Bring on the Brass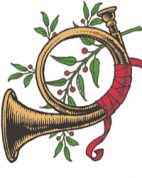 Time to get down to brass tax. The premier orchestra of the Rockies knows how to perform a holiday concert. The Colorado Symphony is ready to "bring on the brass" this holiday season with their Holiday Brass concert. They will be performing works from the Renaissance, Baroque era, all the way up to Hollywood classics.
7:30 P.M., Dec. 19. Tickets start at $20. Boettcher Concert Hall, 1000 14th St., Denver. coloradosymphony.org; 303-623-7876
Get the oven mitts, the Colorado Symphony is getting Too Hot to Handel
The Colorado Symphony isn't limited to only playing classical music. They are just as interested and capable of transforming Handel's Messiah into a funky, jazzy, gospel-influenced work, "Too Hot to Handel." They are also capable of making dad-joke puns. This all-brass concert will include the soloists soprano Cynthia Renée Saffron, alto Karen Marie Richardson, and tenor Rodrick Dixon.
7:30 P.M., Dec. 21-22. Tickets start at $20. Boettcher Concert Hall, 1000 14th St., Denver. coloradosymphony.org; tinyurl.com/y8p49rc6. 303-623-7876
Haute couture fashion moves into the Denver Art Museum with Dior exhibit
From brash and bold to subtle and subdued, Dior has been at the forefront of fashion for decades. The Denver Art Museum hopes to shed light on the fashion giant's works, following the journey of founder Christian Dior to modern fashion icon. The exhibit will show more than 200 dresses and include jewelry, accessories, photographs, and more, covering seven decades of Dior. Tickets are not included with general museum admission.
On view through March 3, 2019. Tickets start at $24, general admission is $10 for adults; $8 for seniors, military members, and, college students; and free for 18 and younger. 100 W 14th Ave., Denver.  Denverartmuseum.org; tinyurl.com/yaabkwtb; 720-913-0130
'Newsies' hits the stage in January
Back in the day, it was children slinging you questionable news, not Facebook. Newsies: The Musical is the story of those children, peddling the papers for Pulitzer and Hearst. It's a heartwarming tale of turn-of-the-century union ideals, striking, and child labor, set to Alan Menken and Jack Feldman's Tony Award-winning score. Newsies: The Musical been hailed as a modern classic of the stage.
Jan. 18 to Feb. 10. Tickets start at $29. PACE Center, 20000 Pikes Peak Ave., Parker. Parker Arts.org; tinyurl.com/y8hzvll7; 303-805-6800.