Scrooge the musical hits the stage
Who doesn't like Scrooge? Seriously? He's a classic character with a timeless tale to share of greed and redemption.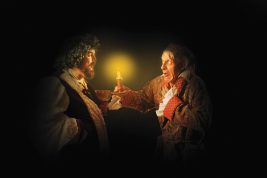 Come see the infamous anti-hero be visited by the Ghosts of Christmas Past, Present and Future as Scrooge sees his life pass before his very eyes.
Showtimes are Tuesday, Wednesday, Thursday, Friday, and Saturday evenings: Dinner seating at 6 P.M., Show at 7:30 P.M.; Saturday Matinee — Dinner Seating at 12 P.M., Show at 1:30 P.M.; Sunday Matinee — Dinner Seating at 12:30 P.M., Show at 2 P.M. ; Weekly schedules vary during holidays. For the complete list of performances, visit our website. Tickets are $55.95 – $64.95 (based on day of the week)
Child (5-12) Dinner and Show Tickets: $29.95 (any performance)
Student (13-18) Dinner and Show Tickets: $39.95 (any performance)
Adult Show — Only Tickets: $33.95 (any performance, seating restrictions). Candlelight Dinner Playhouse, 4747 Marketplace Drive, Johnstown.
Whose Live Anyway? A great question, with a greater answer, is coming to Denver
Improv is hard. Here's proof…  It's not difficult, however, for pros like the cast of  Whose Line is it Anyways.  The American troupe has won not just rave reviews, but an Emmy Award nominee when Drew Carey was on the show. By the way, the answer is "your line."
Door opens at 7 P.M. and show begins at 8 P.M., Dec. 21. Tickets range from $29.50 to $39.50. Paramount Theatre, 1621 Glenarm Place. Paramountdenver.com. 866-461-6556
Arapahoe Philharmonic brings classical festive music to the holidays
Classical music is like fine wine: it ages brilliantly and no one really knows what it is. Luckily for you, the Arapahoe Philharmonic will give you a lesson on holiday classics by presenting the works of Nikolai Rimsky-Korsakov, Ottorino Respighi and Samuel Coleridge-Taylor. The Arapahoe Philharmonic will be recreating a Russian folk story-turned-opera, an Italian tonal poem, and an English Christmas composition. Three new compositions–written by Jonathan Bingham, Elizabeth Comninellis and Edgar Girtain– will also be played, as well as Leroy Anderson's Sleigh Ride and other holiday favorites.
Saturday, Dec. 8 at 7:30 P.M. Tickets are $30 for adults, $25 for seniors, and $5 for children and students. South Suburban Christian Church, 7275 S. Broadway. arapahoe-phil.org/events/buy-tickets. 303-781-1892
Santa's Big Red Sack plays the Avenue Theater for tenth and final season
Make sure to leave the little ones at home for this one! The holiday classic, "Santa's Big Red Sack" will return for its tenth and final season, beginning Nov. 30 at the Avenue Theater.
Show runs from Nov. 30 through Dec. 24, at 7:30 P.M. Thursdays through Saturdays and 4 P.M. on Sundays; Christmas Eve show will be at 2P.M. Tickets are $28 and available at www.avenuetheater.com or by calling 303-321-5925.  Avenue Theater, 417 E. 17th Ave., Denver