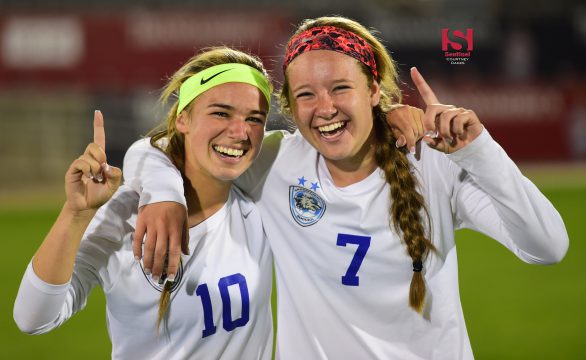 Nicole Lyubenko had the snow to remind her of home, but otherwise she was all alone in a dorm room in Tuscaloosa, Alabama, two years ago.
The former Grandview High School girls soccer star, her parents and youngster sister Caylin had just navigated myriad flight issues and lugged eight suitcases — all for Nicole's stuff with just backpacks for their own — from Colorado all the way across country to Lyubenko's new home at the University of Alabama.
Hundreds of thousands of kids go off to college every year and find themselves unprepared for what was ahead of them, but hardly any of them do it the way Lyubenko did.
Following the lead of former teammate Bailey Cook, the 17-year-old became the second of three players from Grandview's elite soccer program to graduate from high school early and join the growing trend of early enrollees in the sport at the college level.
Her family departed and with an odd Southern snowstorm as the backdrop, Lyubenko's mind drifted to her friends back in Aurora. The rest of her Class of 2017 were in the midst of holiday break ahead of the second semester of senior year, typically the gravy time for a high school career.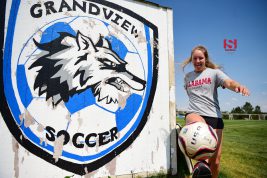 Instead of that, Lyubenko had a Division I-level fitness test staring her squarely in the face.
"The night my family left and were flying back home, I was so devastated," Lyubenko recalled. "I was like 'Oh my gosh, what am I going to do without them?' It was the first time I was on my own. The next morning, we had the beep (fitness) test and I was obviously nervous about that because I wanted to pass it so I could play.
"I was asleep by the time they landed, but I called them the next day and said 'Hey, I passed, I'm going to be OK.' That gave them some assurance."
For their part, the Lyubenko family believed Nicole would be just fine and supported the courage she displayed in going after her dream of playing college soccer. But that didn't mean letting her go came easy, especially for parents Melissa and Denis, who lost a few precious months of time with their oldest daughter they can't get back.
"I remember calling my mom and saying 'I can't do this,'" Melissa said. "It's hard and scary to be so far away from your child. You have to just trust in yourself, in her, in God and in the people around her that she is in good hands. We're fortunate Nicole is in the spot she's in, surrounded by good people. It's reassuring."
Siblings don't always get along, but for Caylin Lyubenko, losing her big sister long before she was ready cut deep.
The two shared a great bond and Caylin looked forward to playing with Nicole on Grandview's soccer team after she earned a spot on the varsity team as a freshman. Those dreams never became reality.
"It was really sad, all of us were crying because we're a really close family," she said. "I think it was harder on her (Nicole) because I still had Mom and Dad and our dog to go back to and she just had a bunch of new people. I thought she would handle it well because she's mature, but it was really hard.
"I lost my best friend a couple of months earlier than I was supposed to."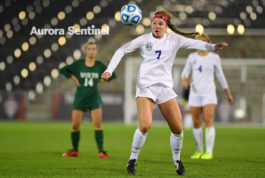 While Nicole missed her family, she had business to attend to at Alabama, especially after she took extra classes in social studies and English as a junior and senior be able to graduate early.
She developed a diverse skill set in club soccer and in three seasons of high school play at Grandview, where coach Tari Wood converted her from a defender to an attacking midfielder who developed a lethal ability to strike from all over.
Ten spring scrimmages helped Lyubenko and the other six early enrollees she came in with show Tide coach Wes Hart (a former Colorado Rush club coach) what they could do before preseason in the fall.
Lyubenko carved out a nitch as a "band-aid player" for the team. She spent time at forward, outside midfield and on defense during 16 games — including one start — as a true freshman. Alabama finished 12-8-1 after a loss to Clemson in the opening round of the NCAA soccer tournament.
"Those scrimmages gave our coach a really good chance to get a look at all of us and see where we could fit in the fall, whereas the players who didn't graduate early had to earn it in two weeks of preseason," Lyubenko said.
The jump on adjusting to the time management needed to succeed as a DI student-athlete also gave Lyubenko and her fellow early enrollees a leg up on the four Tide freshmen who came in the fall.
In retrospect, the biggest price Lyubenko paid as an early enrollee — besides the time lost with her biological family — was the months she missed out on with her Grandview soccer family.
The Wolves had two, back-to-back Class 5A state championships and seemed primed for a run at a three-peat, which made leaving all the more difficult for Lyubenko. She returned after classes were over and managed the Grandview team during the postseason, which ended with a heart-wrenching loss on penalty kicks to Mountain Vista.
Lyubenko plans to be back with the Wolves in a different capacity if everything falls into place. She excels in math and hopes to become a math teacher at her alma mater and even has designs on taking over the head coaching job at Grandview when Wood is ready to retire.
Lyubenko and her sister have thought about the chance to reunite at Alabama and play together for an entire season. It could happen, if Caylin — who scored the game-winning goal to give the Wolves this season's 5A state championship — chooses to graduate early herself and impresses Alabama enough to earn a scholarship offer.
Melissa Lyubenko isn't ready to think about that possibility just yet.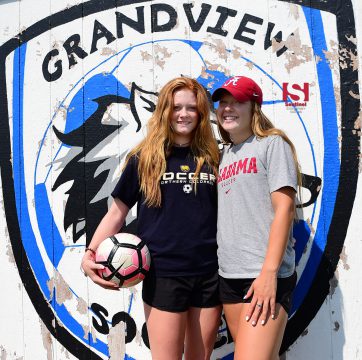 EARLY ENROLLMENT TREND?
Early enrollment in college football began in earnest nationally in the early 2000s, as big programs  — such as Alabama — relished the ability to get recruits on campus for spring football as much as possible.
In women's soccer, it is becoming increasingly common now, at least in certain parts of the country.
The Southeastern Conference (SEC) seems to be at the forefront of the movement, likely in part due to the influence of football in the high-powered conference. In the Sentinel's survey of athletic departments around the conference, early enrollees abound, in many cases significantly outnumbering players who arrive for their freshman years in the fall.
Over the last five years, the Texas A&M women's program has had more early enrollees (18) than regular enrollees (14) and had five apiece in the classes of 2016 and 2018. Two of the program's regular enrollees were international recruits as well.
Including Grandview's Lindsi Jennings, Mississippi State had a whopping 11 early enrollees in its class of 2018 — a group that included another Colorado player, Claire Ross from Cheyenne Mountain — and nine of them will be with the program in the fall. The Bulldogs have had 13 early enrollees and 18 regular enrollees over the last three signing periods according to Caleb Garner in the school's sports information department.
Kentucky has had at least one early enrollee in the past five years and had three in the Class of 2018 and Florida has had nearly a handful in recent seasons among other programs in the conference.
The practice hasn't become popular in other parts of the country it seems, or at least in the experience of several Aurora players who signed with Division I programs in recent years.
Cherokee Trail's Alesia Garcia (a 2018 grad headed to the University of New Mexico of the Mountain West Conference), Grandview grad Jessica Hixson (part of the 2017 freshman class of Utah of the Pac-12) and Eaglecrest grad Rylee Atteberry (a sophomore-to-be at Coastal Carolina of the Sun Belt Conference) all told the Sentinel that early enrollment wasn't even mentioned in their respective recruiting processes.
An early signing day for football players in December made its debut in the last two years and Overland product Cameron Murray took advantage of it to move on as an early enrollee at the University of Wyoming.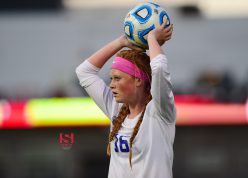 'TOUGH, BUT GOOD' DECISION FOR JENNINGS
Lindsi Jennings' early graduation and move to Mississippi State was a whirlwind.
A staple of Grandview's elite defense for three seasons, Jennings chose the Bulldogs after a quick courtship that ended with a decision to join the program early, which was much more difficult for her than her two teammates who took the leap earlier given how much she enjoyed her high school experience.
Jennings remembered the sting of Grandview's 5A semifinal loss to Mountain Vista on penalty kicks and looked forward to trying to get the Wolves back on top in her senior season, but that dream faded when it became clear she would need to join Mississippi State ahead of schedule if she wanted to play for the program.
The Bulldogs had stockpiled early enrollees — they would have 11 total in the freshman class of 2018 — and Jennings felt compelled to keep up with the rest of her class by doing it as well.
"When the coaches brought it up, they could tell my face was like 'Eh, that's not really something I'd choose to do,'" Jennings recalled. "The head coach said 'Everybody else in your freshman class is coming in early and if you don't, it shows how committed you are and you are going to be behind.' It was a choice, but it really wasn't a choice."
Nevertheless, Jennings didn't want to let her opportunity to play Division I soccer get away, so she took care of what she needed to do academically to graduate early from high school, packed three suitcases full of belongings and departed in January to spend the spring semester in Starkville, Mississippi.
Jennings quickly got a real taste of college life and had to do it while 1,200-plus miles away from home.
From simple things like learning how to work the washers and dryers to adjusting to a new way of learning in lecture-only college classes to rooming with a non-athlete whom she had trouble relating to, Jennings found herself struggling at times.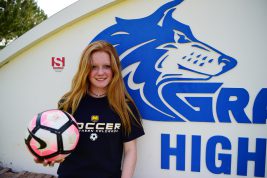 On the field, Jennings played heavily during the large slate of scrimmages the Bulldogs have to prepare for the fall season, but she found some on field things personally troublesome. 
"There's just some things I didn't agree with that they enforced pretty strictly," Jennings said without going into specifics. "It's kindof funny. People are committing and you see this coach maybe once or twice and you don't really know them, then you go out on the field with them and you really figure out who they are. I'm not putting them down or anything, they are great coaches, it just wasn't a great fit."
Jennings took Spring Break to talk things over with her ultra-supportive parents and some friends and arrived on the idea to transfer to Northern Colorado, where she could begin as a true freshman in the fall. She came home and went to Grandview's Senior Prom, walked with her graduating class and sat in the stands at Dick's Sporting Goods Park in May as the Wolves claimed the 5A state championship with a 1-0 overtime win over Broomfield.
Jennings will begin at Northern Colorado as a walk-on player, as the Bears' scholarship money for the Class of 2018 had already been distributed. She will attend school on a variety of academic scholarships and is eager to begin work on a degree in forensic psychology. Jennings looks back on her experience at Mississippi State as one that really shaped her for better things in the future.
"While I was up there, I was thinking 'Oh man, I should haven't done this,' but right here in this moment, I wouldn't change what I did," Jennings said. "I am super grateful for everything that I learned up there. The coaching staff and all the people that helped me become a more mature adult, essentially. Looking back on it, I wouldn't change what I did, but in the moment it was hard."
COOK KICKED IT ALL OFF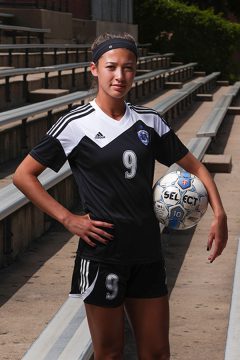 Bailey Cook kicked off the early enrollee trend at Grandview when she left for San Diego State midway through her senior year in 2016.
Cook scored nine goals during her junior season and tallied four times in the postseason to help the Wolves win the program's second 5A state championship. She passed up a chance to play for another title to join coach Mike Friesen's Aztecs as one of two early enrollees along with Camryn Wendlandt from Couer d'Alene, Idaho.
"I think it's a huge opportunity to get ahead of my classes heading into the fall and it gives me an opportunity to prove myself and get accustomed to the new classes and the soccer 24/7 lifestyle," Cook told the school's athletic department at the time.
The arrival helped Cook work her way into the lineup right away and she earned time in 17 of 21 games for San Diego State, which went 10-7-4. Wendlandt also played in 10 matches that season for the Aztecs.
Neither early enrollee is still with the program, however. Cook — who could not be reached for the story — is out of soccer altogether, while Wendlandt transferred to Baylor.