AURORA | The Colorado Association of School Executives gave Aurora Public Schools district Superintendent Rico Munn top honors today, naming him 2019 Colorado Superintendent of the Year.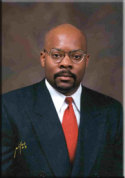 "This award is a testament to the incredible work of our students, staff members, families and community," Munn said in a statement. "I share this honor with the entire APS family that works relentlessly for student success."
Munn has served as superintendent since 2013 in a district where about 70 percent of students qualify for free and reduced lunch and hundreds of languages are spoken.
CASE, made up of former Colorado school district leaders, credited Munn's progress with reducing dropout rates and raising graduation rates just years after they had dipped to about 50 percent of the students graduating.
According to APS, the district's expulsion rates have fallen by 70 percent, and suspensions by 28 percent, under Munn.
About 38,000 students attend 63 APS schools. This year, APS is assessing the impact of potential changes in the district like enrollment dips in some neighborhood schools, housing development in east Aurora, and the popularity of non-traditional education approaches like magnate, charter and online schools.
Munn is serving as superintendent in a two-year term extension through June 2020.