WASHINGTON | Special counsel Robert Mueller is prepared to give the first public insight into how much information President Donald Trump's former national security adviser has shared with prosecutors in the Russia probe.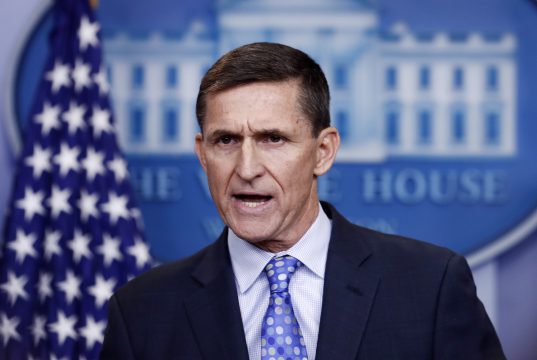 The special counsel is up against a Tuesday deadline in Michael Flynn's case to file a memorandum recommending a sentence and providing a federal judge with a description of how important the retired U.S. Army lieutenant general has been to the investigation. The deadline comes ahead of Flynn's Dec. 18 sentencing and more than a year after he pleaded guilty to lying to the FBI about cooperating with Russian government officials on Trump's behalf.
Federal sentencing guidelines suggest between zero and six months in prison for Flynn, leaving open the possibility of probation.
The detailing of at least some of Flynn's involvement also comes as Trump has increasingly vented his anger at the probe — and at one of his former confidantes who cooperated with it.
This week, Trump was critical of his former legal fixer, Michael Cohen, saying he is making up "stories" to receive a reduced prison sentence after his latest guilty plea to lying to Congress detailed conversations he had with the then-Republican presidential candidate. In the same morning, Trump praised longtime associate Roger Stone for saying he would "never testify against Trump," adding in his tweet: "Nice to know some people still have 'guts!'"
It is not clear if Trump will now turn his fury on Flynn, who Trump grew close to during the 2016 campaign and has drawn the president's sympathy since he came under investigation.
According to memos penned by former FBI Director James Comey, Trump tried to protect Flynn by asking Comey to let the investigation into his false statements go. Trump has denied asking Comey to drop the investigation but that episode is among those under scrutiny by Mueller as he probes whether Trump attempted to obstruct the Russia investigation.
Flynn's case has been a contrast to those of other Trump associates, who have criticized the Russia probe. Most notably, Trump former campaign chairman, Paul Manafort, aggressively fought the investigation and is now facing the possibility of a lengthy prison sentence after his cooperation agreement recently fell apart over allegations that he had lied to investigators. Stone has also waged a public campaign against Mueller.
But Flynn has largely remained out of the public eye, appearing only a handful of times in media interviews or campaign events, and he has strictly avoided criticizing the Mueller probe despite widespread encouragement from his supporters to go on the offensive. He has instead spent considerable time with his family and worked to position himself for a post-conviction career.