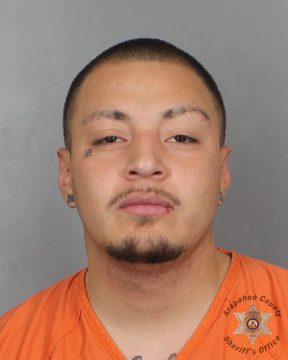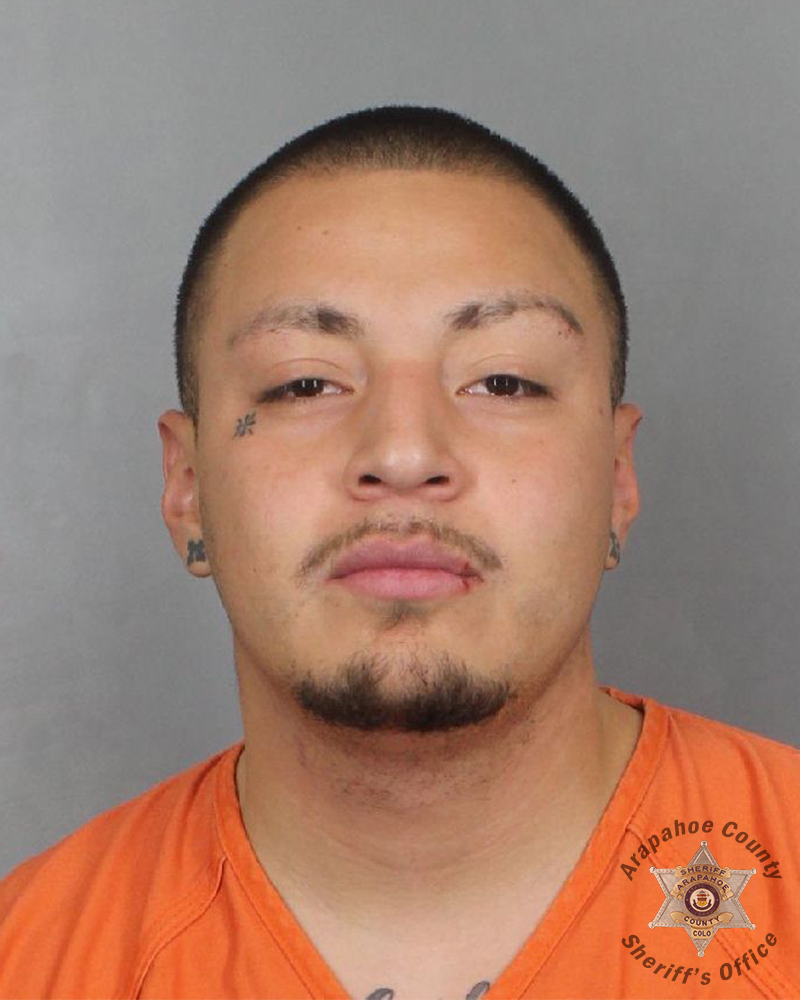 AURORA | A man convicted of trying to strangle another man with a phone charger cord in Aurora two years ago recently cut off his GPS ankle monitor and absconded during the penultimate day of his jury trial, according to the 18th Judicial District Attorney's Office.
An Arapahoe County jury convicted Miguel Angel Leon-Caballero, 23, of five charges, including felony second-degree assault and felony motor vehicle theft, in District Court on Jan. 25, according to Vikki Migoya, spokesperson for the DA's Office.
But Leon-Caballero wasn't in the courtroom to hear the jury's verdict as he cut off his GPS ankle monitor on Jan. 24, the third day of his jury trial, and fled. 
Leon-Caballero was still on the lam as of Friday afternoon, officials confirmed.
"There's no better way to signal your belief that you are going to be convicted than to gutlessly flee the trial you insisted upon. It looks like he read the jury correctly," District Attorney George Brauchler said in a statement. "The behavior for which this fugitive was convicted is dangerous. The public should be concerned that he has been out of custody pending the outcome of his trial for this violent conduct."
The jury found Leon-Caballero guilty of attempting to use a phone charger cord to strangle 21-year-old Paul Reyes Jr. on Nov. 19, 2017 in Aurora, according to a court documents. Leon-Caballero and his cousin, 20-year-old Cristofer Sanchez, were driving in a 2014 Chevrolet Silverado pickup truck, which belonged to Reyes' father, at the time of the assault.
Reyes, who was 19 at the time of the assault, told police he agreed to give Leon-Caballero and Sanchez a ride late in the evening on Nov. 19 after Sanchez called him and offered him $60 for a lift, according to an arrest affidavit filed against Leon-Caballero.
Reyes told investigators Sanchez was an "old friend," according to the affidavit. 
Reyes then picked up Sanchez, Leon-Caballero and a third person in Littleton before driving to Aurora near Buckley Air Force Base. 
A man, later determined to be Leon-Caballero, instructed Reyes to pull over near the intersection of East Second Avenue and Airport Boulevard in east Aurora. The unidentified third man got out of the car before the car pulled over.
Once stopped, Leon-Caballero told Reyes to "shut up b**** before I kill you and take your car," after Reyes asked where the cousins wanted to be driven. From the back seat, Leon-Caballero then tried to strangle Reyes, who was in the driver's seat, using a cell phone charging cord. Reyes was able to free himself, before he "jumped from the Chevy and ran," according to the affidavit. 
Before leaving the truck, Reyes asked Sanchez, who was sitting in the passenger's seat, "Is this really happening?" 
Sanchez later told investigators he was drunk and high on Percocet and Oxycodone and he "couldn't think right or do anything at the time, and he can't remember what happened," according to the affidavit.
Shortly after the carjacking, Littleton police officers familiar with Sanchez found both he and Leon-Caballero hiding in a Littleton home. The Chevy truck was found in the driveway.
Officers found Leon-Caballero pretending to be asleep "in the basement on a bed under the sheets," according to the affidavit. Police found Sanchez hiding in a crawlspace under the basement stairs.
After initially outlining an alibi to police, investigators used surveillance video footage from businesses around the area where the truck was stolen to pin Sanchez and Leon-Caballero to the crime. 
Detectives also determined the two drove the truck through a business sign for an Aurora heating and cooling company shortly after the theft. The pair caused an estimated $15,000 worth of damage to the sign and incurred nearly $13,000 in damages to the truck.
The truck's license plate fell off after striking the business sign, which also helped investigators link Sanchez and Leon-Caballero to the crime. Police also found Sanchez's wallet in the cab of the vehicle.
Sanchez later told investigators, "he was sorry and his intention was never to hurt (Reyes)," according to the affidavit.
Leon-Caballero has been arrested multiple times across the metro area in recent years, Colorado Bureau of Investigation records show. Most of his arrests are related to fleeing justice. In February 2014, he was sentenced to one year in prison on a "flight escape" charge, according to CBI records.
The Judge who oversaw Leon-Caballero's jury trial issued a bench warrant for his arrest on Jan. 24.
Leon-Caballero had been wearing the court-ordered GPS ankle monitor since Jan. 4, when he posted a $15,000 cash or surety bond, according to Brad Kamby, the pre-trial services division manager in Arapahoe County.
The monitor last sent a transmission to authorities at 1:07 p.m. on Jan. 24 from the area near Colorado Boulevard and Martin Luther King Jr. Boulevard in Denver, Kamby said.
People with potential information related to Leon-Caballero's whereabouts are encouraged to call local police.