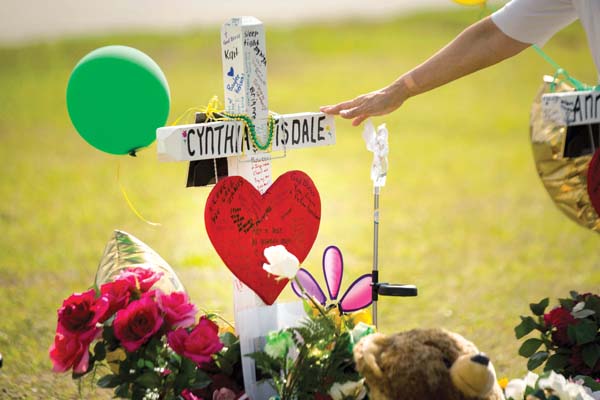 In the spring after 20 children and six teachers were gunned down in 2012 at a Connecticut elementary school, federal legislation aimed at beefing up background checks failed to get the 60 votes it needed in the U.S. Senate.
Later that year, two Colorado lawmakers who backed some state-level gun controls were tossed from office in recall elections backed by gun rights advocates.
Since then, gun control measures at the state and national level haven't gained much traction.
But as those measures have largely fizzled on the federal and state level — even a bump-stock ban and "red flag" bill with some GOP support died in a state Senate committee last month — backers of tougher gun laws are shifting their attention locally.
In the aftermath of the Las Vegas mass shooting that left 58 dead and 851 injured, Denver launched a ban on bump stocks, the device the shooter there used to make his semi-automatic rifles fire nearly as rapidly as a fully-automatic weapon.
Last week, the Boulder City Council passed one of the furthest-reaching gun control measures in the state, banning many semi-automatic rifles and popular accessories, including pistol grips for rifles and collapsible stocks.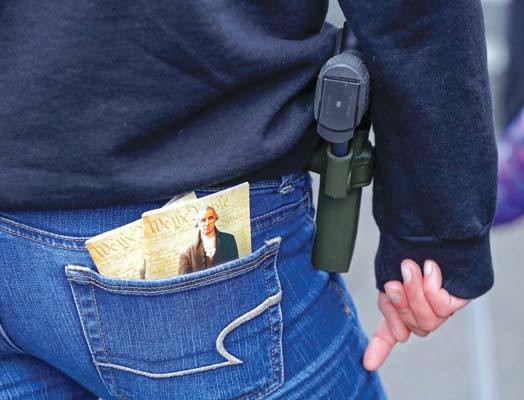 In Aurora, officials have whispered about launching a bump stock ban, but nothing has been introduced. City officials heard a brief presentation on the devices at an Aurora City Council committee meeting earlier this year from federal Bureau of Alcohol Tobacco, Firearms and Explosives agents.
Backers say the measures may not have the far-reaching effect national laws could have, but if they help prevent even one mass shooting, they're worth it.
"I think it's time that if the federal government is not going to take action that municipalities do," said Boulder City Councilwoman Jill Grano, who introduced that city's ban.
But just as their national and state-level counterparts have, local measures can expect stiff opposition, gun rights advocates say.
Already, the Boulder ban is facing a federal court challenge. Cody J. Wisniewski, a lawyer from the conservative Mountain States Legal Foundation, filed a lawsuit on behalf of two Boulder residents, a gun range and a gun store just a couple days after the Boulder council unanimously approved the ban.
The hope, Wisniewski said, is that the courts will strike down Boulder's measure and that will deter other cities from trying similar local bans.
"Municipalities shouldn't be drafting ordinances that violate the Constitution," he said.
Ground zero for trouble
If you want to know where mass school shootings are most likely to occur, look no farther than small-towns and suburbs like Aurora, experts say.
The massacre that killed 10 people at a high school in Texas last week was just the latest to happen in a small or suburban city. Of the 10 deadliest school shootings in the U.S., all but one took place in a town with fewer than 75,000 residents and the vast majority of them were in cities with fewer than 50,000 people.
Aurora knows the horror of a mass shooter first hand after the 2012 Aurora Theater shooting.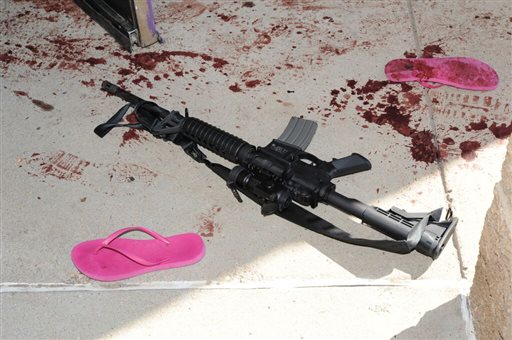 Gun violence activists say taking the battle for legislation from Congress and legislatures to city halls make sense, since these are often the site of mass violence.
Towns like Aurora, and nearby Arapahoe County, the scene of a student shooter three years ago, are seemingly idyllic places to grow up: low crime rates, good schools and a sense of community where everyone seems to know your name. And it's exactly those attributes, experts say, that are why small rural and suburban towns are a breeding ground for the next school shooter.
"Ironically it's people in small towns and suburbia who think it can't happen here. And that is exactly the type of place where it does happen," said Peter Langman, a psychologist who has been studying school shootings for years and operates a database of school gun violence in the U.S. and abroad. "People tend to think of violence associated with cities, not violence associated with small-town America, but this type of violence is the one associated with small-town America."
Experts say the phenomenon is due to a variety of factors that include easy access to guns and the copycat effect of disturbed suburban and small-town teenagers emulating each other. It's also blamed on the pressures of living in small towns that make it harder for disgruntled teenagers to adjust.
"In small-town America, it's said everybody knows everybody, and that's well and good except when you don't want everybody to know what's going on with you," said James Alan Fox, a professor at Northeastern University who has been studying mass shootings for decades. "If things are going downhill for you, you did something wrong or someone did something wrong to you and some girl dumps you, everybody knows. So it's much harder to get away from it.
"Whereas in the big city, where no one knows your name, that can be a good thing," he added. "You don't have this feeling that everybody knows what you're going through. Being in a small town has its advantages in terms of a network and a sense of community but sometimes that can be a double-edged sword."
Parkland, Florida, where authorities say a former student in February gunned down 17 people, had just recently been voted the safest town in Florida. Newtown, Connecticut, where a shooting in 2012 at Sandy Hook Elementary School took the lives of 20 children and six adults, is a classic New England town, seemingly a world away from the crime and problems of nearby Bridgeport, one of that state's largest cities.
The Columbine High School tragedy was in Littleton, the Virginia Tech massacre happened in a college town of about 40,000 people. The shooting last week took place in a town of 13,000 people about 40 minutes southeast of Houston.
Activists say that if the violence is home-grown, gun legislation should be, too.
The Boulder ban
Grano has been a longtime advocate for reducing gun violence, but she said she didn't really see that as a big topic for her city council run last year.
"When I was running for city council I didn't realize that it would be within our purview to do this sort of law," she said.
But not long after she joined the council last November, she looked into the issue and saw that Denver had a long-standing assault weapons ban and other cities around the country had passed similar measures that withstood court fights.
With that knowledge handy and with state and federal lawmakers largely on the sideline of the gun debate, she launched Boulder's ban.
Beyond barring the sorts of assault weapons that have often been the gun of choice for mass shooters in recent years — including the AR-15 rifle the Aurora theater shooter used — the Boulder measure raises the age from 18 to 21 to buy a gun.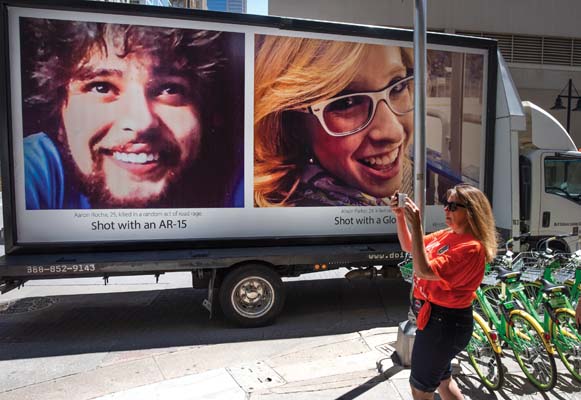 It also limits the size of ammunition magazines, a move Grano said she hopes means potential mass shooters have to switch magazines more often, something that can buy precious seconds for victims to escape.
Wisniewski said he is confident a federal court will find the Boulder ban unconstitutional.
"Just about the entire ordinance is unconstitutional," he said.
He said the measure bans popular gun accessories — including telescoping stocks — that merely make the weapon safer to use for people of varying heights.
The ban is also vague, he said, and would bar people from possessing accessories and a weapon, whether the accessory is attached to the weapon at the time or not.
"Boulder's ban is by far the broadest we have seen in Colorado, it's much more akin to what you have seen in other states," he said.
Grano said she realizes the ban may not stop every shooter, in part because a municipality like Boulder can only do so much. While Boulder might pass a ban, she said she doesn't expect other local governments to adopt the same regulations.
That's a similar problem cities like Chicago have faced in recent years, as weapons from nearby gun-friendly states like Indiana pour into the city, largely blunting the efficacy of local gun laws.
From Boulder, it's a short drive to much more conservative locales like Greeley, where gun restrictions aren't likely to get much traction, if any.
Gano said that even if a shooter bent on a violent crime has to make the trek to Greeley, they have a lengthy car ride where they can think about that choice. Maybe that will make them reconsider.
"There is some driving time and some thinking to do," she said.
And as is the case with other measures — she pointed to Boulder's efforts to become 100-percent dependent on renewable energy — she said the city can be an example to the rest of the state.
"We do this with other issues," she said.
Could cities push the state?
Aurora Sen. Nancy Todd said even Denver and Boulder taking on their own measures might not be enough to edge the state Legislature along to passing something substantial.
"Boulder and Denver are in and of themselves," she said. "Do they have influence at the Capitol? I'm not so sure I would say they have influence."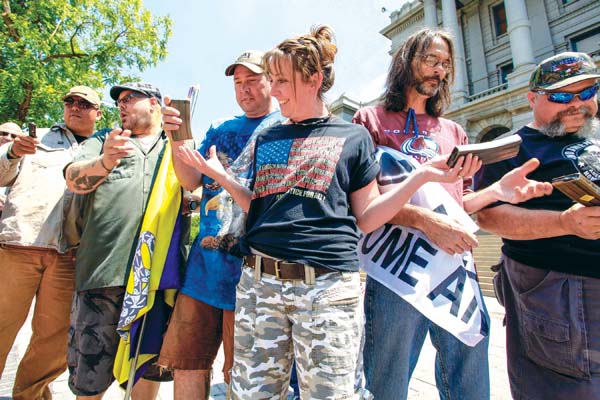 That take is largely based on the stalemate the Legislature saw on that topic this year. Todd said not even the so-called "red flag" bill, which would have allowed the courts to take a person's guns if they were perceived to be a threat to themselves or others, didn't get a full hearing because Senate Republicans shut it down so quickly.
It was able to easily pass through Democrat-led House with the support from some Republicans.
Because of that strong partisan divide, Todd said she anticipates the conversation continuing along issues of school safety and mental health. The Legislature was able to pass bills that increase school safety funding and make available more resources to prevent suicide.
"In terms of being a front-running piece of legislation, I don't see that happening," she said.
So like Boulder's automatic weapon ban and Denver's bumpstock ban, Todd said she wouldn't find it unlikely that other municipalities take up the same types of local control.
So far, Aurora has not. But Todd said it seems likely now more than ever that those conversations will be more public.
Aurora Councilwoman Allison Hiltz, a member of the city's public safety committee, said there aren't any major gun-related conversations in the works. And while Hiltz said there is nothing planned for at least the next few months, she did say she floated the idea of a bumpstock ban earlier this year.
It didn't receive the kind of support she said she felt could get it through council. So she didn't pursuit it.
"I don't know that we have the collective political will to take on guns," she said. "But I could be wrong."
"I would love to see Aurora do something about this, but I don't know what to do or what kind of support this divided council would have on tackling guns. Especially after the rhetoric that we shouldn't wade into immigration because it's a federal issue."
Capitol concerns
Gun bills on either sides of the issue haven't been able to make it out from under the Golden Dome.
A bill sponsored by Rep. Patrick Neville and Sen. Tim Neville would have changed state law to allow conceal carry permit holders to carry a firearm on school campuses, similar to a law in Utah. A school district could opt out of the rule and placed the prohibition back in place. The bill has died in the state House each time its been presented in some form or another in the past few years. Even if a bill like that passed, a doubtful proposition with the current Democratic control of the state House, school districts in the metro area might be the first in line to opt out of allowing concealed carry on school grounds.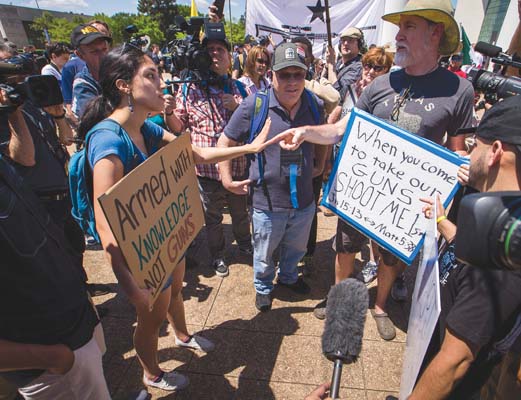 Even with some school districts in the state allowing trained staff to carry a firearm, there doesn't seem to be any interest for that to be the norm in the metro area. School districts in Denver, Jefferson County and Douglas County are not considering changing rules to allow trained staff to carry a firearm. Jeffco Schools has created a safety task force to make suggestions to the superintendent and school board about possible changes across a spectrum of areas but they haven't been tasked with making a decision on arming staff.
Teachers in Aurora Public Schools don't seem interested in pushing to be allowed to carry a firearm while at school. Bruce Wilcox, the president of the Aurora Education Association, said members of the union haven't pushed to be allowed to carry.
"We've had members push to call for additional gun control but not to have (conceal carry)," Wilcox said.
To get a concealed carry permit through the Arapahoe County Sheriff's Office, a resident of the county would have to be at least 21 years old, legally allowed to own a gun, not an abuser of alcohol or illegal substances and has received firearm training from a certified instructor within the past 10 years or have been honorably discharged military veteran in the past three years to receiving a permit. Honorably discharged military veterans and retired law enforcement officers who can show certification in handgun training in the past 10 years would also qualify for a permit.
Still, local schools are beefing up security in recent years.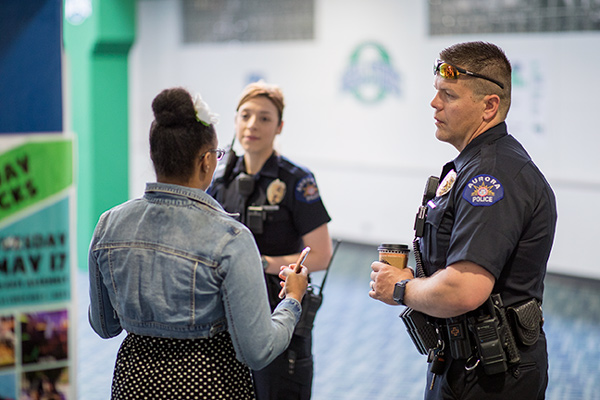 After a year of work, Regis Jesuit High School now has an armed security guard as part of its campus safety program.
The school's board of trustees decided about a year ago to have two armed security guards and the school had been working since to come up with an implementation plan, said Charisse Broderick King, a spokesperson for Regis. Since April 9 there has been one armed guard on campus and a second armed guard will be added next school year.
"This is a process and discussion the board of trustees have been considering for about five years. They were studying and researching to determine if it was next step," King said. 
The new policy requires an armed guard to have served at least five years least as a member of a police department, military, or some other security work. The guard must also pass training similar to Colorado police officers and partake in at least 24 hours of annual training in weapons safety, manipulation, marksmanship, school policies and safety procedures.
King said the policy was created after extensive feedback from parent groups, school staff and research. The school currently has four members of its security staff, including one that is armed who met all the new criteria. A second member of the security staff is set to retire this summer and King said that guard's replacement will meet the criteria to be armed.
While Regis will still employ off-duty law enforcement officers for events like dances and sporting events, King said Regis wanted to make sure the armed security that was always on campus was not from an outside agency. The board wanted to make sure those guards were able to have a personal relationship with students on campus.
"It was really important to have our employees who have relationships with students and could build relationships with students," King said. "We do firmly believe it's the relationships and the environment of care and concern is the most important thing in our safety plan."
King said Regis is similar to other public and private schools in the area in having armed security on campus. Aurora Public Schools and Cherry Creek Public Schools have armed school resource officers and private schools like Valor Christian High School, Mullen High School and Arrupe Jesuit High School.
At least for the foreseeable future, local measures could be the only gun laws that get much traction.
Rep. Mike Coffman, R-Aurora, has proposed a "red flag" bill at the federal level that would allow police to confiscate guns from mentally-ill people deemed a threat. Coffman introduced the measure this spring after lawmakers in Colorado couldn't get a similar bill passed.
Still, even with some GOP support, the prospects of that bill getting through a Republican-controlled House, Senate and White House are grim.
In Boulder, Grano said she has already heard rumblings that her support for that city's assault weapons ban will lead to a challenge from gun rights groups if she opts to run for re-election a few years down the road. She'd welcome those fights, she said.
She pointed out that many assault weapons were banned in the United States at the federal level from 1994 to 2004.
"We've gone backward on gun control since then," she said. "I think it's time."
— The Associated Press contributed to this story