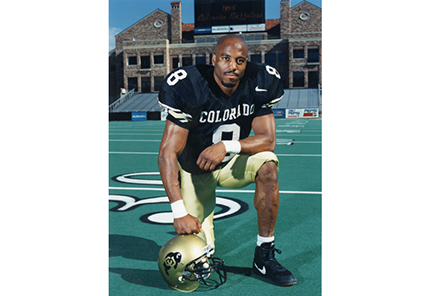 AURORA | An assistant principal in Aurora Public Schools has died after being shot yesterday in an alleged parking dispute between two men at Eaglecrest High School, according to the Arapahoe County Sheriff's Office.
The victim, 46-year-old Anthony "T.J." Cunningham, was shot multiple times, according to Deborah Sherman, spokeswoman for the Arapahoe County Sheriff's Office.
The local sheriff's office tweeted at 4:10 p.m. Monday confirming Cunningham had died.
Cunningham, a former professional football player, was an assistant principal at Hinkley High School, Sherman said.
The sheriff's office has arrested Marcus Johnson, 31, for his role in the alleged crime, according to tweets from the agency's account. Johnson was being held on attempted murder charges, according to Sherman.
Those charges will soon be amended to first-degree murder, according to the sheriff's office.
Sherman did not know what type of gun was used in the shooting.
Johnson allegedly shot Cunningham Sunday following a dispute over parking near the two neighbors' homes on Rome Street in Aurora, according to the sheriff's office.
"They live right across the street from each other," Sherman said.
The two men got into a "physical confrontation" over parking earlier in the day, according to Sherman. They decided to meet at Eaglecrest later in the day to resolve the dispute.
Denver City Councilman Albus Brooks tweeted about Cunningham's death Monday afternoon.
"Devastated to hear about the murder of my friend and former (University of Colorado) teammate TJ "Anthony" Cunningham," Brooks wrote. "He was only 46, and was married with kids. Praying for his family. #EndGunViolence."
A spokesman for Aurora Public Schools issued a statement regarding Cunningham's death late Monday afternoon.
"We are deeply saddened to learn that one of our assistant principals, Anthony (TJ) Cunningham passed away earlier today," the district said in an emailed statement. "Our hearts are broken for Mr. Cunningham's family. Our thoughts and prayers are with them during this tragic time."
The district will have additional counselors on-hand at Hinkley for students and staff throughout the week.
Sherman said Johnson is expected to be formally advised of charges filed against him in Arapahoe County Court tomorrow morning. Courts were closed in observance of Presidents Day on Monday.
Johnson is scheduled to appear in Division 302 of the Arapahoe County Courthouse tomorrow morning at 9:30 a.m., according to county records.