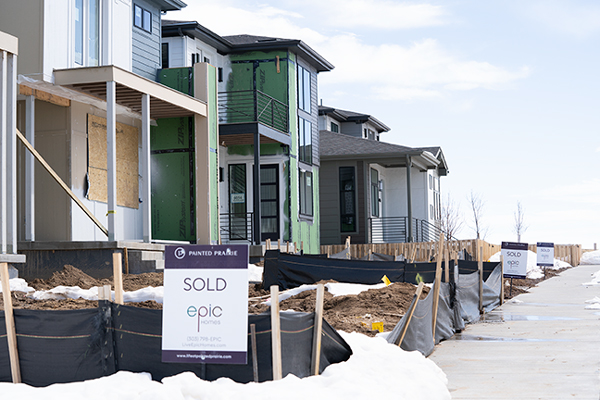 We love Colorado, and we love that we're able to call Colorado home. 
We're not alone – between 2010 and 2020 our population swelled by more than 750,000 new residents. Make no mistake: Population growth is often a boon to the economy; but Colorado's popularity can be a double-edged sword when it outstrips the policy response of our state and local governments. 
Colorado's housing crisis existed long before the pandemic hit, but the past two years have exacerbated many of those pain points. During that 10-year period of explosive population growth, the number of new homes built across the state decreased by a staggering 40%. Such low supply and high demand means skyrocketing prices for homeowners and renters, leaving far too many Coloradans without a safe, affordable place to call home.
The time for transformative solutions is now, and we're excited about the possibilities presented by historic federal pandemic relief funds.
There is no single solution to the housing crisis. The long list of complex issues includes a dire lack of workforce housing in popular resort towns, soaring rents in urban centers, and masses of people with no home at all. Clearly, in this legislative session we must be nimble, and we must be willing to consider creative solutions to address this crisis.
Over the past seven months in our roles as members of the Affordable Housing Transformational Task Force, we developed recommendations on how best to invest $400 million in American Rescue Plan Act (ARPA) pandemic relief funds to address the root causes of our affordable housing crisis. This historic investment comes on the heels of last year's $150 million to fund affordable housing development efforts and provide eviction and rental assistance.
Some of the groups in particular who deserve our help: small businesses, tourism industries, and employees who want to live where they work. So we plan to empower nonprofit organizations and local governments that already have the tools and expertise to leverage funding and develop affordable housing solutions that meet the needs of their communities. 
One priority is to increase grant funding that incentivizes fairer zoning laws and the development of supportive, rental, and for-sale housing. Communities must be in a position to preserve their current affordable housing units while creating new opportunities for future development that includes thousands of new, high-quality affordable homes. 
Second, we must improve support systems for middle income families whose modest resources squeeze them between unaffordable housing costs and ineligibility for assistance.  
The potential for our recommendations' success lies in their flexibility and adaptability. And perhaps no option is as flexible or as adaptable as modular housing. For communities whose distance from industrial centers might stymie access to housing materials or labor, modular housing is a win-win. These units can often be built at half the cost and in a quarter of the time it would take for traditional housing construction. Further, they offer innovative possibilities for sustainable, green, and energy-efficient construction.
By making major investments in the modular housing industry, we can rapidly scale up construction of new available homes while continuing to spark Colorado's economy.
As we continue to recover from the pandemic, many low-income families find themselves in dangerously unstable housing conditions and on the verge of losing their housing entirely. Tragically, in Denver alone, the number of people experiencing homelessness for the first time has nearly doubled from 2020 to 2021. That is unacceptable. 
To reduce homelessness, we'll build on our recent efforts and continue to provide rental assistance, preserve existing affordable housing options, and work to stabilize Colorado's volatile housing market.
The funding that we propose here, while historic, is just the beginning of our work. With continued input from experts across the state and with good-faith bipartisan efforts, we're poised to pursue solutions to the housing challenges that have plagued our state for too long.
Colorado is a great place to live, and we want to keep it that way. As our state continues to grow and change, we must make sure no one is left behind. It's on us to make sure that everyone who wants to call Colorado home, has a home.