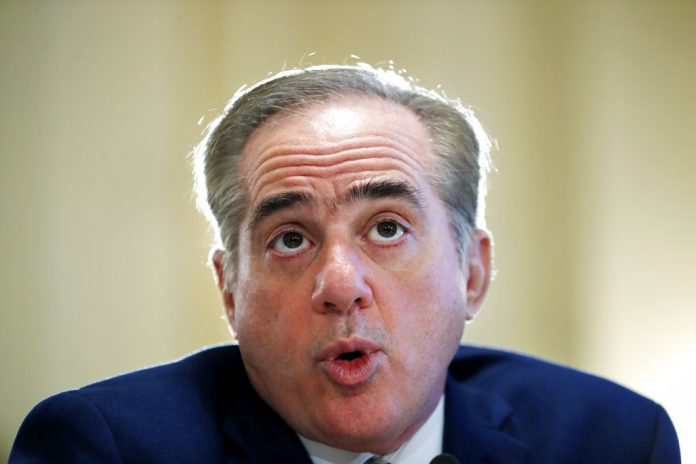 From the time the Trump White House began to take over the troubled Veterans Administration last year, a series of missteps made by new leaders bodes ill on finally fixing years of mismanagement.
It's only gotten worse.
There's no doubt that current VA Secretary David Shulkin has to go, and now.
A 150-page independent report released this week on the VA scandal details horrendous findings alluded to earlier. Unbelievable patient safety problems, stupendous waste and mismanagement and what the report this week summarized as "failed leadership."
That's how we'd describe it, too.
Aurora is a monument to VA malfeasance. We're home to an over-priced $350 million VA medical center that has since mushroomed past $1 billion, is years behind scheduled completion, and has serious design problems — even before it opens this summer.
As stunning as this epic tale of mismanagement is, it's hardly unusual. It's not nearly as ghastly as the malpractice inflicted on thousands of vets who either can't get the medical attention they need and were promised, or whom were mistreated in facilities such as the Washington D.C. Center, which appears unfit even for veterinary practice.
Besides cheating American veterans out of care and services they were promised and deserve, the scandals and Schulkin's ineptitude besmirch the entire system, which is staffed with honorable and talented doctors and employees, providing excellent and valued services despite VA leaders.
The report this week points out that even before he was elevated to the job of VA secretary, Schulkin was responsible for problems dating back to 2015.
The Associated Press reports that "at least three VA program offices directly under Shulkin's watch knew of 'serious, persistent deficiencies' when he was VA undersecretary of health under former President Barack Obama from 2015 to 2016."
Shulkin has said he does "not recall" anyone ever telling him there were problems then, making it clear he's either a liar or woefully inept.
All this is just the latest in a string of scandals Shulkin is mired in, including recent reports that he has wasted huge sums of money on extravagant and needless travel for he and his wife, and then lied about it.
A dubious Wimbledon jaunt with his wife was the last straw for Congressman Mike Coffman, who has also demanded President Donald Trump fire Shulkin.
"Shulkin, by his conduct, lacks the moral authority to achieve your goals of a transparent, accountable VA that is dedicated to meeting our nation's obligations to the men and women who wore the uniform and made tremendous sacrifices in defense of our freedoms," Coffman said in a Feb. 28 letter to Trump.
We agree. The VA needs dedicated, competent and honest leadership. Shulkin is none of those things.