Some residents lived in the Kings Inn Motel for nearly a decade before they were forced to move when new owners hiked the rent from $225 per week to $445 per week last summer. The rate hike left dozens facing eviction and few places to go as housing prices in even the most affordable parts of the city have ticked upward in recent years.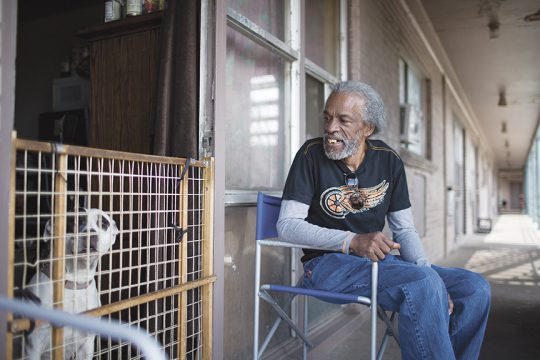 Evictions in Aurora happen at a higher rate than anywhere in the state. The Eviction Lab, hosted by Princeton University, puts Aurora at 33rd in the nation for evictions. The city has nearly double the number of evictions Denver reportedly has, and so keeping evictions from happening has become a major focus for Shelley McKittrick, the Homelessness Program Director for the city.
Her department was allocated $575,000 this year for the House Aurora Partnership, which provides funding for families on the verge of ending up homeless.
That venture started with the Kings Inn incident, McKittrick said. The city of Aurora swooped in and ultimately allocated $80,000 from the recreational marijuana sales tax revenue to help re-house the dozens of tenants at the motel.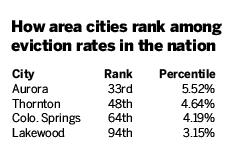 The focus on how to address evictions like those at the Colfax Avenue motel is increasing, both at a city level and beyond. Sen. Michael Bennet released a plan last week that aims to study and combat evictions in Colorado and across the country —  an increasing problem in Aurora, where, on average, eight evictions reportedly happen each day.
"Local government and taxpayers are bearing the burden of this crisis," Bennet said in a phone call with reporters last week. "The data is still spotty and (that is) one reason why we're doing the work that we're doing."
Since mid 2017, McKittrick, with the funding allocated by city council, has prevented 204 households from becoming homeless, McKittrick told the Sentinel.
"We used that event to show city council what we could do and they gave me a couple hundred thousand dollars," she said.
The average cost per household to prevent an eviction is just more than $1,300, according to McKittrick. The program pays the money directly to the property manager.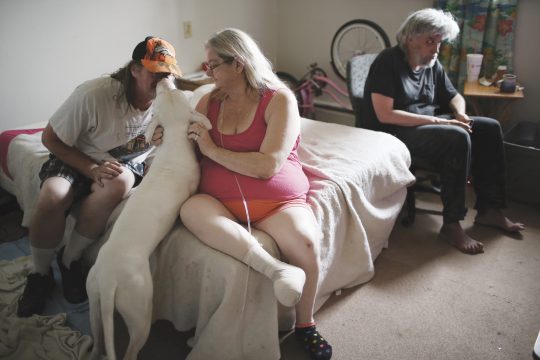 Each case is a little different, but McKittrick said the program is often referred clients from other people they've helped or a city council member will advise a resident reach out to her.
"We ask what's going on and what the situation is. We do an application, which goes over their need, income, expenses, and they explain the circumstance," McKittrick said. "One of the main things we have to sort out is whether this is a one-time crisis, and whether they'll be ok moving into the future or do they have a long term challenge? Typically, it's a one-time situation."
HAP also works to re-house people experiencing homelessness, so McKittrick said sometimes she's seen people get into a new home and then a few months later they hit a bump in the road and need a little more assistance.
"Our general policy is if we have the funding available we can help one more time in a calendar year," McKittrick said, acknowledging that eviction assistance isn't always a one-time event for some people.
Eviction prevention fits into a much larger discussion that has infiltrated city staff and lawmakers over the last year, many highlighting that steady housing improves communities and impacts education, the local economy and crime.
At-large council member Allison Hiltz, who sits on the city's housing policy committee, said she's in early discussions about an ordinance that would ban income discrimination. The goal, she said, would be to prevent landlords and property management companies from turning away renters who pay with subsidized housing vouchers, such as Section 8. Because the rental market is so hot, Hiltz said, she's found that a lot of property managers just don't need to offer their units to people with vouchers.
Denver City Council members passed a similar ordinance in August on a 11-2 vote.
The Apartment Association of Metro Denver announced this month is granting Brothers Redevelopment $5,000 to create a partnership aimed at keeping people in their homes, which would include allowing property managers to accept vouchers, providing resources, and, in some instances, emergency grants. The association also has an eviction prevention task force.
"Eviction should always be a last resort, as the process harms not just the affected tenant, but rental housing providers as well," said Nancy Burke, AAMD's vice president of government affairs. "We're fortunate that communities like Aurora are working hard to educate renters on their rights and giving them the information they need to make informed decisions about their housing options.
"The need for housing is real. One of the best solutions to minimize the impacts of rising rents is to increase the number of rental units available in the community," Burke said.
Hiltz said she's still talking to stakeholders and learning about how an income discrimination ordinance could work in Aurora.
"The problem I'm running into is that the process is a little longer to get those vouchers for complexes that participate in the program," she said.
"We want to understand what the concerns are (for landlords and property managers) and what are the ways to mitigate the concerns, so that they aren't anymore."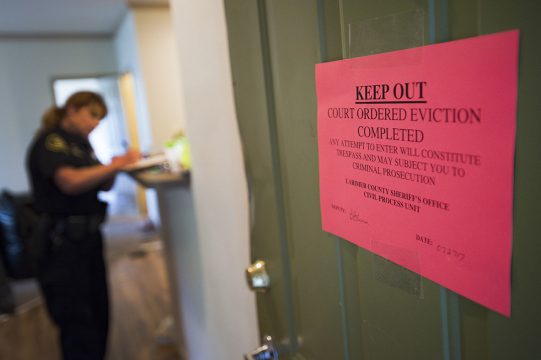 Meanwhile back in McKittrick's office, she's been keeping data about the city's efforts on eviction prevention, but other national data outside of the Eviction Lab is sparse, she said.
"We don't have the level of data of where they (evictions) are most common. We can map them through GIS and enter all the addresses we have, where people have called us from," she said, adding that could lend itself to figuring out whether there are patterns or "bad actors" that are more commonly evicting tenants.
Bennet said he wants the Department of Housing and Urban Development to create a national database of evictions.
That would be provided to states that could then "allow elected officials, researchers, advocates, and other interested parties to access and analyze trends in an effort to better understand the scope and scale of the problem," according to a draft of Bennet's plan.
His plan also calls for $5 million in funding for eviction research, establishing a matching grant program for emergency assistance programs and more legal assistance for preventable evictions.
Locally, several municipalities are already funding efforts like that. This year Aurora committed $25,000 to be a part of an eviction prevention clinic along with several other municipalities, including Adams and Arapahoe counties.
"I applaud Sen. Bennet's efforts on this and the more folks show up with attorneys, maybe the more thoughtful our property managers and owners will be when they file in the court," McKittrick said. "Maybe it will be a deterrent for eviction-happy managers."
It's unclear why Aurora ranks so high for evictions. McKittrick said she believes it's the city's higher poverty rates, a larger concentrated minority population and the state's few tenant rights laws are the biggest factors.
"We have lots of ideas of how to improve the situation, but until we have the laws to back that up… it's difficult to stop the bleeding," she said.
Aurora state Rep. Mike Weissman told the Sentinel he plans to delve into renters rights this legislative session and other aspects of affordable housing.
Fellow Aurora House Democrat Dominique Jackson sponsored a bill last year aimed at tightening protections for renters. It failed in a GOP-led Senate committee.
McKittrick said her office, composed of herself and an assistant, constantly fields phone calls from families facing evictions. Often times that's because of a sudden, unexpected event, like being laid off or a medical emergency.
"People work so hard. They work two jobs. They don't see their kids," she said. "Many of us have struggled through parts of our lives. If I had come from multi-generational poverty, I probably would have been out on the street multiple times."
McKittrick said like many she's been able to turn to family, but "if you're poor and your parents are poor and everybody you've ever known is living in poverty, you have nowhere to turn."
"We need to approach this (evictions) from multiple angles — to work to increase incomes so that people are making a livable wage," she said. "We need surrogate families, which I consider HAP (House Aurora Partnership) to be… we're the families they don't have. We become what other people have."