It was her freshman year of high school that John Britz and his wife began to realize there was something worrisome about their daughter.
Her grades were good and she was a star athlete at her high school in metro Denver, but she shunned friends and social activities.
Then two months before she graduated high school, she made her first suicide attempt. All together there were three, Britz said.
"I was downstairs, working in my office," he said. "She came running down the stairs. She threw a bottle of fingernail polish remover."
She had drunk it.  Before then, Britz said his daughter had been working with a counselor and behavioral therapists outside of school — the counselor said his daughter was experiencing the usual strife of being a teenager. After she tried to end her life, it was clear something much more serious was happening.
Similar trouble was

 

brewing across the state
Since that time in 2011 when Britz's daughter was in crisis, suicide rates in the state have been on the rise, including for young people. The Colorado Office of Suicide Prevention's 2017-2018 report revealed there were 1,175 total suicide deaths across the state, 19 more than the previous year. In 2009 there were 940 total suicide deaths.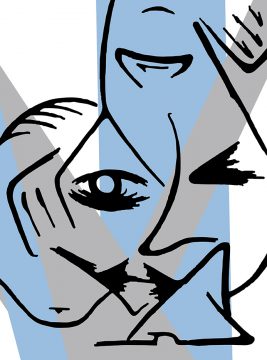 Year over year, the increases aren't statistically significant, said Sarah Brummet, director of the state office, which is under the Colorado Department of Public Health and Environment. But the rising numbers are something to watch, she said.
"We were starting at a pretty elevated rate," Brummet told the Sentinel. "What we see is similar among other Rocky Mountain states."
Colorado ranks ninth in suicide deaths in the country, and suicide is the seventh leading cause for death across the state, with higher rates in more rural counties. In Pueblo, El Paso, La Plata and Mesa counties, the rates were high enough to prompt action by the Colorado Attorney General's office, which conducted an analysis of suicide prevention for young people in those regions.
The report done under former Attorney General Cynthia Coffman pointed out that   a variety of factors that can elevate risk for suicide in young people: the economy, societal pressures and cyber bullying, among others. The report recommended more funding for prevention, more pro-social activities for youth and leveraging active prevention campaigns.
While suicide deaths have been increasing, young people ages 10-24 have the lowest rate — but it's long been the No. 2 cause of death for that age range, and males are at a much higher risk for killing themsleves. The state reports that between 2010 and 2014, 484 males aged 15-24 killed themselves compared to 128 females in the same age group.
"When it comes to youth suicide attempts, females between the ages of 10 and 18 are disparately represented in the data. Between 2014 and 2015 (the most recent time frame with public data available), the number of hospitalizations of Colorado residents ages 10-18 shows that 816 females were hospitalized due to a suicide attempt, while 249 males were hospitalized during this same period," according to the 2017 AG report. "This suggests that more females are attempting suicide, but more males are dying by suicide."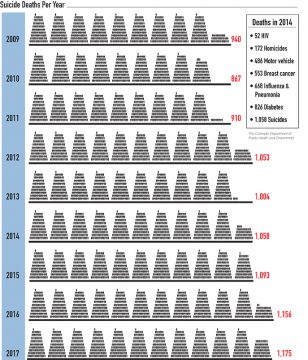 That data represents a major challenge for people trying to prevent suicide deaths and attempts. Balancing where to put resources has become a struggle for Brummet's office, along with other organizations across the state.
Most notably, the preventative piece is difficult to fund.
Stopping the problem before it becomes one
Kathie Snell, the chief operating officer for the Aurora Mental Health Center, said there's more money in intervention. The organization writes grants to try and shore up that difference and helps get behavioral specialists into schools in Aurora's two school districts, Aurora Public Schools and Cherry Creek School District.
"We see them (intervention and prevention) as two sides of one coin. If we're investing on the prevention side, we can keep people from needing more intense intervention. So really, for us the majority of our services are intervention."
Britz said if there would have been more resources and people trained to identify early warning signs of mental illness, his daughter may have gotten help sooner than the tail end of her high school career.
Mental health support is an issue that Britz has become dedicated to through his work, too. His career is in political consulting, and a large portion of his work is with Colorado school districts on passing mill levies.
In 2018, APS was able to pass one of the most notable mill levy overrides in recent history because the campaign focused around behavioral health resources. Britz, who has done work with the district since 1995, was asked to help on that project by district superintendent Rico Munn.
"Rico stepped up and saw this as a necessary need," Britz said, admitting that even though it was something he personally believed in, he wasn't convinced that making it the selling point would win over voters.
But it did.
The mill levy override passed by a wide margin to create a $35 million fund for mental health services in schools, teacher raises and school safety measures. Much of the funds will be spent to place more social workers, therapists and counselors in schools – sorely needed personnel, according to some teachers who say they aren't equipped to run a classroom and give traumatized and mentally ill students the support they deserve.
Weeks before voters approved the measure, APS Director of Mental Health and Counseling Jessica O'Muireadhaigh told the Sentinel there were about 150 mental health staffers in all 63 schools.
That made a ratio of about one professional to 490 students. Plus, many of those staff were limited to working with special needs students in individualized education programs. Many elementary schools didn't even have a counselor, Munn said in October.
About $13.4 million of the $35 million to be raised will go specifically into a broad category of spending called Aurora CARES, which helps fund everything from mental health resources to fire drills and security personnel in schools.
With the money, school staff and teachers would receive training to recognize behavior from students who may be experiencing trauma or other mental health issues before they become a crisis. The district-wide ratio of mental health staff to students would be increased as well, O'Muireadhaigh said in October, and staff would be placed where they are needed.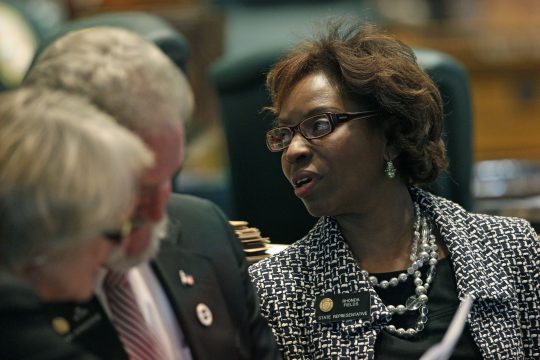 More resources in schools have been a focus for some lawmakers, too, like Aurora Sen. Rhonda Fields, who is the primary sponsor on SB19-010. The bill, if passed, would increase amount of appropriations the Colorado Department of Education could allocate under the Behavioral Health Care Professional Matching Grant Program.
In 2017, around $9.4 million was dispersed among 44 school districts in the state. This year the program appropriated approximately $11.9 million from the Marijuana Tax Cash Fund and will hire four full-time employees.
The need for more professionals became ever apparent to Fields when 10-year-old Ashawnty Davis hanged herself last year in Aurora — it's a major reason why Fields said she decided to take on the behavioral health grant this year.
In 2017, Fields helped pass a bill that requires the State Department of Education to research best practices in bullying-prevention policies. That research is due out this year.
Making a difference in adults
Britz's daughter continued to experience mental health illness after high school and into college. Two more suicide attempts followed.
"I can't tell you how many dead end roads we hit during this process," he said. He's often wondered what families with fewer resources do in similar situations.
That's been a major focus for Mental Health Colorado and its President and CEO Andrew Romanoff, a former state lawmaker and apparent candidate for U.S. Senate.
Romanoff's cousin killed herself just before he took the job as the organization's director.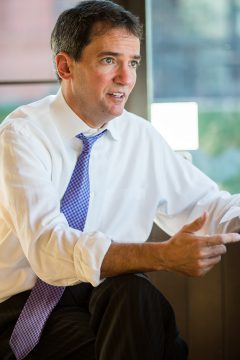 "We're focused on the barriers," Romanoff said. His office has been talking about factors from health insurance hurdles to the stigma that comes with seeking out mental health aid in small towns.
Getting a mental health check-up while seeing a primary care doctor can make seeking treatment easier, so the organization has been working on implementing that throughout the state. Romanoff recalled the story of a man in rural southeastern Colorado who would park blocks away from a therapist's office so people wouldn't know he was seeking that kind of treatment.
In the adult age range, the Office of Suicide Prevention can track what professions have higher suicide rates: construction workers and law professionals, for example.
"We're all walking around with risk," Brummet said. "…those who have made an attempt and survived, 90 percent (of them) won't die by suicide."
Part of Mental Health Colorado's efforts in reducing the suicide rate is passing more restrictive gun legislation.
"If you're looking for a way to reduce suicide, one way that other states have found to put a dent is to make it easier to get treatment, but harder to get guns," Romanoff said.
The organization has been championing "red flag" legislation, which would allow law enforcement to take a person's guns if they are deemed a threat to themselves of others. That bill had some bipartisan support last year with a nod of approval from several law enforcement heads across the state.
That bill has made a return in the Democrat-led legislature this year.
Measuring the success

 

of prevention
How Brummet, Romanoff and other professionals working to improve access to mental health care evaluate their success can be difficult to gauge.
There isn't an easy way to measure a death that isn't happening or a crisis that didn't occur, and even more so, why it's not happening.
"A lot of the impact we have with our efforts are upstream and 10-20 years out," she said. "It's a challenge when it comes to prevention…It's the negative of a really rare event. If people are getting help, that's a good thing. We're keeping a pulse on those fatalities and attempts."
A big challenge for getting people to resources is educating people that information is available.
The Office of Suicide Prevention aimed to have about 4,100 monthly visitors to www.mantherapy.org, a website made specifically for men experiencing mental health challenges, but only averages under 800 visits each month, according to a state report.
That doesn't mean people aren't needing the resource, Brummet said.
"It's more that people have never heard of it, we have this wonderful, homegrown resource that experts have weighed in on —it's currently under evaluation from CDC — but people here don't know about it. So it's a frustrating situation that we have this gem of a resource and people don't know."
Britz said his daughter — who now identifies as transgender — is working as a peer counselor.
"I wonder if you didn't have the resources, how you would do this?" he said about his family's journey. His hope now is that fewer families will have to ask the same thing or wonder where to turn to find any kind of resource.
— Sentinel reporter Grant Stringer contributed to this article.