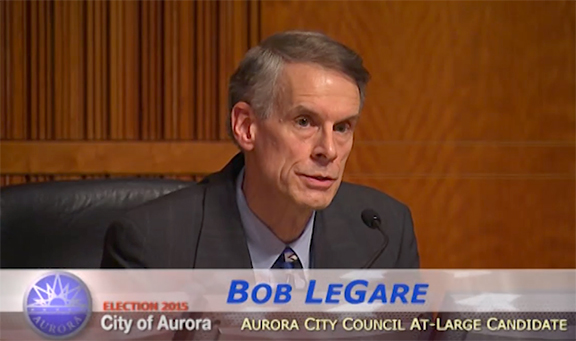 AURORA | The Aurora City Council chose fellow Councilman Bob LeGare Monday as the city's mayor to complete the term of Steve Hogan, who died of cancer in May.
LeGare was one of four finalist candidates for the position. Also considered were Hogan's son, Timothy Hogan, and two former city councilwomen, Debbie Hunter Holen and Renie Peterson.
He said he will not run for re-election at the end of the term in 2019. He told the Sentinel he had no desire to do so, partly because he recently got married.
"In recent years I had not any thought of being mayor," LeGare said during interviews with fellow council members earlier this month.
But when Steve Hogan announced his cancer diagnosis, LeGare said he knew that if the worst was to come and the city needed to appoint a mayor, he'd feel a civic obligation to step up.
LeGare said  during the interview that he feels he is the most qualified of the four to be appointed, adding that there could be benefits for other members in his appointment. LeGare said he wouldn't offer up input as often if he was mayor.
He said he'd be more of a discussion facilitator.
"I don't get to vote anymore, and some people will throw a party over that," LeGare said with a laugh.
LeGare's appointment now creates an open at-large seat on the council, which has 45 days to fill through and application and appointment process.
LeGare has been a steady conservative voice on the city council for nearly 17 years over two stints totaling 16 years on the dais.
He has long been a fervent voice for increasing spending on roads and transportation and reducing regulation of businesses. LeGare has also been a strong proponent of giving relatively wide berth to the city's nascent marijuana industry.
In all his years on the city council, the only serious controversy he's endured came from police and firefighter union backlash for his stance on slowing the expansion of police and fire ranks.
In what was one of the most profound and personal campaigns city unions carried out during an election, the unions campaigned heavily against LeGare in 2015. He won the re-election to his at-large seat, however, by a razor-thin lead.
LeGare unsuccessfully ran for mayor in 2003 and a seat on the Arapahoe County Commission in 2016.
He has worked in commercial property management since 1984 and holds a degree in business administration from the University of Phoenix. He also is a certified property manager as designated by the Institute of Real Estate Management.
Beyond his tenure on city council, LeGare served on Aurora's first Open Space Advisory Committee and has served on the Arapahoe County Open Space & Trails Advisory Board.
During Monday's voice vote, LeGare won the mayoral appointment with 6 votes. Timothy Hogan garnered 3 votes. Renie Peterson got one vote. City Attorney Michael Hyman said before the vote that under the city's charter, LeGare was required to vote during for a mayoral appointment, and voted for himself.
LeGare's appointment now triggers another 45-day window to appoint an at-large council member. He said he didn't have anybody in particular he'd like to see take the seat, but LeGare said any of the candidates who ran for at-large positions in 2015 or 2017 should consider his spot on the council, which expires in 2019.