AURORA | A 35-year-old cop who currently patrols a town of about 550 people will soon be in charge of some 700 employees and one of the largest jails in the state.
Tyler Scott Brown upset incumbent Republican Sheriff Dave Walcher by a sizable margin on election night. He's now poised to become one of the youngest, and only Democratic, Arapahoe County sheriffs in several decades.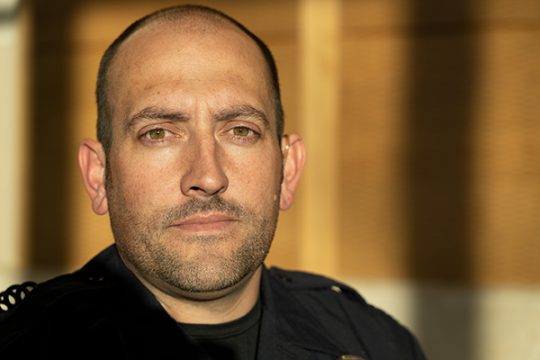 A resident of Centennial, Brown rode a blue wave to victory in Arapahoe County, one that also helped local Democrats win seats to the state congress, board of commissioners, clerk's office and assessor's office.
Despite being out-fundraised by a ratio of about 11 to 1, Brown defeated Walcher by about 8 percentage points, or roughly 20,000 votes.
Walcher defeated Brown in the 2014 contest for Arapahoe County Sheriff by about 11 percentage points, or 21,000 votes.
Walcher, a former FBI agent and longtime employee of the Jefferson County Sheriff's office, was the hand-picked successor of former Arapahoe County Sheriff J. Grayson Robinson. Walcher was hired by Robinson's office at the start of the decade, and later appointed to the top position when Robinson retired before the end of his term in early 2014.
A Colorado native, Brown graduated from Smoky Hill High School and attended several colleges to pursue a baseball career. The standout catcher started his freshman year at the now defunct Dana College outside of Omaha, Nebraska before heading to Arapahoe Community College, where he received an associate's degree. Brown finished his college career with a bachelor's degree in political science from Eastern New Mexico University, where he was recruited to play his final two years of baseball. An elbow injury incurred during his senior year prevented Brown from pursuing major league aspirations, he said.
Since 2015, Brown has served as a patrol officer in the tiny burg of Mountain View, located just north of Denver and across West 44th Avenue from the equally diminutive town of Lakeside, home of the Amusement Park, a Walmart and not much else.
Mountain View currently has a population of about 537 people, according to recent U.S. Census data. The town's police force comprises 10 officers, including the chief, Brown said.
In the past decade, the Mountain View Police Department has repeatedly been criticized in local media reports for being heavy-handed in issuing traffic tickets. Citizens who have been stopped by Mountain View officers have claimed the department issues bogus citations in an effort to buoy the town's tax revenue.
Brown began his law enforcement career with Aurora's code enforcement division shortly after he graduated from college in 2007. He worked with the city when one of his peers, 40-year-old Rodney Morales, was shot and killed while on duty in November 2008.
Following his foray into law enforcement in Aurora, Brown began working as a rookie cop with the Northglenn Police Department in January 2009. He made headlines in 2012 when he helped rescue two children from a home that their father had set on fire. Brown was named an Adams County Peace Officer of the Year and earned a Medal of Valor from the Colorado Association of Police Chiefs for his actions.
Brown, who received his original peace officer training from the Adams County Sheriff's Office academy, had a somewhat tumultuous departure from Northglenn, which ended with a mutual agreement between the sheriff-elect and the city to seal all documents related to his exit. Brown said he left on his own prerogative due to friction with the police command staff.
Spokespeople for the Northglenn Police Department did not respond to requests for comment by press deadline.
In 2013, Brown began working in the armed security division of Aurora Public Schools, helping train school staffers and security workers, he said. He stayed there until getting hired with the Mountain View Police Department three years ago.
Brown will inherent between a $120,000 and $150,000 salary as Arapahoe County's top cop, according to state documents.
His victory has been viewed as a potential sea change in the state's oldest county, where it has long been presumed that in order to win local office, candidates are obligated to sport an "R" beside their names on ballots.
"Arapahoe County was always a Republican bastion and only relatively recently have the political demographics flipped," said Republican City Councilman Charlie Richardson, who chairs the city's public safety committee, which regularly interacts with the three sheriff's offices that oversee the counties Aurora touches.
Unaffiliated voters returned more ballots than their Democratic and Republican counterparts across the state this election cycle, according to the Secretary of State's office. Voters without a party affiliation returned about 29,000 more ballots than registered Democrats, and about 65,000 more ballots than state Republicans.
Brown will be the first Democratic Sheriff to serve in Arapahoe County since Arnold Miller, who acted as sheriff from 1975 to 1979, records show. Prior to Miller, every sheriff in Arapahoe County since at least the early 1930s had been a registered Republican. Voting records only began including the party affiliation of elected officials at the county level after the 1936 election, making the registration status of sheriffs who served at the beginning of the 20th century unclear.
Brown recognized his victory was, in part, a local echo of political discontent with national policies, but he said he aims to keep the county office nonpartisan.
"On a nightly basis we're bombarded with what's happening at the national level, and what we've seen is a polarization of the parties," Brown said. "I don't want to be polarized and I didn't get elected to serve one party or the other — I'm here to serve everyone in Arapahoe County."
To that end, Brown has tabbed former Adam's County Sheriff's Deputy and current Mountain View Police Sergeant Mark Nicastle, a Republican, to serve as his undersheriff.
In 2010, Nicastle became embroiled in a political spat with former Adams County Sheriff Doug Darr, which resulted in a some $100,000 payout from a U.S. District Court jury.
While Brown said he hasn't yet directly spoken to Walcher about a transition plan, he commended the current sheriff's work.
"His name carries a lot of weight with it, and it's because he's been a great law enforcement officer for both (Arapahoe and Jefferson) Counties," Brown said.
Locally, politicos on both sides of the aisle lauded Walcher's service.
"I appreciated that Dave Walcher took a stand against the National Rifle Association in terms of the 'red flag law,'" said Democratic City Councilwoman Nicole Johnston, who also sits on the public safety committee. "If he followed just partisan politics, generally Republicans and the NRA are intertwined, and I appreciate that he didn't look at that as a partisan issue and was supportive of the 'red flag' efforts. He really was one of the leaders to try to get that passed."
Johnston also lamented the partisan squabbling that often bleeds into races for local county offices like sheriff.
Walcher declined to comment on this story.
In a pre-electon interview, Brown championed the state's failed "red flag" bill, which sought to grant law enforcement officials power to temporarily strip firearms from residents who are deemed to be a threat to themselves or others. He also said he would look to add school resource officers in Arapahoe County, and would like deputies to start their shifts at schools in an effort to bolster community relations.
"If we can appropriately staff the shifts, and we can allow the deputies to build community partnerships and get to know the community they're serving, I think that would cut down a lot on the issues we're having with the police interacting with the community," Brown said. "If you know who your patrol deputy is, that plays a huge factor into community building."
He said he also hopes to explore a new legal track in the 18th Judicial District that would expunge the records of non-violent drug offenders who undergo and pass certain legal and treatment requirements. He said he has not yet spoken to local prosecutors about that idea, but has briefly communicated with 18th Judicial District Attorney George Brauchler, and plans to meet with the county's chief lawyer soon.
The county sheriff is tasked with maintaining the county jail, transporting prisoners, providing court security, serving as fire warden when needed, coordinating search and rescue efforts, and coordinating the handling of hazardous waste when needed, according to state law.
Arapahoe County boasts an aging, 1,458-bed jail, which holds about 1,000 inmates on any given day. There are about 17,000 bookings into the jail each year, with the average stay clocking in at 22 days, according to the sheriff's 2017 annual report.
The Arapahoe County sheriff's office patrols more than 200,000 people in a nearly 900-square-mile swath of the metro area, including large chunks of unincorporated Arapahoe County that abut Aurora. The office provides full-time patrol services to Centennial, Bennett, Deer Trail and Foxfield, according to the sheriff's 2017 report.
More than half of the citizens under the sheriff's policing jurisdiction live in Centennial, which recently resigned a contract with the local sheriff's office that stipulates deputies will continue to provide law enforcement services in the city through 2027. Brown said he has no plans to alter that agreement.
"I've spoken with city manager of Centennial and reassured him I don't have any intentions of doing anything with that contract except for provide the highest level of professional law enforcement to the City of Centennial,  just like the unincorporated parts," he said. "And I look forward to working with all of the other local police departments that serve Arapahoe County."
County sheriffs are also tasked with issuing, reviewing and revoking concealed gun permits. Last year, the Arapahoe County Sheriff's office issued more than 3,000 new concealed handgun permits, according to a report housed on the County Sheriffs of Colorado website.
To be elected sheriff in Colorado, a person must: be a U.S. citizen, have at least a high school diploma or equivalent degree, and pass an FBI background check, ensuring the candidate has never been convicted or pleaded not-guilty to a felony.
Newly elected sheriffs are required to undergo additional training after the election, according to state law. Brown said he plans to begin that training at the beginning of next month.
Chris Johnson, a spokesman for the County Sheriffs of Colorado, said it's unlikely Brown is the youngest sheriff ever elected in the state. While the state organization does not record demographic data on elected sheriffs, Brown said several sheriffs in their early 30s have been elected in Colorado in the past.
"We've had some young ones," he said. "If he were in his 20s, that would probably set a record."
Brown is married and has two daughters, ages 3 and 6. His wife is a fifth-grade teacher in the Cherry Creek School District.
Brown is expected to be officially sworn in as sheriff early next year.