LOS ANGELES | Fans of a Korean pop star have raised more than $2,000 to name a baby deer at the Los Angeles Zoo after a popular doe-eyed singer.
The zoo's new baby pudu was named Haechan after a member of K-pop group NCT and its two subgroups, NCT 127 and NCT Dream.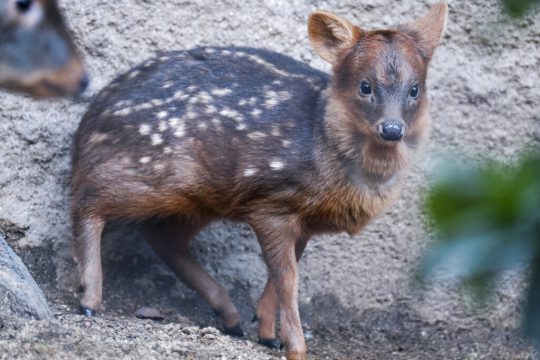 The southern pudu made its media debut Thursday, though he has previously been on public display after he was born Dec. 19.
Donors usually name animals born at the zoo. But after tweeting  out the newborn pudu, the zoo realized Haechan's fans had long thought the 18-year-old looked like the tiny deer that's native to South America.
"It was immediate," said Katherine Spada, the zoo's social media manager. "People started saying, 'You've got to name the pudu Haechan. He looks just like Haechan.'"
Spada said the zoo had no idea who Haechan or NCT was but started researching.
"We don't really know how the nickname started except that Haechan's cute and pudus are cute," she said.
Taking inspiration from a Tumblr dedicated to the similarities between the singer and the fawn, the zoo then posted images of the pudu next to photos of Haechan, including two in which both human and animal similarly have one of their limbs raised, the deer its hind leg and the teen star his arm in a dance move on stage.