AURORA | If the Me Too movement had happened six years earlier, state House Rep. Jovan Melton said it's probable that before he won his first term in 2013 he would have made public two, years-old incidents involving alleged domestic abuse.
But those incidents weren't something Melton said he believed were necessary to publicly announce when he first ran for office in 2013 — it was before the Me Too movement, and as far as Melton believed, no longer relevant because he didn't have a conviction on his record.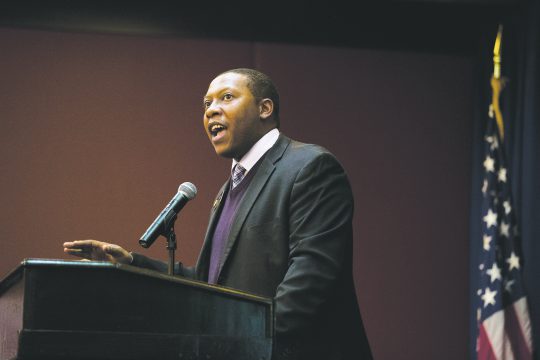 Melton is a three-term embattled House Democrat, caught up in a new sensibility in Colorado and the nation about sexual harassment and domestic violence. He won his state race earlier this month, even after his own party leaders and local newspapers called for his resignation.
The story began late last month, when the Denver Post published a story about Melton's police record, publishing controversial incidents reporters said they uncovered during background checks on numerous candidates.
Melton has consistently denied acts of physical violence against former girlfriends in two different cases revealed in the report, more than a decade old.
In 1999, then a student at the University of Colorado Boulder, Melton was charged with misdemeanor harassment and third-degree trespassing. He pleaded guilty to the harassment charge and received a 12-month deferred sentence, according to court documents. In 2008, Melton was arrested for a misdemeanor assault charge, which was later dismissed by the court.
"What happened back then was that I was 20 years old. I was a poor college student," Melton said of the 1999 charges. "I disagreed with what was in the police report and what was being said. To me, the incident that night didn't take place. Even in the police report the officer said he couldn't find any evidence to show that physical actions were taken."
The report detailed an argument between the two — an apparent dispute over how Melton wanted his then-girlfriend to dress — that escalated to Melton allegedly slapping the woman. But a responding police officer admitted in the report he didn't see any evidence to support that claim.
"I would have gone to trial but my lawyer said if we go to trial it will cost upward of $20,000," Melton said during an interview last week. "For a 20-year-old guy who isn't sure what the future holds and doesn't have $20,000? I took the deferred judgment."
The 2008 charges were dropped against Melton after he and his then-to-be wife were driving home after a political event. During the argument, Melton said the woman he was with got distracted during their argument and hit a guardrail. When police arrived they interpreted what had happened as domestic violence. It wasn't, he said.
Melton said that when Denver Post reporters said they were going to run a story about his past arrests, he connected them with his wife, who he's now separated from, but only a "no comment" from her was included in the newspaper's story. Later, a Colorado Politics report recounted what Melton's wife said happened that night.
She also denied the issue involved domestic violence.
Melton told the Sentinel those marks on his record weren't made an issue when he worked in the lieutenant governor's office after college. When he first ran for office, Melton said the Colorado House Majority Project, an initiative of the state Democratic Party, did talk to him about his record. But Melton recalled that organization's leaders were more concerned with a ticket he received for riding the light rail without a pass.
That was one reason why Melton said he never really thought about airing his past.
"For me, I've gone through this so many times, and it's so old, it really didn't raise a flag for me to say this is something I need to bring to the voters' attention…It wasn't anything I was trying to hide, it was something that was an old story and dismissed and dealt with," Melton said.
Nearly 24 hours after the report about Melton's arrests published, fellow House Democrats in leadership roles called on him to resign his seat, less than a month away from an election that would determine whether he would serve a final term in the House.
Melton said he begged leadership to give him another day for more story details to surface in the news, but was told "no."
Prior to the story, it was looking like he certainly would win back his seat. His Republican challenger, Dahlia Weinstein, dropped out of the race because of health issues a week earlier. Arapahoe County Republicans couldn't confirm whether a vacancy committee would fill the candidacy.
They later did, with former Arapahoe County Commissioner Lynn Myers. She nearly matched Melton in fundraising with ballots already sent out and without her name on them. Still, Melton won his race with nearly 64 percent of the vote — a testament to what Melton said his constituents care about.
"One of the scariest moments during this last month was when I came out to my car and I saw a note and I thought oh geez, this is going to be somebody telling me to get out of office," he said. "It was actually a teacher in my district who said, 'I've known you since the sixth grade, and you're doing a fantastic job, please stay in office and keep doing what you're doing.'"
To the media, Melton went silent. He seldom responded to requests for comment outside of a Facebook statement he made after the story went public. He said he now regrets the tactic.
"I didn't have a professional media person," Melton said. "It was just me."
On Facebook he wrote he was "both embarrassed and heartbroken to be reminded of my immaturity all those years ago."
"As both a victim of childhood violence and to have caused pain and anguish for these women is horrible and for that I am sorry. I hope that both women can forgive me for the emotional pain that I've caused them."
A week later, a group of prominent local leaders from the black community, including former Denver Mayor Wellington Webb, said the call on Melton to resign was unfair and racially motivated.
"This creates a Jim Crow double standard of justice by the house Democratic leadership," Webb said during a news conference in Denver about the issue.
Melton told the Sentinel he believes Webb may have gone a "little too far" in his defense, but wouldn't completely rule out race as a factor in the calls for his resignation. After all, he said, leadership didn't call for the resignation of fellow House Democrat Dan Pabon when the legislator was arrested for a DUI in 2015 or immediately punish former Thornton Rep. Steve Lebsock upon learning how he treated his female colleagues.
"I do definitely feel like it was a double standard. I don't know if it was racially motivated," Melton said. "I would say it was a course correction by the Speaker. I think the Speaker got beat up for not handling Lebsock quick enough and so in my situation we've changed the rules and handle things right away and (don't) give you 24 hours after the story breaks. That, to me, is too far of a course correction."
A letter from Speaker Crisanta Duran, D-Denver, Majority Leader KC Becker, D-Boulder, and Assistant Majority Leader Alec Garnett, D-Denver said in a joint statement it was ultimately Melton's choice to step down.
"People should not necessarily be precluded from running for office because they have issues in their past," the letter said. "But we urge him to consider the seriousness of the story and the impact on the people of his district and on the public confidence in the legislature."
Duran was criticized for having known about Lebsock's past and still allowing him to be chairman of a House committee.
Becker, who wasn't available for comment at press time, was most recently elected Speaker of the House by her peers. Garnett, appointed to Majority Leader, referred the Sentinel to the House Democrats communications director, when he was reached for comment.
Melton said the decision by party leaders did drive a wedge between him and leadership — which added to the pressure of handling the story and his campaign.
"Things have calmed down," Melton said. "I think they (leadership) have realized it was an overreaction to immediately call for my resignation…and (important) to see really where the voters were with this."
Melton said prior to being re-elected he wouldn't serve in any leadership capacities in the Legislature.
He's also opted to forgo chairing any committees.
Melton said he plans to work on his relationship with the community and victims advocacy organizations.
"I think if I'm trying to lead a committee and do that repair work, I'm not going to be completely on one of the other," he said. "So I'd much rather repair the relationships I need to repair before I try to lead a committee in the House again."
Melton said he's certain he'll find a way to be an effective legislator, and that he plans on pushing for causes and bills he's backed before, a right to rest bill, abolishing the death penalty and allowing cities to increase their minimum wage. Beyond that, he's not ruling out a run for the state senate in two years. Incumbent state Sen. Nancy Todd is term limited. And he's not ruling it in.
"This last month has been a lot," Melton said. "Just a lot."