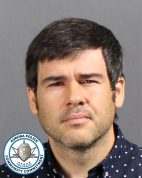 AURORA | An Aurora Vista PEAK Preparatory School teacher faces charges of sexually assaulting a juvenile female student at the school.
Police arrested Gabriel Alsina, 35, at the school Tuesday morning, according to police spokesman officer Bill Hummel.
Details about the allegations were not released.
Police said that after being tipped off about the allegations, investigators spent several days last week interviewing witnesses.
"It was learned that an inappropriate sexual relationship existed between the student and the teacher," Hummel said in a police blog.
Alsina faces charges of sexual assault on a child by one in a position of trust, officials said.
School officials said they also just learned of the allegations and immediately placed Alsina on administrative leave.
"When any employee is hired, we conduct a full background check, including a Colorado Bureau of Investigation review," APS officials said in a statement. "The background check for this employee did not indicate any prior inappropriate behavior or criminal activity."
In a blog for the school authored by Alsina, he says he grew up in Puerto Rico and studied at the University of Kansas.
"After college, I worked as a Petroleum Engineer for Schlumberger and travelled across the globe.  After a few years I felt a calling to teach and found myself back in school at the University of Wyoming.  At UW I completed a Master's in Education and taught science for three years to other future teachers."
He has been a science teacher at Vista PEAK for four years, according to the blog. He goes on to say he's married to a local music teacher.
"This is the best job I've ever had, and I can't imagine working anywhere else," Alsina wrote.
Police are asking that anyone with details about Alsina to call 303-627-3100.
Alsina's arrest is the second case involving sex crime allegations against a Vista PEAK teacher.
Last fall former Vista PEAK music teacher Zachary Timbrell was sentenced to 90 days in jail for having a sexual relationship with a student at the school. Police reports said school administrators had warned Timbrell that he was showing favoritism to the goal and he said he would stop, but the inappropriate relationship continued.