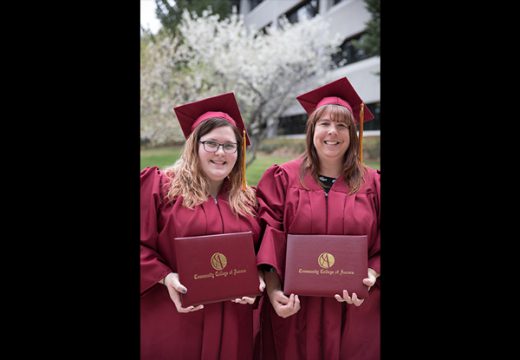 AURORA | Two years ago, Danielle House helped her daughter, Breanna Andrews, fill out paperwork to attend Community College of Aurora. It struck House this might be the right time for her to make the leap and also pursue a higher education.
"At that time, I had just turned 40, and call it a mid-life crisis maybe? I don't know," House said.
The mother of three had been a bank teller for 20 years, but she wanted more. She took inspiration from her daughter's desire to become a nurse.
"I thought it was awesome," Andrews said. "She has been a bank teller as long as I can remember. I was proud of her for taking the next steps to get something better for her life."
In spite of her age, House wasn't deterred by naysayers. "It was something I had never done. And there's a lot of negative people out there. A lot of people who say, 'you can't do that.'"
While mother and daughter had the drive ­— there was still a lot to be done. It was helpful for both to have someone so close go through the same struggle, and sometimes the same class.
"When I came home (from the first day of classes), I told her, 'I think this is going to be a little harder than I thought it was going to be,'" Andrews said.
House related to her daughter's reaction, but quitting wasn't an option, she said, especially with the eyes of their family upon them.
Their hard work paid off when, last Saturday, mother and daughter walked across the stage to receive their diplomas from CCA at graduation ceremonies.
Now, House and Andrews are ready to move to the next step. Andrews is set to transfer to the nursing program at the University of Colorado on the Anschutz Medical Campus in Aurora. House will transfer to the University of Colorado at Denver to pursue a bachelor's degree in human resources, as part of a larger plan to become a paralegal.
House said that attending college with her daughter has not only improved her career prospects, but the bond between the mom-daughter classmates is even stronger.
"And it was just one of those things where I said, maybe I could. Watch this. Watch me do this," she said.